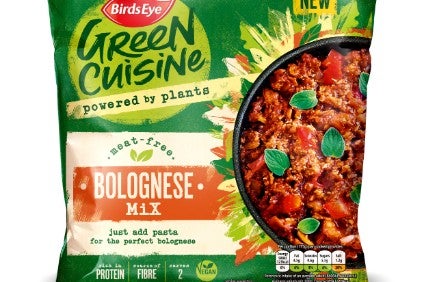 Our pick of the new products this week includes the return of Necco Wafers to US grocery shelves, courtesy of new owner The Spangler Candy Company, and Australia's Murray River Organics moving into the breakfast category.
Nomad Foods-owned Birds Eye launches plant-based meal mixes
Birds Eye, the frozen food brand owned by UK-based Nomad Foods, is launching a range of meat-free meal mixes under the Green Cuisine line.
Green Cuisine Mixes feature a combination of pea protein, vegetables and sauces, providing "versatile and convenient ways of creating meat-free meals".
Bolognese, Mexican-style Fajita, and Chilli Con Carne make up the line up and are available in Tesco at a RRP of GBP3.00 (US$3.81) for a 350-gram pack.
Anne-Marie Gayer, a senior brand manager at Birds Eye, said: "Our Green Cuisine range has been received incredibly well since launching last year. With the new Green Cuisine Mixes we're making meat-free meals even easier to prepare. We've worked to create versatile mixes that recreate the taste and textures of meals people already love, but in a meat-free way."
And also from Birds Eye……
The Green Cuisine brand has unveiled its first fully vegan, meat-free 'sausage' roll.
The frozen rolls are made with pea protein with a flaky puff pastry casing and have been "developed to replicate" the Birds Eye Homebake frozen sausage rolls. They contain no artificial colours, flavours or preservatives.
A four pack is available nationwide in Sainsbury's at a RRP of GBP1.50 (US$1.91) or they can be purchased in singles at 38 pence each.
Brand manager Gayer said: "We know that sausage rolls are one of the nation's favourites snacks, so we wanted to create a meat-free version that perfectly replicates the taste and texture of high-street outlets, but with the convenience of being able to cook at home straight from the freezer. We've also ensured that our recipe has the perfect ratio of seasoned vegan sausage to flaky pastry."

Hormel Foods debuts squeezy version of Skippy peanut butter
US-based Hormel Foods has launched a squeezy version of its Skippy peanut butter product.
Launching with two varieties – Skippy Squeeze Creamy Peanut Butter and Skippy Squeeze Natural Creamy Peanut Butter Spread – the products are packaged in a 6oz squeeze pouch. They include 7g of protein per serving.
Jennesa Kinscher, Skippy brand manager, said: "We know consumers are looking for new ways to enjoy the peanut butter they love while still delivering on taste and product benefits. We are thrilled to bring the first mainstream squeeze peanut butter and squeeze natural peanut butter spread to the category."
Hormel has also added Skippy No Sugar Added Peanut Butter Spreads and Skippy Added Protein Peanut Butter to its range.
The new products will be available at "select retailers" across the country this month.
Kraft Heinz rolls out 'Gourmet' sauces in Spain
Kraft Heinz has launched a three-strong range of "premium" sauces in Spain – Gourmet by Heinz.
Roasted Garlic and Sundried Tomato; Balsamic Vinegar and Sun Ripened Tomato; and Aromatic Herbs and Sun Ripened Tomato make up the line-up. They come in glass bottles that are fully recyclable and the sauces contain no artificial colours, preservatives, flavours or artificial thickeners.
Elisenda Picola, the marketing director for Heinz Iberia, said: "The popularity of table sauces is very characteristic in the Spanish market, to prove that, the segment has grown 4% in value in 2019. Gourmet by Heinz underscores our positioning as a world leader in sauces and a reflection of our constant commitment with innovation, taste and quality."
Gourmet by Heinz are available in El Corte Inglés, Sánchez Romero and Amazon at a suggested retail price of EUR2.39 (US$2.68) each.
Lactalis-Nestlé venture expands range
A joint venture between French dairy group Lactalis and Swiss food giant Nestlé has launched a raft of innovation in Spain in the yogurt, fermented milks and on-the-go milk drink categories.
Under the Sveltesse brand, Lactalis-Nestlé is introducing two drinkable yogurts with no fat or added sugar in strawberry and mango flavours, which are both gluten and preservative free.
In the smoothie category, the JV has launched the Milkybar Shake, a ready-to-drink white chocolate shake in a 180-ml format. It contains 87% milk, natural aromas, no gluten and no added colourings.
It has added a 150g spoon format to its fermented milk drinks Nestlé Kefir.
Lactalis-Nestlé is also launching a fermented Skyr-style drinking milk under the Siggi's brand named Filmjölk, which is made with 100% natural ingredients with no preservatives, sweeteners or colourings, and zero percent fat. It is claimed to have 30% less sugar than other fruit-based milk drinks in Spain.
And it has also rolled out a high-protein drink with 50% whey protein and 50% casein protein under the Lindahls brand. Lindahls PRO+ is low in fat and sugar. Two varieties are available: Lemon-Cookie flavour (18g protein) and banana-nut flavour (30g protein).

Muller launches first Skyr yogurt product in UK
German dairy heavyweight Müller has launched its first-ever Skyr yogurt product in the UK.
Its Icelandic Style Skyr will be available via its Müller Corner range in raspberry and hazelnut granola, nuts and chocolate coated balls granola, and banana and almond granola variants.
Skyr is an Icelandic form of yogurt which is thick in texture, low in fat and high in protein.
Müller's product is available as a single pot (180g) with an RRP of GBP1.50 (US$1.88) and it will be available in Morrisons and Co-op this month and in Tesco, Asda and Waitrose in July.
Michael Inpong, strategy and marketing director at Müller Yogurt & Desserts, said: "Demand for Skyr products continues to grow and we know that taste is by far the most important factor when choosing yogurts.
"Müller Corner has been on UK supermarket shelves for over 30 years, so we're shaking it up by making it deliciously thick, bigger and with a transparent corner so that shoppers can see the high quality, delicious whole nuts and granola inclusions."
Spangler brings back Necco Wafers
The Spangler Candy Company has announced that Necco Wafers are to return to US grocery store shelves this summer following a two-year hiatus.
The candy wafer brand, which dates back to 1847, was purchased out of bankruptcy two years ago by Ohio-based Spangler, which says it has been working on its return ever since.
Necco Wafers – wax paper rolls filled with assorted flavoured discs – return in eight flavours: lemon (yellow), lime (green), orange (orange), clove (light purple), cinnamon (white), wintergreen (pink), liqourice (dark grey) and chocolate (brown).
Kirk Vashaw, CEO of Spangler Candy Company, said: "We are delighted to bring Necco Wafers back into production and to share in their sweet return with fans old and new.
"We know fans have been waiting anxiously for the return of Necco Wafers and anticipate high demand. Our production lines will continue to run as fast as possible to keep stores in-stock."
Australia's Murray River enters breakfast category
Australia-based dried fruit products firm Murray River Organics has entered the breakfast category in its domestic market with the launch of five varieties of organic muesli.
They will be sold via 800 stores of local grocery chain Coles.
Its new range of 100% organic muesli with no added sugar will be launched in five flavours: Coffee, Fruit & Muesli, Macadamia & Cranberry Muesli, Tropical Muesli, Apple & Cinnamon Muesli and Banana, Coconut and Berry Muesli. All are available in 400g cannisters while the latter three will also be available in multi-pack format.
Tara Lordsmith, chief marketing officer, said: "In the last few months, with the impact of Covid-19, we are seeing a change in behaviour with consumers seeking better, healthier, more transparent and more ethical food. The launch of our new organic range is timely given this shift in the community and the increased value and importance of our food system."
Murray River said that it is also planning to launch 11 new organic products in snacking and its pantry range.