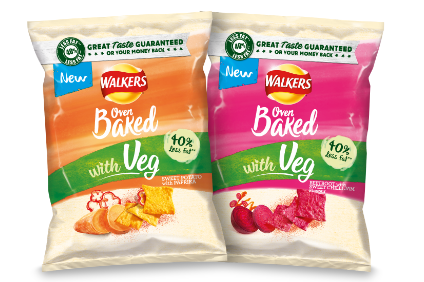 This week's batch of new products includes US confectionery giant Mars adding to its Skittles sweets brand in the UK with the launch of Skittles Dips and Nestle debuting Edible Cookie Dough in the US.
PepisCo adds to Walkers Crisps range with Oven Baked with Veg
Food and drinks giant PepsiCo has extended the range of the healthier end of its UK-based crisps brand Walkers with new spicier additions.
Building on its existing Oven Baked range, Oven Baked with Veg comes in two flavours – Beetroot & Sweet Chilli, and Sweet Potato & Paprika.
Walkers Oven Baked with Veg contains 40% less fat than regular "vegetable chips".
Helen Strachan, brand manager at Walkers, said: "There are common misconceptions about vegetable chips but our innovation, although lower in fat, doesn't compromise on taste."
The crisps are available in the single serve (35g), multipack (6 x 23g) and sharing bags (140g). The RRPs range from GBP0.70 (US$0.87) to GBP1.99.
Mars takes its M&M's Block to the UK
Confectionery firm Mars is extending the international coverage of the block version of its M&M's sweets to the UK.
Mars said that "following the international success" of M&M's Block in the US and Australia, it is launching the product in the UK in four variants – Chocolate, Crispy, Hazelnut and Peanut.
The product contains mini M&M'S alongside pieces of peanut, hazelnut or crispy and is encased in milk chocolate.
Cordelia Linacre, M&M's senior brand manager, said: "We know that block is the biggest segment in chocolate, however block currently under-indexes in under 35s, while M&M'S over-indexes in this demographic. We are therefore confident that with the UK launch of M&M's Block we will win over new consumers."
M&M's Block will launch exclusively in Tesco stores from 17 July, before becoming available market-wide later this summer.
Mars is also launching another variety of its M&M's – Salted Caramel. Exclusive to Europe, the product will be available in three different sizes – pouch, treat bag and singles.
M&M's Block has a RRP of GBP2.49 (US$3.11) while M&M's – Salted Caramel carries a RRP, depending on bag size, ranging from GBP0.66 to GBP2.09.
Premier takes Loyd Grossman range into food-to-go with Pasta Italia Pots
The UK's Premier Foods has expanded its Loyd Grossman range with the launch of Pasta Italia Pots into the convenience channel.
The pots are available in three flavours – Sundried Tomato & Basil, Sundried Tomato & Chilli, and Creamy Chicken Pesto. It is the first time the brand, named after the TV chef, will be available in this food-to-go format.
Premier Foods said the move follows the success of Batchelors Super Noodles Pots – launched in the convenience channel last year.
The Loyd Grossman Pasta Italia range will also be launching in a sachet format to "appeal to shoppers looking for a tasty lunch or dinner time solution at work or at home".
Steve Kelly, convenience channel director at Premier Foods, said: "Shoppers trust the premium quality of Loyd Grossman sauces and the Pasta Italia pot format brings relevance to the convenience channel, helping retailers to tap into the on-the go eating trend and providing consumers with a convenient meal solution."
The pots carry a RRP of GBP1.49 (US$1.87).
Danone launches Silk range of oat milk yogurts in US
French dairy giant Danone has added to its Silk brand's Oat Yeah portfolio in the US with a new range of oat milk yogurts.
Oat Yeah Oatmilk Yogurt Alternatives combine gluten-free oats with live and active cultures to create a "creamy, craveable yogurt", Danone said.
They are dairy-free, nut-free, soy-free, certified gluten-free, certified vegan and non-GMO project verified.
The line is available in four flavours: Vanilla, Mixed Berry, Strawberry and Mango.
Joshua Cook, brand manager of plant-based yogurt for Silk, said: "Creating a yogurt alternative was the natural next step after our well-received Silk Oat Yeah Oatmilk beverage launch earlier this year.
"Oat Yeah Oatmilk Yogurt Alternatives are a tasty option for any person looking to make progress toward their health and wellness goals – whether they have specific dietary needs or are simply looking to try something new."
Oat Yeah Oatmilk Yogurt Alternatives are available now across the US for a suggested retail price of US$1.89 per 5.3oz cup.
Mars unveils Skittles Dips in the UK
US confectionery giant Mars has added to its Skittles sweets brand in the UK with the launch of Skittles Dips.
The product is said to "combine the harder, chewy texture of Skittles that consumers love with a soft, creamy yogurt coating – creating an indulgent, multi-textured fruity experience".
Mars said Skittles Dips is its largest fruity confectionery launch of 2019. It follows the launch of Skittles Chewies in the second half of 2018.
Alyona Fedorchenko, marketing director at Mars, said: "By combining the balance of sweet, fruity flavours with tangy yogurt, fans of Skittles will enjoy something completely new, and totally indulgent from the brand.

"By tapping into the growing trend for yogurt-coated treats we want to provide a more premium, indulgent experience for the consumer and give retailers another great opportunity to grow the category."
Skittle Dips have a RRP of GBP1.00 (US$1.26) for a 95g bag. Other size bags are also available.
Nestle debuts Edible Cookie Dough in the US
Global food heavyweight Nestlé has launched Edible Cookie Dough in the US through its Nestlé Toll House cookies brand.
Formulated specifically to be eaten right out of the tub, as opposed to baked, Nestlé said the product is made "with the same ingredients you use in your mixing bowl at home such as real butter and 100% real chocolate".
Available in Chocolate Chip Edible Cookie Dough and Chocolate Chip Peanut Butter Monster Cookie Dough variants, the product contains no artificial flavours.
Christyna Chandler, associate brand manager, Nestlé Toll House, said: "We know cookie dough is hard to resist, so we wanted to bring the experience of eating cookie dough straight from the mixer to consumers in a safe and convenient way,"
Edible Cookie Dough is available now at Publix, and will be available at Meijer, select Walmart stores and select regional grocery chains throughout the country later this month.
It has a RRP of US$5.49 for a 15oz tub.