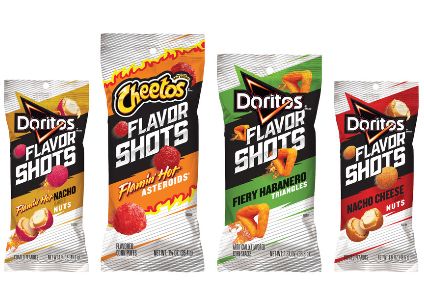 This week's batch of new products includes a ketchup under Orkla's Felix brand with no added sugar or sweeteners and US snacks business Blue Diamond launching Almonds & Fruit.
PepsiCo debuts poppable Flavor Shots snacks under Cheetos and Doritos brands
PepsiCo's Frito-Lay snacks arm has launched poppable Flavor Shots under its Cheetos and Doritos brands.
Flavor Shots come in four flavours – Cheetos Flamin' Hot Asteroids, Doritos Fiery Habanero Triangles, Doritos Nacho Cheese Nuts, and Doritos Flamin' Hot Nacho Cheese Nuts.
Fauzia Haq, senior director of marketing, Frito-Lay North America, said: "For over ten years, fans have overwhelmingly asked for Cheetos Asteroids to return to store shelves. The consumer demand could not be ignored and we're thrilled to relaunch Cheetos Asteroids, alongside three bold Doritos flavours."
The Flavor Shots product line is now available from retailers nationwide. All varieties have a RRP of US$1.19.
How well do you really know your competitors?
Access the most comprehensive Company Profiles on the market, powered by GlobalData. Save hours of research. Gain competitive edge.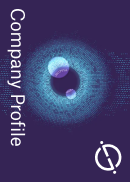 Company Profile – free sample
Thank you!
Your download email will arrive shortly
Not ready to buy yet? Download a free sample
We are confident about the unique quality of our Company Profiles. However, we want you to make the most beneficial decision for your business, so we offer a free sample that you can download by submitting the below form
By GlobalData
Nestle launches Milkybar Mix Ups
Nestlé is launching Milkybar Mix Ups combining white chocolate with milk chocolate for the first time.
The button format is a variation to the traditional Milkybars and will roll out over the next few weeks in all major retailers in the UK and Ireland in single packs, pouches and sharing bags. Each selection contains a mix of classic Milkybar white chocolate buttons with a cocoa filling and milk chocolate buttons with a milky filling.
Alberto Pisanello, the assistant brand manager for Milkybar, said: "We get a lot of requests from Milkybar fans who have been asking us to mix white chocolate with milk chocolate for a long time but it's not something we've done before with original Milkybar."
Singles come in a 32.5-gram pack, while the pouches are 78g and sharing bags 95g. A 196g 'more to share' bag is also available.
Joe & Seph's enters confectionery category with Chocolate Popcorn Bites
UK popcorn company Joe & Seph's has made a lateral move into the confectionery category with the launch of its Chocolate Popcorn Bites.
The new range is made from Joe & Seph's Double Salted Caramel Popcorn individually placed in a chocolate cup and is available in two variants: Joe & Seph's Milk Chocolate Popcorn Bites and Joe & Seph's Dark Chocolate Popcorn Bites.
London-based Joe & Seph's said it is responding to two major trends seen in the confectionery category: inclusions and texture.
Company co-founder Adam Sopher said: "Chocolate Popcorn Bites mark our first foray into the premium confectionery category, where we see significant future growth for the brand. We have designed our new Chocolate Popcorn Bites to introduce our brand to a new audience, who we know are interested in natural indulgence."
The Chocolate Popcorn Bites range will be stocked by 'big four' UK retailer Sainsbury's nationwide from 17 March with a RRP of GBP2.50 (US$3.28) for a 63g pack.
Sopher said the business is planning to launch products in Denmark and Germany soon.
Kerry Foods adds to Cheestrings range with Cheeshapes
Ireland-based Kerry Foods has extended its Cheestrings range in the UK with the introduction of Cheeshapes as part of a brand refresh.
A new master brand, 'Strings and Things', will unite the current kids' dairy snacking range, Yollies and Cheestrings, and will encompass the launch of Cheeshapes.
Available in two variants, 'Randoms' and 'Icons', the shapes vary from funny faces and unicorns to pieces of fruit and are intended to "encourage children to use their imagination and storytelling ability, making lunch and snack time more fun".
Anna Moore, marketing manager for Strings and Things at Kerry Foods, said: "Cheeshapes is a truly innovative product with more than just a nutritious purpose; the shapes have wide appeal and encourage kids to use their imagination, and research suggests kids are going to love them."
Cheeshapes will be rolling out from this month and will have a RRP of GBP1.50 (US$1.97) after a reduced price promotional period.
Beyond Meat unveils ground 'beef' product Beyond Beef
US plant-based, meat alternative business Beyond Beef has created a product that replicates the taste and texture of ground beef.
Beyond Beef is said to have 25% less saturated fat than beef. It contains only plant-based ingredients – pea, mung bean, and rice proteins – and has no GMOs, no soy, and no gluten.
The California company suggests the ground beef segment is ripe for innovation with many consumers reducing their meat intake, with a particular focus on red and processed meat.
Ethan Brown, founder and chief executive officer of Beyond Meat, said: "We've long had our eye on creating a product that enables consumers to enjoy all the benefits and versatility of ground beef while tapping into the human health, environmental, and animal welfare benefits of plant-based foods."
Launching in retail later this year, Beyond Beef is anticipated to be both Kosher- and Halal-certified.
Nomad brings back Crispy Pancakes under Birds Eye brand
Nomad Foods is re-introducing Crispy Pancakes in the UK under its Birds Eye Brand.
The frozen product was previously sold under the Findus brand, which Nomad also owns.
Available in three flavours – Ham & Mozzarella, Tomato & Mozzarella, and Mozzarella – the new Birds Eye Crispy Pancakes have a breadcrumb crust and "include more delicious filling made from premium ingredients".
When compared to the previous product, the new version contains 43-45% more filling in a 20% bigger pack.
Alessandro Solazzi, marketing manager at Birds Eye, said: "As frozen food continues to grow in popularity, partially led by younger shoppers looking for convenient options containing high-quality, real ingredients, this is the perfect time for us to revive the iconic Crispy Pancake and bring new shoppers to the category."
Birds Eye Crispy Pancakes are free from artificial colours and flavours. Widely available, they have a RRP of GBP1.75 (US$2.29).
Kraft Heinz debuts Mayocue and Mayomust condiments
US food group Kraft Heinz has added to its range of mayonnaise-based condiments with the launch of Mayocue and Mayomust sauces.
Heinz Mayocue is a combination of mayonnaise and barbecue sauce while Heinz Mayomust brings together mayonnaise and mustard.
Nicole Kulwicki, director of marketing for the Heinz brand, said: "Sauce lovers nationwide have been mixing different condiments to create flavour combinations that will take their favourite foods to the next level for years.
"First with Mayochup sauce and now with Mayocue and Mayomust sauces, we're taking out the guesswork to give our fans the perfect condiment blends from the start."
The new sauces are to be sold in 16.5oz. bottles for a RRP of US$3.49 per bottle. They will be sold via major retailers and online.
DAHlicious epands into plant-based yogurts
US-based DAHLicious Organic, best known for its Indian-style lassi and yogurts, has expanded into plant-based products.
Its new Almond Milk Yogurts and Cashew Milk Drinkable Yogurts are being launched at the Expo West show.
DAHlicious Organic CEO Tom Burns said: "Plant-based products are on-trend and growing, and we are confident that DAHlicious Organic has the almond milk cup yogurt and cashew milk drinkable yogurt that tastes more delicious and is higher in pro-biotics than any of our direct competitors.
"This is due to our unique India-style slow-culturing process which cultures the plant-based milks for longer times and at lower temperatures than industry standards. This produces delicious yogurts with extraordinarily texture that are great for digestive health."
The cashew milk drinkable yogurt is available in both 28oz and 7oz sizes in Alphonso Mango, Wild Blueberry, Field Strawberry and Grassland Plain flavours. The 5.3oz almond milk cup yogurt is available in Alphonso Mango, Field Strawberry, Wild Blueberry and Madagascar Vanilla variants.
The company's products can be found in Whole Foods Market, regional chain Market Basket and select Safeway stores.
Orkla adds better-for-you ketchup to Felix range
Nordic food group Orkla has launched an unsweetened ketchup under its Felix brand in Sweden.
Its Felix Osötad Tomato Ketchup has no added sugar or sweeteners. Previous low-sugar ketchup under the Felix brand have contained sweeteners.
Orkla Foods said its no or low-sugar products in Sweden increased sales by more than 10% in 2018 and it is planning to launch further products this year.
Thomas Sjöberg, marketing manager for Felix at Orkla Foods Sweden, said: "We want to make ketchup for all kinds of tastes and needs. We know that future eating habits will look different, therefore we must continue to develop tomorrow's everyday heroes. We are convinced that Felix Osötad Tomato ketchup will be one of them.
"It is fantastic that our innovation team has succeeded in developing a ketchup that tastes so good only by increasing the amount of sun-ripened tomatoes and balancing with the right seasoning."
Blue Diamond unveils Almonds & Fruit range
US almond product specialist Blue Diamond has extended its snacks portfolio with the Almonds & Fruit range.
Describing it as "a distinctive take on traditional trail mix", its new product pairs almonds with dried fruit and seasonings.
There are four different flavour combinations: Sea Salt and Whole Blueberry, Dark Chocolate and Toasted Coconut, Sweet Cardamom and Honeycrisp Apple and Fiery Ghost Pepper and Tart Cherry.
Michael Burdeny, global head of marketing at Blue Diamond, said: "We created Almonds & Fruit in response to a growing demand for premium snacks that offer both unparalleled quality and flavour.
"We took time to consciously source real, whole fruit pieces – never fruit jellies or sugar-infused – and we pair them with our California-grown almonds, creating a product that is uncompromising in taste and quality."
Almonds & Fruit has a RRP of US$4.79 for a 5-oz pack.
Bakkavor enters US bread category with Breadelei
UK-based private-label food manufacturer Bakkavor has made its first move into the US bread market with the launch of Breadeli.
Described as a "new brand of artisanal breads", Breadeli's Rustic Flats are baked using a day-long process at the new 35,000 sq ft Bakkavor USA manufacturing site in Charlotte, North Carolina.
Ben Waldron, Bakkavor USA president & CEO, said: "Bakkavor decided to invest in the US bread market to spice up a category that hasn't been overly innovative in recent years. In a somewhat stagnate industry, we are confident that our Breadeli Rustic Flats will reignite the consumer's love for bread."
The bread is made using a sourdough starter and includes no artificial flavours and preservatives.
It comes with five variants of toppings infused with herbs, spices and cheese: Original, Basil Pesto, Roasted Tomato, Garlic Butter and Italian Herb.
Breadeli will be available in retail outlets and via Amazon in 'early' 2019.