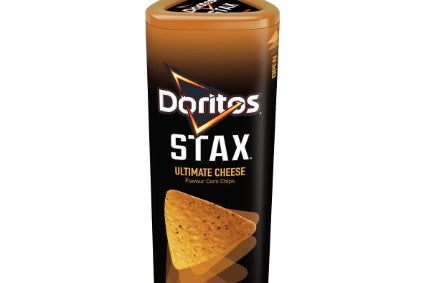 This week's batch of notable new products includes innovation from food majors PepsiCo, Danone and Bonduelle.
PepsiCo takes another brand into "cannister snacks"
US snacks titan PepsiCo is launching another of its major snack products in a cannister, the format best-known for rival brand Pringles.
PepsiCo, which has marketed a Lay's product – Lay's Stax – in a number of international markets in recent years, is rolling out a Doritos tortilla chip range in the UK in similar packaging. While Lay's Stax (and Pringles for that matter) have been available in cylindrical tubes, the Doritos Stax packaging is triangular.
Four Doritos Stax flavours will go on sale this month in the UK, including Mexican Chilli Salsa and Ultimate Cheese. One of the four flavours – Flaming Chicken Wings – is at present a Tesco exclusive.
Clafoutie Sintive, marketing director for PepsiCo's so-called sharing snacks business in the UK, said: "This marks a landmark diversification for the Doritos brand. Historically, cannister snacks is a segment that is shopped by the over 45s, but we want to extend that by targeting a younger audience. We know that Doritos appeals to Generation Z, a generation that notoriously looks for brands that challenge the status quo, so we're confident that the launch of Doritos Stax, coupled with our bold flavour choices and the innovative packaging, will bring younger shoppers to this segment."
The 170g packs have a recommended retail price of GBP2.50 (US$3.16).
Danone-owned So Delicious launches Pairings Coconutmilk Yogurt Alternatives
So Delicious, the US dairy-free business owned by French dairy giant Danone, is launching new Pairings Coconutmilk Yogurt Alternatives, described as a "delicious combination of coconut yogurt alternative and carefully curated delectable toppings".
The products are dairy-free, nut-free, soy-free, certified gluten-free, certified vegan and non-GMO project verified. Each base is made with organic coconuts and live and active cultures.
The Pairings are available in Coco Almond Crunch, Spiced Blueberry, Salted Caramel Cluster and Key Lime Pie variants.
Joshua Cook, brand manager of plant-based yogurt for So Delicious Dairy Free, said: "At So Delicious, we're passionate about delighting consumers with mind-blowing food experiences made with quality ingredients."
The products have a RRP of US$2.29 per 5.3oz. cup.
Kinnerton rolls out nut-free Nomo bars
Kinnerton, the UK chocolate firm owned by German confectioner Zertus, is launching a nut-free bar under its Nomo brand.
Nut Free Hazelnot Crunch Choc Bar will appeal to consumers with a nut allergy or an intolerance to nuts, Kinnerton said. The bars – made with cocoa pieces, rice crispies and a natural nut-free flavouring – are vegan friendly and are also free-from dairy, gluten and eggs.
They are available in Asda at a recommended retail price of GBP2.00 (US$2.48) each.
Emma Perrett, the senior innovation and brand manager of Kinnerton Confectionery, said: "Ensuring that no one misses out is the corner stone of our brand and one of the reasons we have gone to such extraordinary lengths to create a Nut Free Hazelnot choc bar. We know that some people can't enjoy great tasting nut chocolate, and that all consumers should have a variety of choice and flavour at every occasion.
"One of our aims at NOMO is to develop mainstream flavours that we know customers will love regardless of whether they are vegan or have a food allergy and so we are delighted to offer this new delicious nut flavoured, but completely nut free, chocolate to the market."
Bonduelle moves into new category in Germany
French vegetable-products major Bonduelle has expanded its presence in a key European market.
The company has launched a range of rice-style products, broadening its German portfolio, which takes in fresh and canned goods.
A La Reis is a mix of legumes and vegetables in rice form. The range comprises three flavours: red lentils and carrots; peas and zucchini; and chickpeas and corn. Bonduelle has set a recommended retail price of EUR2.99 (US$3.28).
"We want to make it as easy as possible for people who want to consciously integrate vegetable proteins in the form of legumes into their diet," Fabrice Renaudeau, general manager of Bonduelle's long-life retail business, said.
British Premium Sausage Company wins first major UK listings
The British Premium Sausage Company has won its first major retail listings in the UK as Tesco and Asda try to keep up with the extra demand from coronavirus.
Located in Bradford, West Yorkshire, the company said its Yorkshire Cuisine Premium Pork Sausage and Cumberland Sausage will be stocked in 220 Asda stores in the English Midlands and the county of Yorkshire.
Tesco will carry the Yorkshire Cuisine Premium Pork Sausages in 93 outlets across Yorkshire.
"I'm really proud of the initiative we've shown and the way the staff and our suppliers have responded," said Ian Cundell, the company's managing director. "It's testimony to the people we have working for us that we've been able to do this."
Cundell told just-food the company currently supplies meal-kit firm HelloFresh and online butcher Farmison, which is based in Harrogate, North Yorkshire.