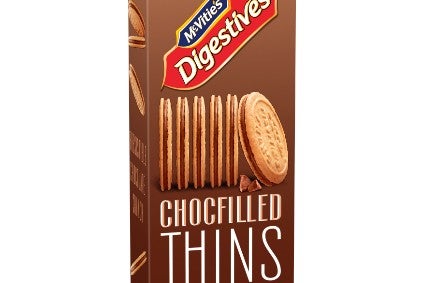 just-food publishes the most notable product development from the international food sector, presented in bitesize format to give you a flavour of the innovation from your peers and competitors announced this week.
Pladis extends McVitie's Thins range in UK
UK-based snacks firm Pladis is adding two new products to its McVitie's Thins biscuit range – McVitie's Digestives Chocfilled Thins and McVitie's Hobnobs Thins.
Pladis, owned by Turkey's Yildiz Holding, describes McVitie's Digestives Chocfilled Thins as a "major new biscuit innovation for 2018". They feature two Digestives Thins sandwiched around a solid chocolate centre and will be sold in 130-gram packs at recommended retail price of GBP1.79 in Milk Chocolate and Double Choc flavours.
Pladis estimates the retail sales value of the new filled biscuits range at GBP6.8m (US$8.9m).
McVitie's Hobnobs Thins are available in 170-gram packs at GBP1.79.
Both products are launching in grocery and convenience stores now.
Ella's Kitchen launches Oddpops popped snacks in UK
Hain Celestial-owned Ella's Kitchen is launching a new snacking product in the UK this month aimed at children aged four to seven years – Oddpops.
Oddpops are low in saturated fats and contain less than 60 calories per 15-gram pack. The snacks are made with no artificial colourings or preservatives and are "popped" rather than fried to "ensure they are light, crispy and low in saturated fat".
With fun packaging from skateboarding pandas to floating space dogs and moonicorns to make the triangular-shaped snacks appealing to a younger audience, Oddpops come in two flavours: Totally Original and Moon Cheese.
Oddpops are available in the UK at a recommended retail price of GBP0.65 (US$0.85) and will roll out in six global markets later this year.
Ella's Kitchen had not responded to a request for clarification at the time of writing on what those global markets are, nor the UK retailers that will stock Oddpops.
Glanbia's BSN launches ice cream protein shakes with Cold Stone Creamery
BSN, the sports nutrition brand owned by Irish dairy group Glanbia, has launched a new range of ice cream protein powder shakes in the US in conjunction with local ice cream business Cold Stone Creamery.
Syntha-6 Cold Stone Creamery Flavors have been created, the company said, especially for those with fitness goals and a sweet tooth.
Andrew Orr, brand manager for BSN, said: "Fitness enthusiasts know Syntha-6 as one of the best tasting protein powders on the market with a milkshake-like creamy texture. This relationship with Cold Stone Creamery takes delicious fitness nutrition to the next level."
The product comes in three flavours: Birthday Cake Remix, Germanchokolatekake and Mint Mint Chocolate Chocolate Chip.
Each serving contains 22 grams of protein with 200 calories, 14 to 15 grams of carbohydrates and six grams of fat.
Parag Milk Foods debuts Go Chocolate Cheese in India
Indian-based dairy business Parag Milk Foods has launched Go Chocolate Cheese mainly targeted at children as a source of nutrition.
The new product is an extension to the Mumbai firm's Go Cheese range and will be available in retail and "modern" trade outlets in India.
Akshali Shah, senior vice president for strategy, sales and marketing, said: "Making cheese is our passion and it is one of the largest categories in our product portfolio. The addition of Chocolate Cheese by the company is a step towards strengthening its presence in the value-added product category. With this launch, we wish to further strengthen the brand pull and acceptance of our products."
Nestle's Lean Cuisine brand introduces meatless, organic meals range
Nestlé is rolling out a range of meatless, organic frozen meals under its Lean Cuisine brand called Origins in the UK.
The launch this month includes seven new recipes and seven "updated" dishes from the Lean Cuisine Marketplace line using at least 70% organic ingredients, and for the first time, vegan options. Meal varieties include Butternut Squash Lasagna, Sicilian-Style Pesto with Lentil Pasta, and Coconut Chickpea Curry.
Dishes feature plant-based proteins and gluten-free ingredients.
Origins are available in the frozen food aisle at grocery stores nationwide at a suggested retail price of GBP3.69 (US$4.80).
Meatsnacks launches jerky and biltong in snacking pots
UK-based Meatsnacks Group is launching jerky and biltong meat snacking pots under new brand Krave.
The company suggests this new branding challenges the perceptions of jerky and biltong, bringing the category to a new consumer, in a new format for front of store and at till points.
The pots are under 100 calories per pack and are targeted at the fitness, health and nutrition-conscious consumer.
Krave snack pots are launching in two flavours: Szechuan Pepper and Ginger Salt Beef Jerky and Warm Chimichurri Beef Biltong
James Newitt, managing director, Meatsnacks Group, said: 'Consumer and market research output concluded there was space for a new category brand to increase category penetration and bring jerky and biltong to new positions in store."
Calbee brings 'chip-like' Rustiks snacks to UK
Japan-based snacks producer Calbee is launching Rustiks in the UK.
The snacks are made from Russet potatoes and "look and taste like real chips". Calbee said the snacks have enjoyed "success" in the US and it is now bringing them to the UK under a new name, packaging and flavours.
Available in two varieties – Ready Salted and Sea Salt and Vinegar – Rustiks will exclusively launch in Tesco this month at a recommended retail price of GBP1.50 (US$1.99) for a 115-gram bag. They are gluten-free and suitable for vegetarians.
In addition, Calbee is expanding its Japanese-inspired Yushoi brand. Yushoi Inclusions are a gluten-free, chickpea-based snack that comes in a Fire Roasted Chipotle flavour and Caramelised Onion and Balsamic Vinegar.
McCain Foods slow-cooked meals roll out in Australia
Canada-based McCain Foods is launching a range of frozen slow-cooked meals in Australia.
McCain Slow Cooked Meals come in three options for a 300-gram portion: Seven-hour Slow Cooked Lamb in a rosemary gravy served with mash, green beans and baby carrots; eight-hour Slow Cooked Beef in a red wine jus, served with mash, peas and carrots; and 10-hour Slow Cooked Pork in apple sauce, served with root vegetables and beans.
Priced at a recommended retail price of AUD6.99 (US$5.10), the range is available in the freezer aisle of select Woolworths and Metcash stores nationally.
Chris Martin, McCain Foods marketing manager for meals and pizza, said: "With our Slow Cooked Meals range, we've taken the hassle and long cooking hours from our customers, cooking our meats 'low and slow' until perfectly tender and packed with flavour. Classic sauces coupled with wholesome vegetable sides makes for a convenient and satisfying meal."
Unilever relaunches Pot Rice in UK after 15-year hiatus
Consumer goods giant Unilever is relaunching Pot Rice in the UK after a 15-year hiatus with new and improved recipes.
Three varieties of Pot Rice based on the popular Pot Noodle brand are available from this month: Vegetable Curry, Chicken Teriyaki and Chicken Risotto. They will be marketed at a recommended retail price of GBP1.39 (US$1.84) with an optional promotional price of GBP1.
Andre Burger, vice president for foods at Unilever's UK arm, said: "Consumers are also looking for variety, so we are bringing back the Pot Rice range with new and improved recipes to please our loyal fans who have taken to social media to campaign for its return, after a 15-year hiatus. We expect the launch will further enable retailers to capitalise on the fast-growing instant hot snack category."
Noble Foods-owned Gu expands into chocolate spreads
The UK's Noble Foods-owned Gü brand, known for its Gü Puds range of desserts, is branching out into chocolate spreads with the launch of three varieties in Waitrose.
Gü Hazelnut and Chocolate Velvety Spread; Gü Hazelnut and Chocolate Crunchy Spread; and Gü Chocolate and Salted Caramel Spread are available at a recommended retail price of GBP2.50 (US$3.31) for a 200-gram glass jar.