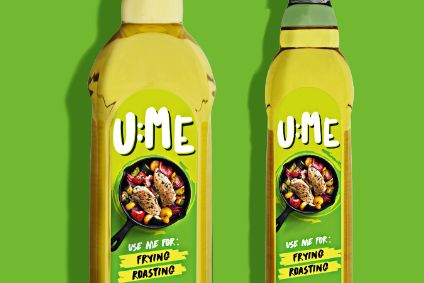 This week's batch of new products that caught the eye include plant-based cheeses and spreads from vegan food firm Tofurky and Marfrig launching its plant-based burger in Uruguay.
Princes unveils new edible oil range in the UK
UK food group Princes has launched the U:ME range of oils through its Edible Oils Limited (EOL) arm.
The group, owned by Japanese conglomerate Mitsubishi Corp., has launched the U:ME range to meet consumer demand for oils and sprays which clearly define how and when to use them, it said.
The range will start rolling out in major retailers this week with Sun-Olive, Coconut Blend, Coconut Spray and Organic Rapeseed variants.
Each variant is suited to different uses which are identified on the tray and bottle – the Sun-Olive variant, for example, is said to be ideal for frying and roasting.
Ria Joyce, senior marketing manager for EOL at Princes Group said: "We wanted to develop innovative NPD which capitalises on the opportunity and fills the clear space for a brand which de-mystifies speciality oils."
U:ME will launch in Tesco and on Amazon this week, with more retailers to follow. The oils have a RRP of GBP3.00 (US$3.90) for one litre and GBP2.00 for a 500ml bottle.
Kellogg brings out prebiotic All-Bran cereal in the UK
US cereal giant Kellogg has launched All-Bran Prebiotic Oaty Clusters in the UK, a cereal designed to help support digestive health.
Kellogg said the cereal's natural prebiotic and wheat bran fibre are essential for good gut health – which can have an impact on the immune system, brain function, mental health and overall well-being
The cereal is available in two flavours; Original and Almond & Pumpkin Seeds.
Catriona Campbell-Voegt, nutritionist and Kellogg's well-being lead in the UK, said: "It's clear that having a healthy gut can have a massive impact on our overall well-being. 70% of our immune cells are found in our gut, and its directly linked with our brain, so how we fuel it is so important. We're excited to now offer two more delicious cereals which support good gut health to help everyone eat more fibre and feel at their best every day."
All-Bran Prebiotic Oaty Clusters have a RRP of GBP2.99 (US$3.88).
Alter Eco launches Grass Fed Milk Chocolate Collection
US-based environmentally-friendly confectionery business Alter Eco has launched the Grass Fed Milk Chocolate Collection.
The San Francisco company's new product is available in three flavours, Grass Fed Milk, Grass Fed Milk With Salted Almonds and Grass Fed Milk With Rice Crunch. Each bar is said to deliver an "indulgent, creamy texture with 46% Peruvian cocoa sourced from fair trade co-ops that farm with nature, instead of against it".
Alter Eco's Grass Fed Milk Chocolate bars are USDA-certified organic, Fairtrade-certified, certified gluten-free, carbon neutral-certified, and packaged in FSC-certified paper that is responsibly sourced to protect forests.
Mike Forbes, CEO of Alter Eco, said: "So many people love the classic taste of milk chocolate so we wanted to create a collection that not only tastes decadent but supports the restorative agricultural and sustainability practices we stand for. We're proud to have created a milk chocolate bar that aligns with our high standards."
The collection will be available in April with an RRP of US$3.99 per 2.65oz bar. Alter Eco products are available at stores including Whole Foods Market, Wegman's, Sprouts, Kroger and Publix.
Baby food firm Peasy Pods debuts Frozen Organic Fruit and Veg Purees
UK baby food start-up Peasy Pods is launching a range of Frozen Organic Fruit and Vegetable Purees, with recipes that have been created by dieticians from London's renowned medical centre Harley Street.
Peasy Pods, based in Buckinghamshire north of London, are made with only natural, organic ingredients that are cooked, blended and frozen.
Four flavour combinations, including Beetroot, Pumpkin and Carrot, will be available. Each pack holds ten cubes (five portions) and has a RRP of GBP3.00 (US$3.84).
Peasy Pods is the brainchild of Sarah Seabrook, who has a 20-year career working for major food retailers and manufacturers.
She said: "Like many parents I wanted to feed my children homemade, flavoursome, nutritious food, but life can be hectic and time wasn't always on my side. There was untapped potential in the market and parents' needs, though clearly obvious, were being ignored by the baby food industry.
"Working with experts, including two Harley Street dietitians who specialise in childhood nutrition, I've developed Peasy Pods frozen organic fruit and veg puree to meet that need. I'm also aware that parents can find it hard to encourage older children to eat fruit and veg, and so it's great that Peasy Pods can be 'stealthily' stirred into dishes to help them reach their five a day."
Tofurky launches plant-based Moocho cheese shreds, spreads
Tofurky, a US-based vegan food manufacturer, is launching cheese shreds and spreads under its plant-based dairy brand Moocho.
Moocho dairy-free Shreds come in Cheddar, Mozzarella and Fiesta Blend, and use fermented cultures and "ageing to draw out the very best experience in plant-based shredded cheese".
Moocho dairy-free cream cheese Spreads use fermented soy milk and are available in Just Plain Yum, Strawberry and Garden Vegetable.
Both products are vegan, non-GMO and gluten-free, with zero cholesterol and will launch this summer in retail and foodservice channels. The shreds come in eight-ounce bags at a recommended retail price of US$4.99, while the spreads are in tubs of the same weight at $4.50.
Jaime Athos, Tofurky's president and chief executive, said: "Category research suggests shoppers see a gap in the plant-based cheese category where brands haven't been able to provide a taste and texture that people crave. Moocho aims to improve category perception and impress a market hungry for delicious, affordable and accessible plant-based options."
Marfrig's plant-based burger reaches Uruguay
Brazilian meat processor Marfrig Global Foods has launched its plant-based burger in Uruguay via the fast-food chain Burger King.
Last year, Marfrig rolled out its new meat-alternative Revolution burger to foodservice outlets in Brazil. The product was developed with US-based Archer Daniels Midland Company (ADM), which produces the base raw materials while Marfrig manufactures and sells the end product.
Burger King has dubbed the new product the Rebel Whopper, which Marfrig said last month it also plans to launch in the same chain in China. It will feature in 20 stores in Uruguay.
"The expansion of the partnership with the network proves the quality of our burger," said Miguel Gularte, the chief executive for Marfrig's South America business.