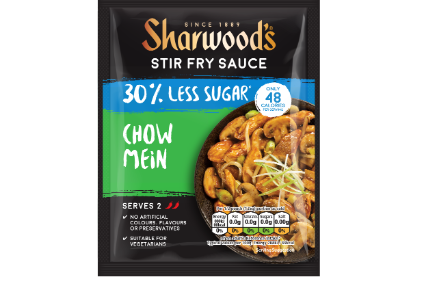 This week's selection of new products includes faux meatballs from Beyond Meat in the US and plant-based additions to Symington's Naked pot meal range in the UK.
Saputo adds US to Cathedral City cheese roster
The UK division of dairy giant Saputo plans to roll out its Cathedral City cheese brand in the US, adding to the August launch in Canada.
Saputo is headquartered in Montreal, Canada, and last year acquired Dairy Crest, the previous owner of the Cathedral City brand, which is produced and marketed through Saputo Dairy UK.
Saputo is in the process of securing listings in national retailers across the US, and Cathedral City's 200-gram packs of Mature, Extra Mature and Vintage cheddars are expected to be on sale in November in 2,000 stores nationwide.
Premier Foods debuts reduced-sugar Sharwood's stir fry sauce sachets
The UK's Premier Foods has launched healthier stir fry sauce sachets under its Sharwood's brand.
The reduced-sugar sauces, widely available from major UK retailers now, come in three flavours – Sweet & Sour, Sweet Chilli & Garlic and Chow Mein – and contain 30% less sugar than the category average, Premier Foods suggests.
The company said the launch follows the success of Sharwood's reduced-sugar Sweet & Sour sauce, which is available in a glass jar.
Andrey Sokirkin, brand director for cooking sauces, said: "The range will offer health-conscious shoppers more choice in the cooking sauce aisle – while being substantially lower in sugar than the category average."
The 120g sachets have a RRP of GBP0.79 (US$1.03).
Nestle launches NAT Bears cereal in the UK
Food giant Nestlé is making its new NAT Bears cereal, recently launched in Spain, available in the UK.
Aimed at children, the individually wrapped bears crumble to become a bowl of cereal when added to milk.
It contains ingredients "made from natural origins" and has no artificial colours or flavours. The high in fibre cereal is available in Honey and Chocolate flavours with one 32g bear equalling one bowl of breakfast cereal.

Gharry Eccles, vice president UK & Australia Nestlé Cereals, said: "We know that parents are looking for a cereal that is both tasty and high in fibre for their kids at breakfast time, and we're confident that our new NAT Bears fits the bill."
NAT Bears is available in Sainsburys now and will be hitting shelves in Tesco stores in November. The cereal comes in a pack of six with an RRP of GBP£2.89 (US$3.72).
Iceland's Good Good moves into new category in US with Krunchy Keto Bars
Good Good, the Icelandic food company best-known for its no-added-sugar jams, spreads and syrups, has moved into a new category in the US with the launch there of Krunchy Keto Bars.
Targeting the keto diet market, as their name suggests, the 130-calorie bars contain 6g of fibre and 2g of net carbs. They are available in two flavour varieties – Raspberry Cheesecake, with 13g of protein, white chocolate, fibre and collagen, and Salty Caramel Nut, featuring 8g of protein, milk chocolate with fibre.
Both bars are sweetened using stevia and erythritol.
Gardar Stefansson, co-founder and CEO of Good Good, said: "GoodGood has experienced tremendous success with the introduction of our Krunchy Keto Bars in the European marketplace and we look forward to sharing them with US fans."
General Mills debuts keto-friendly Ratio range
US food major General Mills has launched its first keto diet-friendly range through its Ratio brand.
The low sugar and carbs range features yogurt-cultured dairy snacks and crunchy bars that "deliver on protein, rich flavour, texture and convenience," according to the company.
Tsubasa Tanaka, director of marketing at General Mills, said: "In launching Ratio's keto-friendly products, we want to ensure that convenient, delicious snack options are available for various lifestyles and dietary choices. No matter what individual goals are, we hope Ratio's crunchy bars and dairy snacks can be an enjoyable snack swap that people look forward to and feel good about reaching for while working towards their goals."
The yogurt snacks range features five fruit options: Strawberry, Coconut, Vanilla, Mango and Black Cherry. The crunchy bars are available in Lemon Almond and Toasted Almond.
The dairy snacks and crunchy bars are currently available at "select retail locations across the US with a RRP of US$1.49 per cup of dairy snacks and $7.99 per four-count box of crunchy bars.
And also from General Mills……….
"Mess-free Mexican" with Old El Paso Tortilla Pockets
General Mills has added to its Old El Paso Mexican brand with Tortilla Pockets – sealed at the bottom to provide a "mess-free solution".
The company suggests the pocket design solves the "age-old tension of spillage when rolling traditional tortillas".

The tortillas are offered as part of a meal kit or a stand-alone split pack of eight.
Maeve Judge, marketing manager, Old El Paso, said: "With more and more shoppers entering the World Foods aisle, it's an exciting time for the category – and a very exciting time for Old El Paso.
"Tortilla Pockets have been three years in the making, so we're thrilled to finally bring them to market."
Nestle makes Rowntree's Fruit Pastilles vegan-friendly
Nestle has adapted the recipe for its Rowntree's Fruit Pastilles confectionery brand to make it vegan-friendly.
The new version will be available in the UK and Ireland from October, starting with sharing bags, and in other countries to which they are exported from early next year.
Nestlé said its technicians trialled more than 30 recipes before arriving at the new formulation. Their mission was to remove the gelatine while ensuring the sweets retained their fruity flavour.
Meg Miller, brand manager for Rowntree's said: "We've had many requests from consumers over the years asking if we can make Fruit Pastilles vegetarian or vegan. We want the brand to be enjoyed by as many consumers as possible and so we are delighted to be able to introduce our new vegan friendly recipe across the full range of sweets."
Fruit Pastilles, a mix of blackcurrant, lemon, strawberry, lime and orange chewy sweets, contain no artificial colours, flavours or preservatives. They were invented by brothers Henry and Joseph Rowntree, working with French confectioner August Claude Gaget, at their cocoa works in York in 1881.
Beyond Meat's plant-based meatballs roll out in US
Alternative-protein manufacturer Beyond Meat has added plant-based 'meatballs' to its range in the US where the new product makes its debut this week in the retail channel.
Beyond Meatballs are seasoned with a blend of Italian spices, and are free-from GMOs, soy, gluten and "synthetic ingredients". They also do not contain any cholesterol, antibiotics or hormones but offer 19 grams of protein sourced from peas and brown rice.
Stockists include Whole Foods, Stop and Shop, Sprouts, Harris Teeter, Kroger and Albertsons, with more retailers to be added in October. A pack of 12 carries a recommended retail price of US$6.99.
Beyond Meat already has plant-based patties, mince and sausage on the market in the US.
UK's Symington's adds plant-based options to Naked range
Symington's, the UK food group, has added plant-based variants to its Naked pot meal range.
Its 100% plant-based Naked Veg Pots are available in three flavours – Korean BBQ Ramen with Sweetcorn & Green Beans, Malaysian Rendang with Mushroom & Green Beans and Chinese Green Vegetable Broth with Green Beans. They are available from Tesco price at GBP1.50 (US$1.93).
Christine Everett, head of snacking at Symington's, said: "It's a really exciting time for the Naked brand with lots of innovation on the go and our brand new Veg Pots are a fantastic addition to our versatile range.
"The SKUs tick many boxes from convenience and taste to health, particularly within plant-based which has strong appeal in the market, so we're confident the product will perform well when it lands in stores this month."