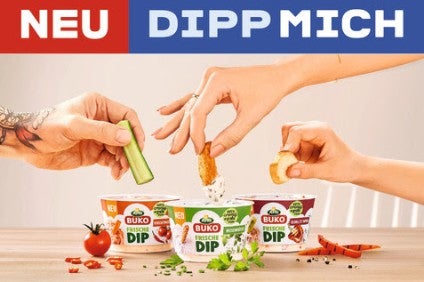 This week's batch of new products includes the addition of dips to Arla's Buko brand in Germany and UK healthy snacks start-up Insane Grain winning its first 'big four' listing.
Small Giants wins first major retail listing for cricket-based crackers
Small Giants, a UK-based company making consumer foods from insects, has secured its first 'big four' retail listing with Sainsbury's.
Small Giants Crackers, made with cricket flour, will launch in 70 of the supermarket's stores in south-east England on 14 February for an initial 16-week trial under Sainsbury's Future Brands initiative, which supports innovative challenger brands.
The Crackers contain 15% cricket flour, along with extra virgin olive oil and wheat flour, with a "boost of vitamin B12" and a 22% protein content. Two flavours will be available in 40-gram packs – Rosemary & Thyme and Tomato & Oregano – carrying a RRP of GBP1.50 (US$2.07).
The company was originally founded as Crické by Edoardo Imparato and Francesco Majno in 2019 but underwent a name change last November to get around the so-called Yuck factor. "We think the only way is by giving edible insects a familiar form that can help anyone to try them a first time and to understand that they are tasty and nutritious," a spokesperson for the company explained.
Imparato said: "As attitudes towards edible insects are changing, we want to bring excitement, innovation and new consumers to the savoury snacks market. We've created a planet-positive insect-enriched snack that tastes great and offers a genuine alternative to those wanting to cut their consumption of traditional animal-based foods and find an alternative source of protein."
Small Giants' founders own the majority of the company. It closed a GBP130,000 investment round in March last year and is in the process of securing a further GBP250,000. As well as the UK, the business also supplies "small food chains" in Spain, France and Germany.
Arla Foods adds dips to Buko brand in Germany
Arla Foods is adding dips to its Buko range of cream cheeses in Germany.
The Denmark-headquartered dairy giant plants to launch Arla Buko Fresh Dip in March in three flavours: Meadow Herbs, Grilled Peppers and Cherry Tomato Chili.
They come in 195-gram pots carrying a recommended retail price of EUR1.19 (US$1.43) and will be manufactured at Arla's facility in Upahl, Mecklenburg Western Pomerania, Germany, using 100% natural ingredients.
"With our established Arla Buko brand and 100% natural ingredients, we are making consumers a very attractive offer," said Christian Thomsen, the senior category director for cheese, butter and spreads in Germany. "With the new dips, we want to expand our Arla Buko success story and reach even more consumers because we see that the demand for milk-based products for dipping is increasing."
Conagra unveils Mondelez tie-up
US manufacturer Conagra Brands has added to its Snack Pack desserts by joining forces with confectionery giant Mondelez International.
Conagra's Snack Pack Juicy Gels range now contain two products developed in tandem with Mondelez under the sweet maker's Sour Patch Kids brand.
The new desserts are available in blue raspberry and Redberry flavours – Redberry being a Sour Patch trademark. Conagra said the gels contain 100 calories per serving.
"When it comes to snacking, consumers are looking for fun new ways to enjoy their everyday favourites," Snack Pack brand director Audrey Ingersoll said.
The new gels have a suggested retail price of US$2.79 per pack.
Mili Laddha, associate director of marketing at Mondelez, said: "We're all about showing up for our fans in new and exciting ways. We know how much they love the 'sour then sweet' taste so we are always looking to provide them with unique experiences outside of candy that help continue fuelling that fandom."
UK healthy snacks start-up Insane Grain wins 'big four' listings
Insane Grain, a UK challenger brand, has won listings with 'big four' grocer Sainsbury's for its healthy snacks based on the grain sorghum.
The London-based company will see two of its puffed snack Insane Grain products – available in Cheese, Salt & Vinegar and Salted Caramel variants – sold via 70 Sainsbury's stores from this Sunday (14 February) as part of the retailer's Future Brands initiative.
Insane Grain was set up early last year by Rushina Shah, who worked in brand management at Procter & Gamble and Reckitt Benckiser, and Nigel Parrott, co-founder of Ape Snacks.
Its snacks are available in 24g single-serving and 80g sharing bags. They are vegan, gluten-free and under 100 calories.
Shah describes sorghum, widely used in Asian cooking, as a supergrain which contains more iron than spinach, more potassium than a banana and has additional gut-health benefits.
'We have identified a unique, white-space opportunity that will bring incremental shoppers into the Sainsbury's category and are looking forward to proving this through the Future Brands trial in February," she said.
The snacks have a RRP of GBP0.89 (US$1.22) per 24-gram pack.