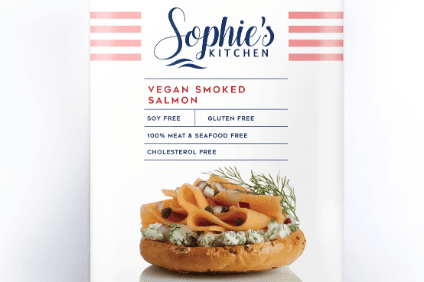 This week's batch of new products includes a new Keto diet range from SlimFast and a Quorn Foods-based vegan sausage roll from Greggs.
Sophie's Kitchen makes UK debut with Sainsbury's listing
UK big four grocer Sainsbury's has extended its vegan offering extensively to tie in with Veganuary when a growing number of local consumers give up meat and dairy products for the first month of the year.
Its new offering includes both own-label and branded vegan products and gives a UK debut to Canada's plant-based 'seafood' firm Sophie's Kitchen.
Its own brand Love Your Veg range, available in 300 stores nationwide, now includes the likes of Shroompups (vegan cocktail sausages), Chorizo-Style Shroomdogs, Jackfruit Quarter Pounders, and vegan pizzas with prices ranging from GBP2.25 to GBP3.80 (US$2.85 to $4.81).
Frozen branded vegan products, available in 75 stores, includes products from Conagra Brands' meat-free brand Gardein – a move revealed back in November – such as Golden Fishless Filets, Seven Grain Crispy Tenders and Mandarin Orange Crispy Chick'n (all GBP3.50).
Sophie's Kitchen products now available through the supermarket are Sophie's Kitchen Prawns and Sophie's Kitchen Smoked Salmon (both GBP3.50) – while Lazy Vegan products have also been added, including Lazy Vegan Mexicana Meal (GBP2.25) and Lazy Vegan Pulled Peaz Chunks (GBP3.50).
Also newly available are Deliciously Ella products including Five Bean Chilli and Cauliflower & Lentil Dahl (both GBP4.50).
Sainsbury's said its range comes as a response to soaring demand, and are the fourth expansion since the supermarket launched its next-gen plant-based range in January 2018 – now totalling more than 100 products.
Rachael Matthews, product developer for plant-based at Sainsbury's said: "We're really proud to be extending our range for customers with these exciting, flavoursome products and can't wait to hear how our customers are using them."
Danone links up with Diageo for Baileys Coffee Creamers
French dairy heavyweight Danone has signed a licensing deal with drinks giant Diageo in North America to re-introduce a range of coffee creamers under the Baileys Irish liqueur brand.
The non-alcoholic Baileys Coffee Creamers come in three flavours – Vanilla Cream, Irish Cream and Mocha Mudslide.
The Baileys concession was previously licensed to US dairy company HP Hood and comprised around 15 flavours.
Mac Krause, brand manager for Baileys creamers at Danone North America, said: "We asked for feedback from consumers and worked closely with our product innovation team to craft a rich and creamy coffee experience with the new recipe. We have focused on optimising taste and texture."
The product carries a RRP of US$3.99 per 32 fl oz bottle.
Greencore among suppliers for new M&S vegan range
Upmarket UK grocer Marks and Spencer has worked with a number of suppliers for a new own-label vegan range.
M&S has launched Plant Kitchen, a range of 60 products including snacks and ready meals such as cauliflower popcorn and a BBQ pulled jackfruit pizza.
"This is the year we'll truly see plant-based food go mainstream," April Preston, director of product development at M&S, said. "We're thrilled we've created a range which tastes as good as you'd expect from M&S, but is also vegan-friendly, so finally people don't have to compromise on taste."
Asked which suppliers had worked on the products, an M&S spokesperson said: "We've worked with lots of our existing suppliers to produce the range – not one manufacturer, so sandwiches, wraps etc from Greencore, sausages from Finnerbrouge, burgers from Freshcook, meals from several including Caledonian [and] Pennine."
Danone rolls out Silk Oat Yeah milk drink line in US
Dairy giant Danone is rolling out a new oat-milk drink in the US under its Silk brand.
Oat Yeah is available at nationwide retailers from this month in three flavours: The Plain One, The Vanilla One, and The Chocolate One. It will retail at US$4.49.
The France-based firm said its Silk line is the number one plant-based beverage brand in the US. Silk Oat Yeah is free from dairy and soy, and contains no cholesterol, artificial colours or flavours. The product is also non-GMO Project certified.
Danone claims Oat Yeah has fewer calories and less sugar than other "leading" refrigerated oat-milk brands.
Unilever's Sir Kensington's launches D2C spice kit line
US condiments brand Sir Kensington's has launched its first spice kit in the direct to consumer (D2C) channel.
The Unilever-owned firm's Turkish Tabletop Spice Kit, which is being sold via a microsite, has a price tag of US$20.
It contains three individually packed spices from Turkey: Cured Sumac, Black Urfa Chili, and Silk Chili. Each pack contains about 0.50 oz or four to 12 servings of each spice, depending on how liberally individuals spice their dishes.
The kits also contain recipes and information on each spice and two Sir Kensington's Classic Mayo packets.
The plan is that the company will release a different spice kit each month.
Greggs teams up with Quorn Foods to launch vegan sausage roll
UK retailer Greggs has teamed up with meat-free manufacturer Quorn Foods to launch a vegan sausage roll.
The new Vegan Sausage Roll will roll out tomorrow (3 January) in 950 Greggs stores across the country at a retail price of GBP1.00 (US$1.27).
Greggs said it is catering to rising consumer demand for a vegan-friendly version of its meat-based sausage rolls following a petition from the animal rights organisation PETA – People for the Ethical Treatment of Animals – signed by more than 20,000 people.
"The Greggs Vegan Sausage Roll has been designed to mirror some of the sausage roll's classic features, including 96 layers of light and crisp puff pastry, but instead is made with a bespoke Quorn filling," according to a statement from the retailer.

Roger Whiteside, the chief executive of Greggs, added: "Like many food retailers we have seen increasing demand for vegetarian and vegan products. We have been trying to develop a vegan version of our famous sausage roll for some time now. It has not been easy but our taste panel customers all love this one, so we have decided to launch it as our contribution to Veganuary."
Glanbia's SlimFast launches Keto diet product line
US diet brand SlimFast, owned by Irish dairy and sports nutrition group Glanbia, has launched a product line intended to make the popular Keto diet convenient to follow at home and on the go.
The meal replacement shakes and bars, along with the fat bomb snacks and other products in its SlimFast Keto line, are all formulated on the principles of ketogenic nutrition: high-fat, low-carbohydrate, and moderate-protein. The theory is that this shifts the body's primary fuel source from carbohydrates to fat, forcing it into a state called ketosis.
The line of eight products includes two meal replacement shake mixes (Fudge Brownie Batter and Vanilla Cake Batter), two meal replacement bars (Whipped Peanut Butter and Whipped Triple Chocolate), Peanut Butter Cup fat bomb snacks, Unsweetened Keto Coffee Creamer, and MCT Oil.
SlimFast president, Doug Reader, said: "With new SlimFast Keto, we are giving American dieters what they told us they wanted for 2019 – they want a quick, easy and super-convenient way to follow the ketogenic diet."
The products are available nationwide at retailers including Walmart, Kroger and Meijer and online via Amazon.
Soylent develops "in-between meal"
Staying in the US, Silicon Valley-based Soylent, which produces meal replacement products for those who are too busy or distracted to eat, has launched Bridge, a beverage designed to create what CEO Bryan Cowley calls "food voids".
Announcing the launch of Bridge, Cowley described the voids as "times when you either skip a meal or make unhealthy, unsustainable or expensive food choices because you don't have access to something better".
He added: "We know that mealtime isn't the only time our customers are faced with these difficult food decisions, so we set out to create a more complete and nutritious way to get you to your next meal."
The beverage contains 15 grams of plant-based protein and "36 essential nutrients", the company said in a statement. The drink has 180 calories and three grams of sugar. Soylent Bridge will make its debut in chocolate flavour.
Cases of 12 bottles can be purchased online at www.soylent.com/bridge (US) for US$24.70 for subscribers and $26 for one-time orders.