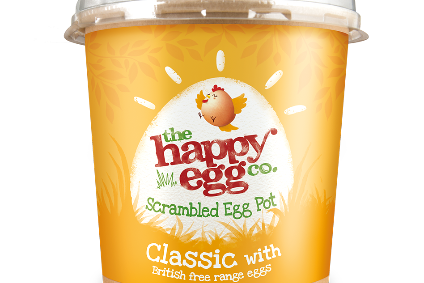 This week's product news includes a new snacks brand from PepsiCo in the US and Kellogg adding to its portfolio of products on sale in India.
The Happy Egg Co debuts on-the-go products
The Happy Egg Co., the UK free-range brand owned by Nomad Foods, is introducing two on-the-go scrambled egg products.
Scrambled Egg Pot and Scrambled Egg Mix will launch in Asda this month.
The egg pots have been produced in conjunction with specialist food-to-go company Adelie Foods based in Tamworth, Staffordshire, and are available in three varieties: Classic, Bacon or Cheese, all at a recommended retail price of GBP2.49 (US$3.22).
The 500-gram Happy Egg Scrambled Egg mix will feature in the chilled baking fixture at a RRP of GBP2.50.
PepsiCo rolls out new snack brand in US
The snacks giant is launching a product in its domestic it believes is "perfect" for families wanting "nutritious snacks" on the go.
PepsiCo is rolling out snacks under the brand name Imagine the company touts as giving "a good source of nutrients like protein or calcium that parents can feel good about feeding their kids".
The Imagine line comprises two products – Yogurt Crisps and Cheese Stars. The crisps are available in two flavors – Mixed Berry and Apple Cinnamon – and contain four grams of protein and eight grams of whole grains per serving.
The stars are poppable crackers come in two flavours – Parmesan and white Cheddar, both offering six grams of protein per serving.
"We know that parents today have a hard time finding snack options for their kids that not only taste great, but also deliver positive nutrition like protein or calcium," Sarah Guzman, senior marketing director for the Imagine brand, said.
Kellogg takes granola to India
The breakfast-cereal major has broadened the range of products it sells in India with the launch of a granola.
Kellogg has launched a granola including almonds and cranberries, touting the "energy" and taste from the product.
Sumit Mathur, the marketing director for Kellogg's business in India, said: "'Energy for my family' is top of the mind for an Indian homemaker on the breakfast table notwithstanding the rushed mornings. While consumers continue to seek more and more nutrition in the food choices they make, taste remains the primary driver of that food preference. Kellogg's granola is that tasty,oven-baked creation carefully crafted to cater to both, taste and nutrition."
The granola has gone on sale in major Indian cities, with a 150g pack available for INR99 (US$1.35) and a 460g pack for INR290.
Heck launches plant-based sausages
UK sausage company Heck Food is launching a plant-based range.
The four-strong, gluten-free line-up of sausages comprises products called Sweet Fusion, The Beet Goes On, Super Greens, and Bollywood, which are all vegetarian and vegan-friendly. They are also free from soya, dairy and wheat.
Asda will stock the full range, while Sainsbury's will carry the Super Greens and Sweet Fusion. A pack of six has a recommended retail price of GBP3 (US$3.85).
India's Parag Milk Foods adds to sports nutrition range
Indian dairy business Parag Milk Foods this week announced the launch of Go Protein Power, designed to help "build lean muscle and repair muscle and tissue".
Parag Milk Foods said the "health and nutrition segment" within India's overall "protein market" was worth around INR15bn (US$205.7m) and growing at 25% a year.
Chairman Devendra Shah said: "With changing lifestyles, there is growing interest towards nutrition and consumers are becoming increasingly health conscious. We now have Go Protein Power which is a source of better protein that will help consumers meet their optimal nutrition intake despite today's busy lifestyle."
The protein powder, available in Mumbai, is being sold in 200g and 400g packs.
Our digest of products launched in previous weeks can be found here