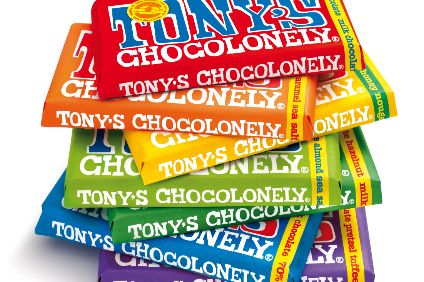 This week's batch of new products includes Greek yogurt firm Chobani's debut in non-dairy and Mondelez International targeting Nutella in France.
Tony's Chocolonely brings 'slave-free chocolate' to UK
Dutch ethical chocolate company Tony's Chocolonely has launched its products in the UK market.
Now the best-selling brand in the Nertherlands, Tony's will launch seven 180g bars and four 50g bars exclusively into Selfridges on 11 January for one weekend and will then launch in Whole Foods Market, Ocado before rolling out to Waitrose stores from the beginning of February and Sainsbury's stores in March.
It is launching seven 180g large bars – Milk Chocolate, Milk Chocolate Caramel Sea Salt, Milk Chocolate Hazelnut, Milk Chocolate Almond Honey Nougat, Dark Milk Chocolate Pretzel Toffee, Dark Chocolate and Dark Chocolate Almond Sea Salt – and four varieties of 50g small bars- Milk Chocolate, Milk Chocolate Caramel Sea Salt, Milk Chocolate Hazelnut and Dark Chocolate Almond Sea Salt.
Tony's Chocolonely was founded in 2005 by investigative journalist Teun van de Keuken who discovered some of the world's largest chocolate companies were buying cocoa from plantations in West Africa, where child labour and modern slavery occurred.
He decided that things had to change within the industry and set up a company which pays a higher price for the cocoa beans, provides business and agricultural training to increase productivity on its farms and works together with cooperatives.
Some 1% of Tony's Chocolonely's net revenue is donated to the Chocolonely Foundation, supporting projects to eradicate modern slavery in the
cocoa chain.
Fazer changes chocolate recipe to become vegan-friendly
Finnish food company Fazer Group is changing the recipe of its Fazer Pure Dark chocolate to make the product suitable for vegans.
The change, which coincides with Fazer introducing a new flavour in the shape of Fazer Pure Dark Crunchy Hazelnut, has been achieved by "tweaking the chocolate recipe in a way that allows the previously used milk fat to be left out".
Pure Dark chocolate made with the updated recipe no longer contains any dairy or other animal-based components in its ingredients.
Riina Hagman, brand manager at Fazer Confectionery, said: "Fazer has been getting consumer feedback for a long time asking for chocolate that would be compatible with a vegan diet. Now, we are fulfilling these wishes by making Fazer Pure Dark chocolates suitable for vegans."
The change will be rolled out in stages in different stores. Products following the new recipe will be labelled as vegan-friendly on the packaging.
Danone-owned Horizon Organic unveils protein-enhanced milk
Horizon Organic, a US organic dairy business owned by French dairy giant Danone, has launched a protein-enhanced milk product.
Its Horizon Organic High Protein is said to provide 50% more protein per serving than traditional dairy milks. It has 12g of organic protein per 8oz serving.
It is available in three flavours: Reduced Fat Chocolate, Reduced Fat Plain and Vitamin D.
Christina Finkel, senior director of marketing for Horizon Organic, said: "We realised that protein is a top priority for people when it comes to milk – yet no organic protein milk option was available.
"Protein helps to fuel your day and supports healthy muscles, and our newest organic protein milk is meant to help meet that need for dairy drinkers."
The added protein comes from organic milk protein concentrate made from complete proteins naturally found in milk.
Horizon Organic High Protein milk has a RRP of US$5.99 per 64oz carton for all three varieties.
Califia Farms introduces new oatmilk products
Califia Farms, the US plant-based dairy business, has launched new oatmilk products.
The California business' product portfolio now includes an Oat Barista Blend, launching next month, and an Unsweetened Oatmilk, launching in April.
The new Oat Barista Blend joins Califia Farms' Original and Unsweetened Almondmilk Barista Blends, strengthening its coffee shop offering.
Unsweetened Oatmilk is designed for at-home consumption and for purchase in natural, speciality and grocery retailers. It will be bottled in Califia Farms' signature 48-ounce carafe. It has 50%more calcium than milk.
Califia's Oat beverages are made with North American whole grain, gluten-free oats.
Greg Steltenpohl, founder and CEO of Califia Farms, said: "We've been a dependable partner to the speciality coffee trade for some time now, and offering a new Oatmilk Barista Blend was a clear next step to help cafés reliably meet their customers' demand and quality expectations."
Chobani enters non-dairy category with coconut product
US Greek-style yogurt specialist Chobani has launched its first-ever plant-based line, Non-Dairy Chobani.
It is rolling out nine of the cultured organic coconut products in pot and drink form. They are Blueberry, Peach, Slightly Sweet Plain, Strawberry and Vanilla single-serve cups and Mango, Slightly Sweet Plain, Strawberry and Vanilla Chai single-serve drinks.
They are made made using only natural, non-GMO ingredients, and contain no artificial flavours, sweeteners or preservatives and, according to Chobani, contain 25% less sugar than other non-dairy options.
Hamdi Ulukaya, founder and CEO of Chobani, said: "We have a belief – if we can't make something better, we don't make it at all. And for some time, we've felt that people deserve better non-dairy options,"
Suggested retail prices for Non-Dairy Chobani are US$1.99 per 5.3oz single-serve cup and $2.49 per 7oz single-serve drink.
Mondelez set for Nutella battle in France
The US snacks giant is taking one of its flagship chocolate brands into the spreads market.
Mondelez is launching a Milka spread in France, sold under the brand name Patamilka.
The spread is to be sold in a 240g container (with a recommended price of EUR1.89) and a 600g pot (recommended price EUR3.39).
Mondelez said the spread contained "less palm oil than the average of the spreads on the market" at 3.5%.
It added the sugar content of the spread was 525kcal per 100g.
Kraft ditches artificial hormone from natural cheese products
US food giant Kraft has revealed its natural cheese is now made with milk without the artificial hormone rbST.
The move affects products including shredded cheese, natural slices, blocks and snacking cheese.
Kraft points to research showing that more than half of all consumers try to avoid added hormones in their food.
Anne Field, director of brand building at the company, said: "Our goal is to give families Kraft cheese the way it should be, with the same great taste and without the artificial hormone rbST at no additional cost."
And Mondelez rolls out fun-filled Cadbury Freddo 'Treasures' treat for children
Mondelez is launching a fun-filled treat for children across the UK and Ireland under the Cadbury Freddo brand as part of its well-being strategy.
Cadbury Dairy Milk Freddo Treasures feature a "purple treasure chest" filled with Cadbury's milk chocolate buttons, with each chest containing 76 calories at a recommended retail price of GBP0.90 (US$1.14).
A selection of seventeen toys in the form of either a Freddo and friends figurine or an interactive game can be found in each. And every pack also contains a QR code, which when scanned reveals to parents hidden historical treasure.
Dave McDermott, brand manager for Cadbury Freddo, said: "Freddo Treasures offers the great taste of Cadbury Dairy Milk Buttons made with quality ingredients including a glass-and-a-half of fresh milk, and a toy which is suitable for kids of all ages. With the portion of Cadbury Dairy Milk Buttons coming in under 100 calories per chest it's a treat parents can feel good about giving their children."
McDermott added, citing data from Nielsen, that the market for the Cadbury Dairy Milk Freddo brand is now worth just over GBP25m. The launch is supported by a GBP6m television advertising campaign.
India's Parag Milk Foods makes desserts debut
Indian dairy business Parag Milk Foods has entered the country's sweets category through the launch of two ready-to-eat desserts.
Its Gulub Jaman and Rasgulla lines will be sold under its Gowardhan brand.
The products are made from cow's milk and ghee.
Devendra Shah, chairman of Parag Milk Foods, said: "The market for the Indian 'sweets category' is extremely large. In this category, Gulab Jamun and Rasgulla are the two most popular Indian desserts, with nearly every store in the country serving some version of them.
"We have introduced these two products on a small scale which we will gradually scale up across India. Although, we have started by introducing the regular range in Indian sweets that consists of Gulab Jamun and Rasgulla, we plan to introduce Mysore Pak, Shahi Gulab Jamun, etc in the future."
Its Gowardhan Gulab Jamun and Gowardhan Rasgulla products are currently available in 1kg pack sizes.
Mondelez brings back Cadbury Bournville Orange
Mondelez International is bringing back its Cadbury Bournville Orange chocolate bar in the UK.
Cadbury Bournville Orange, which features real orange fruit pieces, was first launched in 1927 and re-merged as a limited edition in 2009. But from this month, the snacks are to become a permanent fixture as Mondelez seeks to tap into what is says is a trend for orange chocolate.
The new-look 100-gram bars conform to Cocoa Life standards and carry a recommended retail price of GBP1.49 (US$1.89).
Nancy Galvin, brand manager for Bournville, said: "By launching Cadbury Bournville Orange as a permanent addition to the range when the popularity of orange variants in chocolate is growing, we believe it will help drive frequency and penetration amongst dark chocolate lovers."