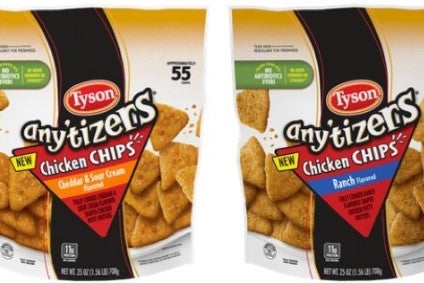 This week's batch of new products includes protein snacks from Tyson Foods and a push by US co-op brand Organic Valley into "ultra-filtered milk".
Tyson Foods' Any'tizers protein snacks
Tyson Foods has unveiled a new addition to its protein snack range – Any'tizers Chicken Chips.
The US food giant, which recently announced its entry into the alternative meat category, said the triangle-shaped chips are made using white meat sourced from chickens raised with no antibiotics.
They come in three flavours: BBQ, Ranch, and Cheddar & Sour Cream.
Colleen Hall, the marketing director for Tyson, said: "The lines between snacking and meals are blurring. Chicken Chips are a great option that can be enjoyed throughout the day and come in popular flavours that offer the perfect amount of crisp, inspired by chips, one of America's long-standing favourite snacks."
Each bag contains 55 chips offering 11 grams of protein per serving and are available in the frozen section of major US grocery retailers nationwide.
The Food Doctor's high-fibre Super Snacks
The Food Doctor, the better-for-you brand owned by William Jackson Ford Group, is launching a four-strong range of high-fibre Super Snacks.
The four flavour varieties containing a mixture of pumpkins seeds, fava beans, chickpeas and nuts will roll out in Tesco this week at a recommended retail price of GBP3.00 (US$3.74) for a 120-gram bag.
David Balmer, the managing director of the London-based business founded in 1999, said: "We're on a mission to make eating well easier for people by unlocking the mighty powers of everyday foods such as nuts and seeds. Guided by our fantastic team of nutritionists and dietitians our great-tasting Super Snacks are packed with loads of nutritious, wholesome ingredients bursting with benefits.
"Government guidelines say we should be having 30g of fibre each day to maintain good health and for us it's about making it easier for people to add more fibre to their diet to achieve this daily target. Our Super Snacks are all high in fibre, provide a source of protein and are roasted rather than fried."
Super Snacks are available in: Mexican Chilli Bean Mix, Masala & Sweet Chilli Mix, Rosemary & Sea Salt Mix, and Chilli, Coriander & Harissa Mix.
Glanbia's Optimum Nutrition muscles into savoury snacks
Optimum Nutrition, the US-based sports nutrition business owned by Ireland's Glanbia, has added a savoury product to its range of snacks.
ON Protein Ridges are described by the company, which already markets cake bites and wafers, as "crunchy, baked, whey protein squares coated in savoury spices".
Sarah Teeter, director of marketing for the ON brand. "Not everyone is looking to satisfy a sweet tooth – Protein Ridges are the perfect anytime snack when you want something satisfyingly crunchy with a savoury kick, and a great protein-rich alternative to traditional chips or crackers."
Optimum Nutrition said each bag of the snacks contains 15 grams of whey protein, 170 calories and, depending on the flavour, two to three grams of sugar and 14 to 16 grams of carbohydrates.
Protein Ridges are gluten-free and available – at sports nutrition retailers and online – in four flavours: Sour Cream, BBQ, Honey Sriracha and Cheese.
Organic Valley enters Fairlife territory with new milk
US dairy cooperative CROPP is rolling out a range of organic "ultra-filtered" milks under its Organic Valley brand.
The Organic Valley Ultra milks contain "50% more organic protein and 50% less sugar than regular milk", the co-op said, which claimed the products were "developed in response to consumer demand for high-protein, low-sugar organic options produced without toxic pesticides or artificial growth hormones".
CROPP said the "ultra-filtered" milk category had been "rapidly gaining in popularity over the last several years". It asserted the category had been "dominated by Fairlife, which is sourced from conventional, non-organic farms". Fairlife was founded by Mike and Sue McCloskey in 2012 as a venture between Coca-Cola Co. and Select Milk Producers. Select is a dairy cooperative consisting of 99 farms and started by the McCloskeys in 1994. Coca-Cola has an investment in Fairlife.
The Ultra milks went on sale at Whole Foods Market yesterday (22 July) and will be stocked at "other retailers" in October. The co-op has suggested a retail price of is US$5.99, with the milks available in four 56oz fluid options: whole, 2% reduced fat, 2% chocolate, and skim.
UK's Sleaford Quality Foods launches Our Earth range
Sleaford Quality Foods, a UK supplier of food ingredients to manufacturers and foodservice operators, has a new free-from and vegan-friendly range in the shape of Our Earth.
The company, based in England's east Midlands, said the range – aimed at the foodservice channel – will focus on traceability and free-from claims.
Our Earth will launch on 29 July across the UK with a range of products including gluten-free, dairy-free, palm oil-free, vegan, Halal and Kosher diet-suitable options.
The initial product launch range includes gravy mixes, bouillons, stuffings, Yorkshire pudding mixes and jelly crystals.
Tracey Siddy, the company's head of innovation and marketing, said: "The Our Earth range is the latest move from Sleaford Quality Foods to continually improve sustainability in the food industry with products that can be traced back to source, while providing meal solutions for a range of dietary preferences."
Sleaford is majority owned by Indian conglomerate Jain Irrigation Systems.