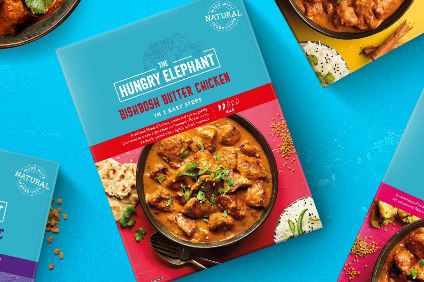 This week's new products include Kraft Heinz and Oprah Winfrey adding to the line of products they market in the US and Mars launching its Tasty Bite range in the UK.
UK's Symington's launches Indian meal kit range
Symington's, the UK-based ambient food business, has launched an Indian meal kit range, The Hungry Elephant.
The two stage kits comprise a marinade and simmer sauce.
The company, based in Leeds in northern England, said the four strong range was developed "to appeal to consumers looking for authentic restaurant flavours at home, with the flexibility of being more involved with the cooking process".
Its new range is made up of Gunpowder Chilli & Garlic, Bish Bosh Butter Chicken, Curry House Korma and Takeaway Tikka Masala variants.
It is being launched in Tesco with a RRP of GBP2.40 (US$2.90).
Kevin Butterworth, marketing director of Symington's, said: "The Hungry Elephant is a real celebration of flavours and offers a convenient meal solution without compromising on taste and quality. The two-stage process is incredibly quick and easy and the flavours deliver a restaurant style dish prepared in your own kitchen."
Kraft Heinz adds to Oprah line in US
The O, That's Good line of products available in the US has got broader.
The range, developed by Kraft Heinz and Oprah Winfrey, now includes frozen skillet meals, the fourth type of product to be included in the range.
Pizzas were launched last year and the brand made its debut in 2017 with the launch of refrigerated soups and side dishes.
Six new meals are available including chicken alfredo, Italian sausage and rigatoni, plus a "vegetarian-friendly" three-cheese tortellini. A recommended price of $6.99 has been put forward.
Mars launches Tasty Bite Indian food range in UK
Food giant Mars is launching its Indian meat-free ready meal brand Tasty Bite, already available in the US, in the UK.
Said to deliver "a range of bold, modern and great-tasting Indian dishes," the Tasty Bite products to be sold in the UK consist of Tikka Masala, Korma Vegetable, Punjabi Lentil, Vindaloo, Bombay Chickpea and Delhi Potato & Chickpea Curry. They have a RRP of GBP1.99 (US$2.44) for a 285g pouch.
Clare Dawson, marketing director, Mars Food UK, said: "We're thrilled to be bringing a modern twist on the traditional Indian curry to families across the UK. Tasty Bite not only tastes delicious, but it's created in India using responsibly sourced local ingredients."
Mars said Tasty Bite products can be prepared in 60 seconds and suggested they can be served with rice, a nap, wrap or salad.
The brand is available in Tesco and Asda.