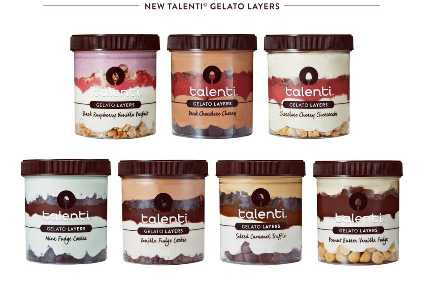 This week's notable new products include a push from Alpro into Greek-style yogurts, significant activity at Conagra Brands and a product "first" from Hormel Foods.
Unilever adds layered jars to Talenti gelato range
Talenti, the US-based gelato brand owned by Unilever, has launched a new range of jars featuring five layers made up of gelato, pieces and sauces.
The Talenti Gelato Layers range is available in seven varieties: Vanilla Fudge Cookie, Salted Caramel Truffle, Chocolate Cherry Cheesecake, Black Raspberry Vanilla Parfait, Peanut Butter Vanilla Fudge, Mint Fudge Cookie and Dark Chocolate Cherry.
Leslie Miller, marketing director of ice cream at Unilever, said: "The Talenti Layers range is the most innovative and decadent in the Talenti portfolio. We drew inspiration from this line to create a one-of-a-kind experience for consumers – it's a space that feels as decadent as the jars themselves."
The full Talenti Gelato Layers range has a RRP of US$5.49 to $6.49 per jar.
Post Holdings adds protein bars to Alpen range in UK
Protein bars are being added to the range of Alpen snack bars on sale in the UK.
The marketing team behind Alpen, owned by US manufacturer Post Holdings after its acquisition of Weetabix in 2017, said the new bars – available in chocolate and berries-and-yogurt flavours – contain 19g of protein per 100g. They contain 130 calories.
Citing Nielsen data to 26 January, the company said protein products had "already added more than GBP18m to the cereal bar category in the last year".
Helena Blincow, the marketing manager for Alpen, added: "Alpen's new range of Protein bars have mass market appeal, both chocolate and berries & yoghurt continue to prove popular flavours in research with our consumers. We believe our new launch can further increase the penetration of protein products for retailers, adding value to the category."
The bars are available from this month at a recommended price of GBP2.69 (US$3.52) for a pack of five and GBP0.69 for singles.
Caveman Foods unveils Collagen Bars
US healthy snacks company Caveman Foods is launching two new lines – Collagen Bars and Grain Free Granola Bars.
An expansion to Caveman's existing Dark Chocolate Nutrition and Protein bars, Collagen Protein Bars come in two flavours – Chocolate Chip and Chocolate Walnut – while Grain Free Granola Bars come in three flavours – Coconut Cashew, Cinnamon Raisin and Blueberry Almond.
Caveman CEO Jeff Hansberry said: "We are committed to making clean and healthy Paleo snacks that are craveably delicious – to make healthier eating easier. Our new Collagen Bars and Grain Free Granola Bars deliver on that promise."
Danone launches Greek-style Alpro yogurt
Danone has added a line of Greek-style yogurt alternatives to its range of Alpro products on sale in the UK.
The French food giant, which acquired Alpro through its purchase of WhiteWave Foods in 2017, is rolling out the new yogurts in five flavours.
Touted as "high in protein and low in fat", the product could be targeted a number of consumer types, including those that avoid dairy but want the thicker texture of Greek-style yogurt and those actively seeking foods that contain elevated levels of protein.
The yogurts, which use soya as the protein source, are available in plain, blueberry, mango and passion fruit varieties, as well as a fifth blended flavour of strawberry raspberry.
The products, sold in 150g packs, are available at Tesco, which is listing the mango variant at GBP0.95 (US$1.23) on tesco.com.
Muller launches twin natural yogurt range in UK
Dairy giant Müller is launching a twin natural yogurt range in the UK, its first in the category.
Müllerlight Natural and Müllerlight Greek Style Natural are made from milk produced in the UK, are fat free, high in protein and contain zero added sugar.
Müllerlight Natural is available now in Asda and Morrisons, and will roll out in Sainsbury's on 17 March in single 175-gram pots at a recommended retail price of GBP0.75 (US$0.98). A six-pack format is also being rolled out at a RRP of GBP4.09.
Müllerlight Greek Style Natural can be found now in Asda and in Sainbury's on 17 March, and Morrisons on 25 March in larger 450-gram pots at a RRP of GBP1.60.
Michael Inpong, the chief marketing officer at Müller, said: "We're proud to have the two most popular yogurt brands in the UK, and we're investing in our capabilities, our people and brands to ensure we maintain this leadership position. We'll grow the category by bringing Müllerlight into a segment where it has been absent. Whether eaten on its own, or with fruit, nuts, or granola, we think this product will appeal to everyone, especially those following various weight management programmes."
The company said it also plans to remove all added sugar from its Müllerlight yogurt range in May, reducing the total sugar content by up to 28%.
Conagra rolls out swathe of new products
Conagra Brands, the US food group, has showcased a range of new products at the Expo West trade show in California.
The company has developed new products to be sold under brands including Gardein, Frontera and Udi's.
Conagra is also taking its Angie's Boomchickpop popcorn brand into the trail mix segment.
"We've broadened our health and wellness credentials to meet the evolving needs of consumers and customers," Dale Clemiss, the president of Conagra's grocery and snacks business, said. "Conagra Brands offers up-and-coming new brands, as well as iconic brands, with modern health attributes across dayparts and occasions."
The new meat-free Gardein products include breakfast sausage, skillet meals and alternatives to nuggets and wings. The Frontera range will also include new "gourmet" Mexican bowls and skillets.
The new products Udi's products being showcased included Mug Cakes and Veggie Crust Pizza.
Hormel eyes plant-based demand with Applegate innovation
Another US major, Hormel Foods, is targeting the rising demand for plant-based products with a new "first-of-its-kind" burger.
Hormel is launching The Great Organic Blend Burger, which is to be sold under its meats brand Applegate.
The burger contains organic meat but also has been "blended" organic mushrooms, which the company said "epitomises clean labels while also catering to the growing population of flexitarians".
The burger is available in two varieties – beef and turkey, "both of which offer a value-added twist on the classic burger", Hormel said.
Other new products in the Applegate stable include Snackables, which sees Hormel take the brand into snacks including a Pepperoni and Cheddar Snack Pack.
Hormel, which acquired US organic meat group Applegate Farms in 2015, has also recently launched an Applegate sub-brand called The New Food Collective under which products using pasture-raised meats and made from small-batch production are marketed. Among the first products to be developed are sausages made from pork certified by The American Grassfed Association.
PepsiCo adds to Nobby's nuts range in Australia with Loaded Snack Mix
US food and beverage heavyweight PepsiCo has added to its Nobby's nuts range in Australia with the launch of Nobby's Loaded Snack Mix.
Nobby's is Australia's largest nut brand and is manufactured by Smith's Snackfood Company, PepsiCo's Australian snacks division.
Described as "a snack mix like no other, packed with crunchy bite-sized pieces of pork crackle, crispy rice clusters, crunchy nuggets, noodle crisps, pretzels and peanuts," the Loaded Snack Mix range is available in two flavours: Spicy Buffalo Wings and Nacho Cheese.

Susan Press, marketing manager, said: "We wanted to deliver a nibble mix that only Nobby's could. The flavours really pack a punch and there is five grams of protein per serve."
Nobbys Loaded are available in a 110g pack from Coles, Woolworths, independent supermarkets and selected P&C stores, They have a RRP of AUD3.49 (US$2.46).