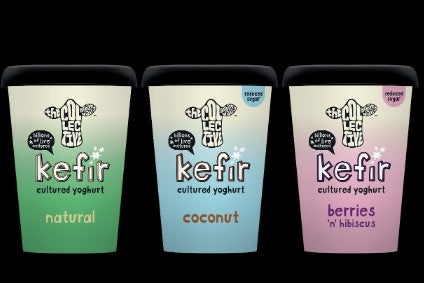 This week, the more eye-catching new products announced to market include Nestle taking some of its breakfast cereals into the organic category, high-protein, no-added sugar yogurts from Chobani in Australia and the first chilled milk product from the UK's Good Hemp.
Unilever brings Ben & Jerry's Moo-phoria ice cream to UK
Unilever is bringing its low-calorie ice cream Moo-phoria to the UK under its Ben & Jerry's brand after launching in the US earlier in the year.
Moo-phoria claims to have 60-65% less fat and 35-36% fewer calories (128-132 per serving) than similar ice cream products on the market. It will launch two flavours – Chocolate Cookie Dough and Caramel Cookie Fix – in the freezer ailes this month in all major UK supermarkets and retailers.
The recommended retail price is GBP4.60 (US$6.05).
Quirch Foods unveils frozen brand Mambo
US-based Quirch Foods has launched a frozen brand in the shape of Mambo.
Available from October, the range includes a variety of frozen vegetables and ethnic favourites such as empanadas and Jamaican patties.
The range also includes two non-frozen items – green plantain tostones and yuca (cassava) tostones.
Jorge Roza, director of marketing at Quirch Foods, said: "The Mambo brand is designed with a fresh, fun and authentic new look while maintaining the quality we are recognised for.
"It's important to continue to grow and evolve our business with brands that make an impact at the store level and bring ease of use to consumers."
Miami-based Quirch Foods' portfolio includes Panamei Seafood and Chiquita Frozen. Its customers include independent grocers, chain supermarkets, food service distributors, cruise lines, restaurants and food processors/manufacturers.
PepsiCo launches Kurkure sub-brand in India
The US snacks giant has rolled out an addition to the range of products it sells under Kurkure, its flagship brand in India.
Kukure Twistkeen are a baked Indian snack called a Namkeen. PepsiCo said it wants to create a new segment in India's salty snacks market.
It has created three varieties, which will at price points of INR15 (US$0.21) and INR55 (US$0.76).
The Collective extends kefir drink range with cultured yogurts
The Collective is introducing kefir cultured yogurts in the UK to follow the launch of a drinks range.
Four flavours will be available from October in nationwide stores of Waitrose, Sainsburys, Morrisons and Ocado at a recommended retail price of GBP2.29 (US$3.02) for a 450-gram tub: Natural, Madagascan Vanilla, Berries 'n' Hibiscus and Coconut.
The company's kefir cultured yogurts are said to have 30% less sugar than other flavoured yogurts.
Amelia Harvey, who co-founded the UK arm of New Zealand-based The Collective in 2011, said: "I'm so excited to enhance our kefir portfolio further with the launch of kefir yoghurt tubs. We've used the same approach to we used to develop our kefir drinks – carefully selecting the finest natural ingredients using minimal sugars to achieve the great taste we are known for whilst not compromising on the health benefits."
Nestlé breakfast cereals go organic
Cereal Partners Worldwide, the international breakfast cereal venture between Nestlé and General Mills, is targeting the organic market in certain countries.
Organic versions of three brands – Nesquik, Chocapic and Cheerios – are to be sold from this month in France, Spain and Portugal, with more markets to follow next year.
David Clark, the CEO of Cereal Partners Worldwide, said demand for organic breakfast cereals was growing but options for consumers remained "limited".
Nestle-owned Terrafertil takes almond milk with fruit to Mexico
Meanwhile, in Mexico, Nature's Heart, the brand owned by Ecuador-based Terrafertil (recently acquired by Nestlé), is launching an almond milk drink with fruit flavours in Mexico.
Almond + Fruit Juice contains no artificial colourings and has no added sugar, soy or lactose. The milk-based drinks use only natural ingredients and have less than 25 calories per serving.
They come in four flavours: red fruits, apple, tropical fruits and peach, and are available in either 200-ml or 946-ml containers. The product will launch in self-service chains across the country.
Terrafertil manufactures organic, plant-based food and drinks and was bought by Switzerland's Nestle in February for an undisclosed amount.
Dang Foods introduces plant-based snack bar
Thai-inspired natural crisps brand Dang Foods is launching a plant-based, keto-certified snack bar in the US.
Known for its coconut chips and sticky-rice chips, the California-based firm founded by Vincent Kitirattragarn will roll out Dang Bar on Amazon.com in October priced at US$2.49, with other listings lined up for 2019.
Gluten-free Dang Bars are made using almond butter, cocoa butter, coconut, complete pea protein, sunflower seeds and chia seeds. They contain 10 grams of clean protein, 15 grams of fat, 4-5 grams of net carbohydrates and no added sugar.
In the first stage, the bars will be available in three flavours: Almond Vanilla, Lemon Matcha, and Chocolate Sea Salt. Then from January, they will be in Whole Foods stores nationwide. In February, another three varieties will be added: Cardamom Chai, Toasted Coconut and Saigon Cinnamon Chocolate.

Hain Celestial's Ella's Kitchen enters frozen category with Big Kids range
Ella's Kitchen, the UK baby food brand owned by Hain Celestial of the US, has entered the frozen category with the launch of its Big Kids range.
Made up of ten SKUs for children up to eight years old and four puree SKUs for 'little ones', Ella's Kitchen describes the products as being "packed full of vegetables and made with organic and sustainably sourced ingredients".
The range is available exclusively through Tesco after it worked in partnership with the retailer to launch the product.

It has no added sugar, or artificial colours, flavours or preservatives and offers a number of gluten-free options.
The range includes Chicken + Veggie Nuggets, Cheesey Croquettes, Cod Fishies, Meaty Meatballs, Strawberry and Banana Muffins and Sweet Potato, Squash, Carrots and Parsnips Stir in Veggie Boost.
Mark Cuddigan CEO at Ella's Kitchen said: "Together with Tesco we saw the need for a convenient and tasty frozen food option for children and we are delighted to be the bringing this to the market."
The Ella's Kitchen's Big Kids range has a RRP starting at GBP2.50 (US$3.28).
Boparan-owned Giraffe, Ed's Easy Diner secure Tesco listings
Boparan Restaurant Group of the UK has secured listings in 300 Tesco stores for meals and desserts from its brands Giraffe and Ed's Easy Diner.
The appetiser offerings from Giraffe consist of Patatas Bravas, Harissa Spiced Lamb Kofta, Pulled Beef Empanada and Fiery Korean Wings at a recommended retail price of GBP2.50 (US$3.30).

The Tesco stores will also stock a range of main courses from Giraffe each priced at GBP4: Malay Vegetable Curry, Sri Lankan Prawn Curry, Lamb Tagine, Chicken Tinga, Katsu Breaded Chicken and Tamarind Duck Noodles.
Ed's Easy Diner dessert options comprise Cookie Dough and Banoffee Pie priced at GBP3 each.
Boparan Restaurant Group (BRG) is part of the business empire of Ranjit Singh Boparan, who also owns UK-based poultry processor 2 Sisters Food Group and Fox's Biscuits.
Tom Crowley, chief executive of BRG, said: "As we continue to develop our Giraffe and Ed's Easy Diner brands, it is great to be entering the retail arena with an experienced and market-leading partner like Tesco. This is great news for Giraffe and Ed's loyal customer base, who will now be able to access our brands through a new channel."
Sonoma Brands debuts egg snacks with Peckish
US-based Sonoma Brands is launching a new snacking product based on eggs – Peckish.
The 'Peck Packs' consist of two boiled, organic free-range eggs with a crunchy dip and come in five flavours: Salt & Pepitas, Everything, Maple Waffles, Fried Rice, and Rancheros.
Peckish was established by co-founder Chelsea Bialla, who also serves as chief brand officer at Sonoma Brands. The line will launch in January 2019 at a suggested retail price of US$3.99.
The packs are made with "clean" ingredients and include options for Paleo, Keto, Whole 30 and gluten-free diets.
Sonoma is a food and beverage incubator fund founded by Jon Sebastiani. Peckish is the third concept to be launched following organic and sugar-free Smashmallow and ready-to-eat chilled soups Zupa Noma.
Good Hemp brand launches first chilled milk in UK
Braham and Murray is taking its Good Hemp brand into chilled milk for the first time.
The UK-based food and drink company says its hemp chilled milk is made from organic hemp seeds and contains omegas and calcium, and the vitamins B12 and D. The firm says one 250-ml glass provides 50% of nutritionists' recommended daily intake of omega-3.
The hemp milk is suitable for vegans and vegetarians, is dairy and lactose free, contains no nuts, and is also free-from gluten, soya and GMOs. It is available in an unsweetened and original form, and will sit alongside Good Hemp's existing ambient range.
Around 500 Asda stores and 220 Waitrose outlets are stockists of the 750-ml recyclable bottles, which carry a recommended retail price of GBP1.99 (US$2.61).
Finsbury Food Group links up with Diageo on Baileys Cakes
UK bakery business Finsbury Food Group has created a range of Baileys Irish Cream Liqueur cakes in a licensing deal with brand owner Diageo.
The first launch in the range is the Baileys Freakshake Cake, a mix of chocolate sponge covered in Baileys frosting and topped with chocolate brownies.
Ingredients include Baileys Irish Cream, which Finsbury suggests marks the first time a cake manufacturer has used alcohol in a cake that's widely available in the grocery market.
Another addition to the range is a 12-pack of Baileys cupcakes that feature Baileys buttercream infused toppings.
Jack Cook-Broussine, brand manager for Finsbury Food Group, said: "Baileys is a fantastic new partner for us and gives an opportunity to show our capabilities for creating high quality, innovative cakes to supermarkets across the country."
The Baileys Freakshake Cake is available in Asda with a RRP of GBP12.00 (US$15.76) whilst the cupcakes have a RRP of GBP8.00.
Chobani launches high-protein, no-added-sugar FiT yogurts in Australia
Chobani has launched a range of high-protein yogurts containing no added sugar in Australia, including on-the-go pouches.
Chobani FiT contains 15 grams of protein per pot and are sweetened with the naturally occurring stevia instead of sugar.
Ten flavours are available in Woolworths and independent retailers, and in Coles from 20 September, including six varieties in 170-gram pots and four in on-the-go 140-gram pouches.
Quorn in NPD push in UK
UK-based meat-free supplier Quorn Foods is launching a dozen more products in its domestic market, a programme the company has described as one of its "biggest ever new product development initiatives".
Quorn, owned by Philippines food and drinks group Monde Nissin, said the new products include "new and improved versions" of ready meals like lasagne.
There is also a focus on flavours from around the world. Among the new products are cajun fillets, a Texan ranch chilli and a laksa curry.
Citing data from IRI and Kantar Worldpanel, Quorn said the UK meat-free category saw total sales grow 17% to more than GBP339m in the year to 31 March.
UK's Young's launches Simply Steam frozen meals
Seafood specialist Young's has added to its frozen food portfolio with Simply Steam, a low fat, high protein range.
The Grimsby, UK-based firm said it has created the range with a younger, health-conscious consumer in mind.
Simply Steam offers a complete fish meal that is under 300 calories, containing no artificial ingredients and displaying a full green traffic light GDA.
Simply Steam meals feature a fully transparent 'perfect steam tray'. Once cooked in the microwave, the patented tray and film combine to steam cook the fish and ingredients, locking in flavour and nutrients.
Simply Steam will first go to market in Tesco with two variants: Salmon Fillet & Sweet Chilli and Haddock Fillet & Parsley. Each meal is suitable for one person and contains one fish fillet, a sauce, a portion of rice or potatoes and a variety of seasoned vegetables.
Yvonne Adam, marketing director of Young's Seafood, said: "This taps into a number of growing trends; higher protein meals, healthier meals and consumers' desire to eat more fish."

The new range will be available for GBP3.00 (US$3.92), with a GBP2.50 introductory promotion.
Snack brand Indie Bay launches in Sainsbury's
UK snack brand Indie Bay has won its first big four retailer listing with Sainsbury's.
Its Indie Bay Pretzel Bites are an updated take on the pretzel – all-natural, vegan, and under 100 calories. They will launch in 200 Sainsbury's Local stores this week, starting with varieties of 'Rock Salt with Spelt' and 'Easy Cheesy'. The products have a RRP of GBP1.00 (US$1.31) for 26g.
London-based Indie Bay, which was founded one year ago with backing from grocery heavyweights including Jeff van der Eems, ex-United Biscuit CEO.
Dafna Bonas, founder of Indie Bay Snacks, said: "Our first year of sales has been a blur of activity. We've achieved six-figure sales in year one, which is exceptional growth for a snacking start up. We've grown our team, launched five flavours, distributed over 100,000 samples, appeared at four shows, expanded into three European markets, and will be stocked in 1,000 UK stores by the end of the year. Based on current projections, we are expecting 700% growth in our second year."
The Sainsbury's listing is part of its 'Future Brands' programme, which will see the retail giant supporting innovative challenger brands with strong long-term growth potential.