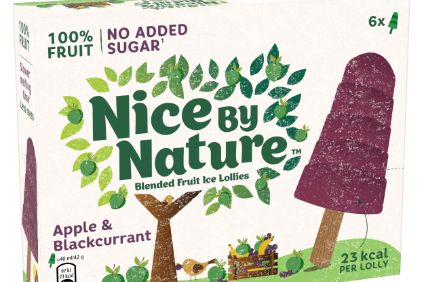 This week's batch of new products includes the UK's Noble Foods adding ice cream to its Gü desserts range and US-based Good Karma launching plant-based sour cream and dips.
Unilever teams up with with Tesco on Nice by Nature lollies
Unilever has collaborated with UK 'big four' grocer Tesco to create better-for-you Nice by Nature lollies.
The 100% fruit lollies contain no added sugar, counts towards one of the recommended 'five a day' and are made using a maximum of four ingredients.
Available in three flavours – Strawberry & Raspberry, Mango & Banana and Apple & Blackcurrant – the brand is launching exclusively in Tesco stores across the UK from 11 March.
Noel Clarke, vice president, refreshments, Unilever UKI, said: "All parents can empathise with the need to get kids to eat more fruit, it's a battle that most parents face at some point or other, which is why Nice by Nature is such a game changer. It's a great tasting ice lolly that contains 100% fruit and nothing else."
Nice by Nature has a RRP of GBP3.00 (US$3.97) for a 6 x 40ml pack.
Brain food company Ingenuity Brands unveils Brainiac Kids
San Francisco-based Ingenuity Brands, which is dedicated to "food-based brain nutrition", has launched Brainiac Kids, a line of kids' yogurts specifically targeted to help their developing brains.
The new product is a whole milk yogurt enhanced with the BrainPack, a "unique blend of key nutrients, including the Omega-3s DHA and ALA as well as Choline, which support childhood brain development".
One 4oz. cup of Brainiac Kids yogurt – available in Strawberry Banana, Strawberry, Mixed Berry and Cherry Vanilla flavours – provides as much Omega-3 DHA as one kid's portion of salmon, plus as much Omega-3 ALA as one cup of Brussels sprouts and as much Choline as two cups of broccoli, Ingenuity Brands claims.
Company founder and CEO Jonathan Wolfson, said: "With the help of experts, we discovered that kids in America, including ours, are getting far too little of the critical nutrients their rapidly growing brains need.
"These nutritional challenges presented an opportunity to create a food brand from the ground up, focused on brain nutrition and launched with yogurts that are not only delicious and fun for kids, but also help to feed their brains and close the nutrient gap."
Brainiac Kids is available at H-E-B's Central Market locations in Texas and will be available in late March through Good Eggs, the Bay Area-based online grocery delivery service.
Unilever launches Magnum Double Tubs in the US
Anglo-Dutch consumer goods giant Unilever has expanded its ice cream offering in the US with the launch of Magnum Double Tubs.
Made with "velvety ice cream, gooey sauce, and milk chocolate shards encased in a chocolate shell", Magnum Double Tubs are available in four flavours – Magnum Double Sea Salt Caramel, Magnum Double Cookie Crumble, Magnum Double Chocolate & Ganache and Magnum Double Cherry Truffle.
Leslie Miller, director of ice cream, North America, at Unilever, said: "Each of our Double Tubs flavours comes from one of our classic bars, like our most-loved flavor, Magnum Double Caramel Ice Cream Bar. This favourite has been reimagined into our New Double Sea Salt Caramel Tub which gives fans that same delicious taste and fine premium ingredients in an unapologetically indulgent experience."
Magnum Double Ice Cream Tubs have a RRP of US$4.49-5.99.
Smucker's brand set for move into honey
J.M. Smucker is to take its namesake brand of fruit spreads into another category in the US.
Smucker's Beekeeper's Promise honey will start shipping in May. The company, which is also adding to its fruit-spreads range with a new sub-brand, has developed three honey varieties – lemon, strawberry and pure.
"Beekeeper's Promise extends the Smucker's brand and delivers on the key components of our new brand-building model, in particular that brands must stand for something," J.M. Smucker CEO Mark Smucker said. "The line will be uniquely True Source-certified, promising high-quality, ethically-sourced honey from small farms."
Speaking at the CAGNY investment conference last week, Mr Smucker said the launch of Smucker's Mosaics fruit spreads would help "improve the brand's relevancy with consumers" amid "a decline in household penetration" seen by the category.
We're excited to launch Smucker's Mosiacs, a new line of fruit spreads that combines both unique and familiar fruits with real sugar and no artificial preservatives or colours. Our research has uncovered an unmet desire for new flavours in the fruit spreads category and Mosiacs leverages this white space opportunity."
Mosiacs will be launched in the first quarter of J.M. Smucker's 2020 fiscal year, which starts in May.
Dean Foods delivers Friendly's mini ice cream cakes
US-based dairy firm Dean Foods is launching mini ice cream cake cups under its Friendly's brand.
Cake Singles come in 8.5-ounce cups and are an addition to Friendly's ice cream cakes.
Four flavours are available in Walmart stores nationwide: Strawberry Krunch Cake, Birthday Cake, Chocolate Krunch Cake and Strawberry Cheesecake.
"With Friendly's Cake Singles, we saw an opportunity to use the same great flavour combinations that consumers have loved for years and deliver on their desire for more variety and convenience in their sweet treats," said Mark Schneider, the marketing director for ice cream at Dean Foods. "Over the years, we've received requests to sell ice cream cakes by the slice and with this innovation, we're delivering on that desire without compromising the taste or quality our customers expect from Friendly's."
Müller brings back Amore sub-brand in UK
Germany-based dairy giant Müller has resurrected the Amore brand in the UK.
It is coming up to three years since the company was selling Müller Amore in the UK. Müller said it had decided to bring the sub-brand back in a different way.
"This is Müllerlight Amore, so it's a different product. It's a different recipe, it's fat-free and high in protein. This product is Italian-inspired – unlike the last one – and there are also different flavours," a spokesperson said.
"We think it can disrupt the current luxury yogurt segment. Our research found that key purchase barriers for Müllerlight shoppers in this segment included concerns over sugar and fat content. We think this product will breakthrough these existing shopper concerns."
Müllerlight Amore, which has an average sugar content of 6.2 grams, is due to launch in Asda and Morrisons in March.
The yogurts come in three flavours, hazelnut, morello cherry and lemon. They will be priced at GBP1 (US$1.33) for a 130-gram pot.
Lait-owned Eurilait to debut meat-free BBQ range Al Fresco
UK-based cheese maker Eurilait, a subsidiary of French dairy cooperative Lait, is launching a range of meat-free barbecue products.
Al Fresco will roll out in Sainsbury's from 28 April, and in Morrisons from mid-May.
Al Fresco Barbecue Cheese 'Steaks' and Barbecue Cheese 'Sausages' will be available in original or chilli flavours. The cheese steaks will carry a recommended retail price of GBP2.50 (US$3.33), while the cheese sausages will retail at GBP2.75.
And there are also two varieties of BBQ Camembert joining the range – Classic, and Honey and Thyme (RRP2.99) – along with BBQ Feta, a Greek feta cheese with a spicy Harissa sauce (RRP2.99).
Noble Foods adds ice cream to Gü desserts range
The UK's Noble Foods has revealed a line-up of new products under its Gü desserts brand, including a range of ice creams and free-from products.
Noble Foods said the biggest launch in the line-up is "one of the most exciting innovations" in the brand's history: Gü Ice Cream.
It will be available in three flavours – Gü-Zillionaires' Cheesecake Ice Cream, Gü Zesty Spanish Lemon Cheesecake Ice Cream and Gü Chocolate Torte Ice Cream.
Sam Vince, senior innovation manager at Gü, said: "This is the one consumers have been waiting for: mouth-watering Gü Ice Cream designed by our head chef, Fred Ponnavoy, to deliver the quality cues of the brand in a new format everyone loves."
Another launch will see the brand embracing the free-from category.
The Gü Fabulously Free From will be made up of five puddings – Gü Spanish Lemon Cheesecakes (gluten-free, vegan), Gü Strawberry & Rhubarb Cheesecakes (gluten- free, vegan), Gü Chocolate & Vanilla Cheesecakes (gluten-free, vegan), Gü Hot Chocolate Molten Middles (gluten-free, vegetarian) and Gü Velvety Chocolate Ganache (gluten-free, vegan).
All Gü Ice Creams will launch in Tesco from 11 March with a RRP of GBP5.00 (US$6.60) for a 450ml tub.
Gü Fabulously Free From will be launched in retail chains including Asda, Morrisons and Tesco from March onwards with a RRP of GBP3.50 for a ramekin two-pack and GBP2.00 for the Chocolate Ganache.
Good Karma launches plant-based sour cream and dips
US company Good Karma Foods, known for its flaxseed-based milk and yogurt alternatives, has launched-plant-based Sour Cream as well as French Onion and Ranch Dips.
The Boulder, Colorado, business, in which US dairy giant Dean Foods holds a majority stake, said the sour cream and dips are free of all major allergens, MSG and carrageenan, and claimed they have have fewer calories, fat and sodium than other plant-based and dairy-based options.
Good Karma said its new products are made using a traditional culturing process, making them the only plant-based option with live and active cultures.
The line will hit retail shelves this spring.
Doug Radi, CEO of Good Karma Foods, said: "With Good Karma not just being our name, but the inspiration for all we do, we felt it was time for a little goodness in the dips category with new products that could make snacking happier for any family."
The new Sour Cream, Ranch Dip and French Onion Dip come in a 16oz shareable tub with around 15 servings per container, and will retail for US$3.99-4.49.