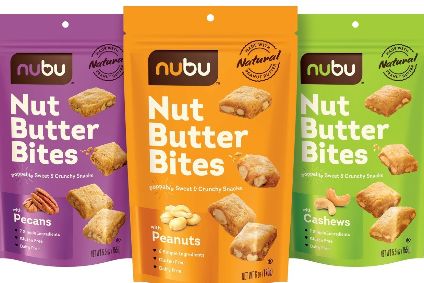 This week's batch of new products includes a new infant-formula brand for the Chinese e-commerce channel from Australia's Jatenergy and Italian pasta brand Le Stagioni d'Italia's UK debut.
US confectioner Mount Franklin targets nut butter trend
Mount Franklin Foods, the US snacks maker, is eyeing what it says is growing interest in nuts and nut spreads with the launch of a brand of snack bites.
Nubu Nut Butter Bites, available in five- or six-ounce bags, are being sold online and in "mass merchants and grocery stores nationwide", the company said.
Citing IRI data, Mount Franklin Foods said: "More than 70% of people typically turn to nuts, seeds or trail mixes as their snack of choice. The popularity of nut spreads are also on the rise with more than 60% of people indicating that they eat nut or seed butters one or more times per week."
Dawn Sykora, vice president for marketing of Mount Franklin, added: "People love to snack. In fact, 50% snack once or twice daily. Many turn to nuts because they are healthy, crunchy and easy to take along. Nut butters are equally delicious and satisfying. Nubu combines the best of both snacks by using nuts and nut butter in a mess free, bite-size treat that can be enjoyed anywhere."
Simply Good Foods Co. unveils Quest Nutrition snack bar range
Simply Good Foods Co., the US-based better-for-you snacks company, has unveiled a new snack range through its Quest Nutrition subsidiary.
Quest Snack Bars are described as "crunchy and indulgent bars with less sugar and carbs" and build on the brand's original Protein Bar line.
The bars contain 10g of protein and 1-2 grams of sugar per bar.
They are available in four flavours – Peanut Chocolate Crunch, Chocolate Mixed Nuts, Sea Salt Caramel and Cranberry Trail Mix.
Suzanne Ginestro, chief marketing officer at Quest, said: "Right now, nutrition and wellness are more important than ever and new Quest Snack Bars give consumers a way to satisfy their crunchy snack cravings without all of the sugar and carbs."
The bars are available online and in-store from retailers including Target, Amazon and GNC.
Jude's launches ice-cream topping sauces
Jude's, the UK-based ice-cream business, has launched a three-strong range of topping sauces.
Belgian Chocolate, Salted Caramel, and Fudge make up the three flavours, which will be available in select Sainsbury's stores at a recommended retail price of GBP2.50 (US$3.04) a bottle.
They can be served hot or cold.
Chow Mezger, the joint managing director for Jude's, which is based in the city of Winchester, Hampshire, said: "Over the years, we've been searching for the perfect toppings: one that's rich, thick and indulgent, whilst also pourable from the bottle. Since we never quite found it, we decided to make our own. Made in Britain with real cream, we can't wait for people to taste these on ice cream, pancakes or whatever takes their fancy."
Italian pasta brand Le Stagioni d'Italia enters UK market
Italy-based pasta brand Le Stagioni d'Italia has entered the UK market, launching pasta and rice products in selected Sainsbury's and Asda stores.
Originally due to launch later in the year, Le Stagioni d' Italia, which can trace its roots back to 1871, has brought forward its UK entry to support the growing demand for dried pasta products since the country went into lockdown in March.
Made with 100% Italian wheat from Italy's largest agricultural family Bonifiche Ferraresi, the range is made up of penne rigate spaghetti, fusilli and rigatoni in the retailer channel in 500g recyclable paper bags.
Customers can also buy Italian Arborio and Carnaroli rice for risotto, as well as Le Stagioni's easier to digest Senatore Cappelli pasta range made from a native Italian variety of wheat.
Le Stagioni d'Italia pasta products are priced at GBP1.50 (US$1.84) while the rice products cost GBP2.60.
The Senatore Cappelli range of products is available exclusively in Asda stores priced from GBP1.50.
Jatenergy launches new brand for Chinese e-commerce channel
Australia-based dairy and infant-formula group Jatenergy has launched a new product to be sold on Hipac, China's largest B2B platform for mother and baby care products.
Under the new Abbeyard brand, created for this purpose, it has launched an A2 protein children's milk powder packaged in 600g cans.
Hipac has ordered the first shipment of this product, for delivery anticipated in the middle of June.
Jatenergy said it is working with Hipac to develop further products under the Abbeyard brand.