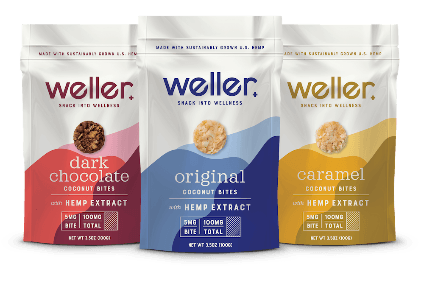 This week's new products include the first plant-based meat range from Japan's Otsuka Foods and UK healthy snacks firm Munchy Seeds launching Shaker Pots.
US hemp extract specialist Weller launches CBD Coconut Bites
Colorado-based Weller, a maker of CBD-infused food and beverage products, has launched CBD Coconut Bites.
They are available in Dark Chocolate, Caramel and Original flavour varieties.
Said to deliver "a lightly-sweet taste and delightfully-crispy crunch," the snacks are available in single-serving and multi-serving packaging, They are infused with 5mg of CBD (cannabidiol) from full-spectrum hemp extract.
Matt Oscamou, co-founder of Weller, said: "Consumers are over-scheduled and stressed now more than ever. Weller is all about enabling people to be the best version of themselves and snack into wellness by delivering the natural benefits of hemp CBD through convenient, trusted products that people love."
The products will be available at natural and conventional retailers including Lucky's Market and Lassens and via Amazon.
General Mills to launch Larabar in UK
The US food giant is bringing one of its domestic brands across the pond in a bid to tap into the country's "vegan/free-from market".
General Mills is planning to introduce its Lärabar brand into the UK market in January. The actual date products will hit shelves and where the bars will go on sale are "to be announced", General Mills said.
The company did say the move came on the back of "the explosive growth of its current snacks business" in the UK. General Mills sells Fibre One and Nature Valley bars in the country.
It added Lärabar would "supply the growing consumer demand for vegan and free-from snacking options that are minimally processed with no added flavours or sugar".
US dairy Hood launches first vegan milk line
New York State-based dairy group Hood has launched its first vegan milk line in the shape of Planet Oat.
To be launched on Monday (17 December), the Planet Oat line will be available in four flavours: Original, Extra Creamy, Vanilla, and Dark Chocolate. It will initially be sold through retailers Kroger and Shaw and online grocer Amazon Fresh, before expanding to other outlets.
Hood, which can trace its roots back to 1846, produces dairy items such as Lactaid milk, ice cream, and cottage cheese. It said it has developed its oat milk to provide consumers with a versatile plant-based alternative.
Chris Ross, Hood vice president of marketing, said: "In today's landscape, the consumer is forced to make trade-offs almost every time she uses 'milk' – one for cooking, one for the kids, one for her coffee, one for her smoothies, one for general wellness. And even in that, there are conscious trade-offs around taste, satisfaction, nutrition, and concerns about animal welfare and the environment.
"We've created an unbelievable product that eliminates those trade-offs – it tastes delicious, is rich, creamy, full-bodied, and is so versatile."
US healthy snack firm NightFood moves into ice cream, cannabis-infused cookies
Better-for-you snack company NightFood has revealed it is launching ice cream and cannabis-infused cookies.
The Tarrytown, New York-based company, which specialises in healthy products aimed at the evening snacking market, has until now been associated with better-for-you snacks and nutrition bars.
But the company suggested a year ago it was looking to expand its product range and was looking at categories including ice cream. Its vice president of ice cream sales previously held the same position at ice cream giant Unilever.
NightFood Ice Cream is to be launched early in the New Year. Company founder and CEO Sean Folkson said that to date one – unnamed – top ten US supermarket chain has agreed to stock the product. He has suggested NightFood could achieve up to 15,000 points of distribution based on meetings held or planned with retailers.
NightFood has also announced it is to launch the Half-Baked brand of cannabis-infused edibles in California through its subsidiary MJ Munchies.
It has announced a partnership with cannabis industry veteran Brian Edwards.
The company plans to follow the California launch with a wider roll-out of the products as more states legalise recreational adult use of cannabis.
"We have great confidence in Brian and the business plan he's put together for the California launch," said Folkson.
The initial Half-Baked line will consist of cookies in four flavours; Chocolate Chip, Double Dark Chocolate, Cookies and Cream, and Peanut Butter Oatmeal. Future extensions into brownies/blondies, gummies, and other formats are expected.
The cookies will be priced in the range of US$16-US$20.
Naturli Foods brings plant-based chilled drinks to market
Denmark-based vegan food business Naturli' Foods has launched chilled, plant-based drinks in its own market.
The Naturli' Organic Oat Drink and the Naturli' Organic Almond Drink will be available from early next year via 1,800 stores owned by retailers including Coop, Dagrof and Rema. International roll-out of the products is also planned.
A spokesperson for Naturli' said the company has worked hard to get the texture and taste of the drinks right and added that the products, which are also linked to a bottle return scheme, have low levels of fat and sugar or, in the case of the oat drink, no added sugar.

Naturli's Henrik Lund said: "When you taste the new products, you are tempted to ask 'is this milk without milk?'"
The 900ml bottles have a RRP of DKK14.95 (US$2.27).
Grupo Bimbo takes Little Bites mini muffins to Spain
Grupo Bimbo is taking its Little Bites mini muffins snacks to Spain.
Little Bites, a popular snack from Grupo Bimbo outside of Spain, contain chocolate chips and five types of cereals, and are designed for children in an easy-to-carry format. They are also palm-oil free.
The muffins come in two pack sizes: A box of four at a recommended retail price of EUR1.99 (US$2.26), and an individual wrapper containing four muffins at EUR0.50.
"Little Bites joins other leading brands that Grupo Bimbo has been introducing in Spain and that are the result of the company's commitment to innovation and the development of new products," the Mexico-based bakery giant said in a statement.
Japan's Otsuka Foods enters plant-based category with Zero Meat burgers
Otsuka Foods of Japan has entered the meat-alternative category for the first time with the launch of plant-based Zero Meat burgers in its home market.
The burgers, made from soy beans, will be available in two variants: original and with plant-based cheese made from soybean cream.
Otsuka, which said it has launched the products because of a growing appetite for vegan and for vegetarian food, will sell the products in convenience stores and supermarkets in the Kanto area of Japan initially.
The company said the burgers have "a meaty texture, taste and smell" and can be cooked in a microwave oven.
But while meat-free, the products cannot be described as vegan as its list of ingredients includes powdered egg whites.
Otsuka said it plans to launch further plant-based products in the future.
UK's Munchy Seeds targets health-conscious consumers with Shaker Pots
UK snack brand, Munchy Seeds, is aiming to capitalise on the new year healthy eating trend by pushing the benefits of eating seeds as a snack or adding them to meals for an extra nutrition boost.
Its Munchy Seeds Shaker Pots are available in three flavours: Chilli Bites, Honey Seeds and Omega Sprinkles.
Lucinda Clay, founder of Munchy Seeds, said: "These little pots of seeds are perfect for popping in your bag or desk drawer to eat on the go. But they are also fantastic to have to hand to sprinkle over salads, soups, yogurt, porridge or even scrambled eggs.
The products, which are 100% natural, gluten-free and contain protein and fibre, are available from Tesco and Sainsbury's with a RRP of GBP2.50 (US$3.13).