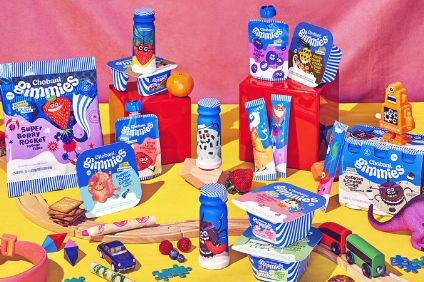 This week's new products include an oat version of Cereal Partners Worldwide's Cheerio cereals and a new sweet potato chip variant from Canada's McCain Foods in Australia.
US yogurt company Chobani introduces kids brand Gimmies
Chobani, the US-based Greek yogurt business, has launched a new range of better-for-you yogurts aimed at children.
Chobani Gimmies are "packed with protein and the nutrients kids need, contain only natural ingredients, and are delicious food that's fun inside and out," the company said.
The reduced sugar product comes in 13 flavours including Poppin' Cotton Candy, Choco Chunk Cookie Dunk, Best Birthday Ever, Ooey Gooey S'More, and Rainbow Sprinkle Cone
It will be available in four formats: Greek yogurt with crunchy mix-ins on the side, drinkable milkshakes, pouches and tubes.
Hamdi Ulukaya, founder and CEO of New York State-based Chobani. Said: "As a parent, you know that food for kids has to be fun, it has to be delicious and most importantly, it has to be nutritious. And parents deserve nutritious options they can feel good about giving their kids."
The RRP for Gimmies is US$1.25 for yogurt with crunchy mix-ins (4oz serving), $4.29 for a ten pack of tubes, $4.49 for a six pack of milkshakes and $4.49 for a four pack of pouches.
Huel enters new market with ready-to-drink meal alternative
UK-based meal-alternative start-up Huel is launching what it calls a "nutritionally complete meal" with a ready-to-drink product.
Huel Ready-to-drink is targeted at the convenience channel and comes in two flavours, vanilla and berry. The vegan drink is now available for purchase on a pre-order basis from the Aylesbury, Buckinghamshire-based company's website.
Huel says the product contains all the 26 essential vitamins and minerals, along with protein, carbohydrates, fibre and fat to provide a balanced meal alternative, including vitamins A, C and D, in addition to potassium, iron and calcium. It also comes in a 100% recyclable plastic bottle.
Huel's co-founder Julian Hearn said: "The launch of Huel Ready-to-drink allows us to enter a new market, targeting those who specifically find themselves eating on-the-go. We can now provide time-conscious consumers with quality nutrition when they might otherwise reach for an unfulfilling, unsustainable quick-fix."
Russia's Ekosem-Agrar launches new EkoNiva dairy brand
Russian milk producer Ekosem-Agrar has launched the EkoNiva 'umbrella brand' for dairy products in its domestic retail market.
The new EkoNiva range was launched in several Moscow stores of the German retail chain Globus, which is one of the largest food retailers in Russia with 13 hypermarkets.
The company plans to introduce the EkoNiva range in several other big supermarket chains in the country in the coming months.
Stefan Dürr, CEO and main shareholder of Ekosem-Agrar, said: "Our new brand will write a new chapter in the history of EkoNiva and will hopefully convince Russian customers of the high quality of our products 'Made in Russia with German quality assurance.'"
The product portfolio under the new EkoNiva brand comprises fresh milk, kefir, sour cream, curd, butter, yogurt and semi-hard cheese.
Cereal Partners Worldwide rolls out Oat Cheerios in UK
Cereal Partners Worldwide, the cereal venture between Nestlé and General Mills, is rolling out a new oat version of its Cheerios brand of cereals in the UK.
Oat Cheerios are made with 100% British-grown whole grain oats. The cereal is enriched with vitamins and minerals, including calcium and the vitamins D and C, along with Folic Acid. The 375-gram packs will be available in select stores this month at a recommended retail price of GBP2.59 (US$3.30), and will launch in retailers across the country in January.
Toby Baker, Nestlé's marketing director for the UK and Australia, explained the reasoning behind using oats: "Oats are increasingly becoming a popular addition to Brits' diets, as we've seen with the rise in sales of things like oat milk, but so many consumers we've spoken to just don't like porridge. We've made Oat Cheerios to cater to those who want to enjoy the benefits of oats without having to eat porridge."
Clabber Girl and Diageo combine to launch Baileys Original Irish Cream Baking Chips
Clabber Girl, a US baking business, has linked up with drinks business Diageo on a licensing partnership resulting in the launch of Baileys Original Irish Cream Baking Chips, a biscuit with the cream liquor's flavouring.
Gary Morris, president and COO at Clabber Girl Corporation, said: "Clabber Girl has been a trusted partner and friend to bakers and home cooks for more than 150 years. We are thrilled to entrust our relationships with these valued customers with Baileys and are extremely proud of what we together have created."
The baking chips, which are non-alcoholic, are available at select retailers for holiday 2018 shopping, with a full national launch in-stores for Easter 2019. They can also be purchased online via Amazon, priced at US$8.49.
McCain launches Sweet Potato Cross Trax in Australia
Canadian frozen food business McCain Foods has launched a new oven-baked chip variety in Australia in the shape of Sweet Potato Cross Trax.
Described as a "delicious combination of sweet and crispy", the company said the product launch builds on the growing popularity of sweet potatoes in Australia, with a 30% increase in sales in the 12 months ending in September 2018.
McCain Foods ANZ marketing manager, Allen Hunt, said: "With sweet potato fervour growing across Australia, and a great response to our criss-cross shaped chips in other markets, the new Sweet Potato Cross Trax give Australians a double delight of flavour and texture in a crispy, slightly sweet chip.
"These pub-style, highly dippable and loadable chips are a great side dish offering a wholesome alternative to the standard fry,"
McCain's Sweet Potato Cross Trax chips are available at Coles and Metcash stores nationally for AUD4.99 (US$3.62).