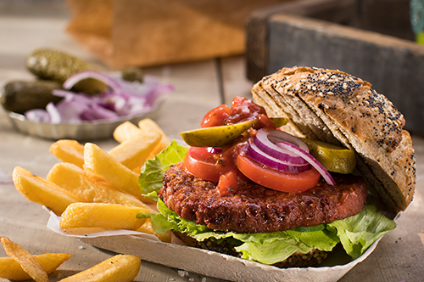 This week's most eye-catching product news features Mars' plans to shake up some of its chocolate ranges in the UK and Nestle's move to roll out a line of organic Herta products in France.
Vivera launches plant-based 'hamburger' in UK
Dutch vegan food group Vivera has launched a 100% plant-based hamburger in the UK.
Its chilled Veggie Quarter Pounder will initially be sold in Sainsbury's stores from tomorrow (6 October). Its RRP has not yet been disclosed.
Vivera, which already has more than 40 meat alternative products, claims to have achieved the highest quality vegan hamburger currently available. Its aim was to mimic the famous Aberdeen Angus beef burger.
Nutritionally, the burger is high in protein and is a source of fibre, iron and vitamin B12.
Gert Jan Gombert, commercial director of Vivera, said: "We are convinced that this product will meet a large need. For a growing group of consumers the benefits of eating less meat is key. British retailers and consumers are on the forefront of adapting high quality meat alternatives."
Bel debuts Boursin Velvety in the UK
Boursin, the garlic and herb cheese brand from French dairy giant Bel Food Group, is extending its range in the UK with the launch of Boursin Velvety.
Designed to have a spread and dip appeal, Boursin Velvety is described as "delivering the same unique taste of Boursin Garlic & Herbs but with a delightfully smooth and creamy texture".
It is available in a 125g tub format and will be supplied to retailers in cases of six with an RRP of GBP2.20 (US$2.87).
Alix Motard, senior brand manager at Boursin, said; "With 81% of consumers agreeing that Boursin Velvety offers something completely different to what currently exists on the market, this exciting new addition to the Bel portfolio is set to drive incremental value in to the category through both penetration and premium price."
Jack Link's rolls out new on-the-go snacks in US
US-based Jack Link's Protein Snacks is adding to its range with the launch of three on-the-go products.
Jack Link's Steak Bites come in a one-handed, tear-and-eat snack pack made with 100% beef, with 17 grams of protein and 110 calories. They are available in two flavours: Original and Teriyaki.
Cold Crafted Linkwich is a breadless sandwich made with cured meats and Wisconsin cheese, again in a hand-held format. They contain 15 grams of protein and 1 gram of carbohydrates and sugar. Three varieties are available: Colby Jack & Hard Salami, Pepper Jack & Genoa Salami, and Cheddar and Hard Salami.
Jack Link's Smokehouse Beef Sausages contain 100% beef, offering a naturally smoked finish with hickory and applewood in two flavours: Original and Hot & Spicy.

Genius adds to range in UK
UK-based gluten-free supplier Genius Foods has entered new product segments in its domestic market.
The company has launched two pasta lines and two crisp bread products. Genius said the new SKUs contribute to "normal gut function" due to the presence of ingredient chicory root inulin.
The supplier pointed to the amount of protein in its new Protein Punch penne pasta and the level of fibre in its Fibre Fest fusilli. Genius said the penne contained "twice the amount of protein as regular pasta", while the fusilli has "three times" the fibre.
Protein is at the centre of one of the crisp bread products, with the Protein Punch line in that range having "50% more protein than regular crisp breads".
A Carb Cutter crisp bread has "half the amount of carbs".
The products are available from Sainsbury's and Ocado. The pastas, which contain two servings, have a recommended retail price of GBP1.75 (US$2.27). Each pack of the Bread Crisps has five portions. RRP GBP1.99.
Danone dairy push in Spain includes kefir
Danone is rolling out 18 new dairy products in Spain, including a kefir.
The French giant is marketing the kefir under the Edicion 1919 range, which point to the origins of the business in Spain. Danone was set up that year in Barcelona.
The swathe of new products also include moves by Danone to try to get its dairy products eaten at different times of the day. Danone Buenos Dias is a product containing yogurt, oatmeal and fruit pieces.
The company has launched Activia Mix & Go – which contains yogurt, muesli and either raspberry or, in another SKU, cranberries and pumpkin seeds – to cater for consumers wanting products they can eat on the go and between meals.
Danone has also made changes to the recipe of its Actimel products in Spain and added new lines to its Danacol, Oikos, Alpro and Hmmm! ranges in the country.
SimplyProtein snacks to hit US market
US group The Simply Good Foods Company is to launch its range of SimplyProtein snacks in its domestic market.
SimplyProtein snacks, which first went on sale in Canada, will be available in "select stores" in the US and online, The Simply Good Foods Company said today (2 October).
The business described SimplyProtein as a "US$10m snacking brand", without specifying if that value equated to annual sales in Canada.
SimplyProtein crispy bars, baked bars and crunchy bites are Non-GMO Project Verified and gluten free, while containing no artificial sweeteners, colours, flavours or preservatives.
The crispy bars contain 14-15 grams of protein, 150-160 calories and come in peanut butter chocolate and lemon flavours.
The baked bars are available in chocolate chip and peanut butter cookie flavors that contain 11 grams of protein and have 210 to 220 calories.
The bites are available in savoury barbecue and sea salt & cracked pepper flavors with 140 calories and 15-16 grams of protein.
Mars launches Creamy Snickers in US
From January, a new type of Snickers chocolate product will be available in the US, Mars has announced.
The company is rolling out a Creamy Snickers range, bars that contain a smoother filling of the usual caramel and, depending on the variety, nut butters.
Mars is to launch three lines – a bar containing almond butter, one with peanut butter and another with maple almond butter.
"We listened to our consumers' desires for new tastes like almond butter and paired it with an innovation on texture," Snickers brand director Josh Olken said.
The bars will be sold as 1.4-ounce singles, in a 2.8oz sharing format and a 7.7oz stand-up pouch.
Mars, Snickers set for changes in UK
Meanwhile, in the UK, Mars is to make some significant changes to the ranges of Mars and Snickers chocolate products sold in the UK.
The company is lowering the protein and sugar content of the Mars Protein and Snickers Protein SKUs available in the country.
Mars More Protein and Snickers More Protein will contain 10g of protein, around half that of both existing ones.
The products are set to go on sale in 2019. Later in the year, Mars is planning to launch a range of low-calorie bars.
Nestle launches organic Herta range in France
Nestle is rolling out a line of organic products in France under its Herta meats brand.
The company also said the range – which comprises six products – does not contain nitrites.
The development of the products took five years, Nestle added.
The rage includes hams and saucisses de Strasbourg.