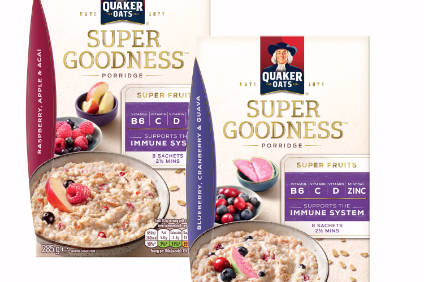 PepsiCo is launching a "Super Goodness" range of its Quaker Oats porridge brand across the UK from today (25 July) that it said will provide "enhanced nutritional qualities".
The new sachets of Super Goodness aim to meet "increasing consumer demand for positive nutrition in the form of simple, wholesome ingredients", PepsiCo said.
The new line features five varieties – two "Super Goodness Super Grains" flavours, all of which contain whole grain oats, red quinoa, flaxseed and barley – and two "Super Goodness Super Fruits" flavours with whole grain oats, real pieces of fruit and added nutrients.
Grains UK senior marketing manager Duncan McKay said: "Taste, health and convenience continue to be important drivers at breakfast time, but consumers are also increasingly seeking a wholesome breakfast which is made with nutritious ingredients. Hot cereals continue to meet this demand and Quaker Oats has been instrumental in driving growth in the cereals category by 65%, with sales doubling over the last seven years."
McKay said although Quaker continues to deliver strong results, "we believe there is further opportunity to grow the cereals category by tapping into the demand for products which offer additional health benefits"
PepsiCo said the new sachets feature a premium packaging design, "which emphasises the product's health credentials". Super Goodness "is designed to attract new consumers and drive sales for retailers whilst helping to ignite growth within the cereals category", Pepsico said.
Earlier this year, PepsiCo introduced new super grain-based versions of its hot cereal and granola in the US under the Quaker brand.
PepsiCo has said previously that its efforts on product innovation contributed "significantly" to its organic revenue growth in the first quarter, supported by a focus on trends of premiumisation and health and wellness.
In March, PepsiCo launched Quaker Breakfast Flats which it said spoke to the demand for "nutritious and convenient morning snacks".