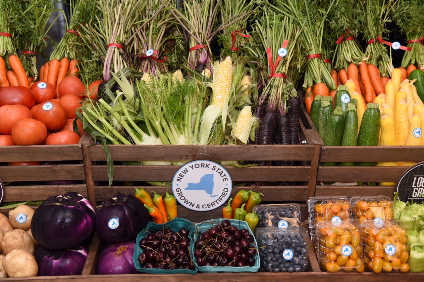 A food certification programme to promote upstate agriculture has been launched in New York State together with a US$20m "food hub" that aims to increase access to locally-produced farm-fresh produce.
New York governor Andrew Cuomo, who launched the programme yesterday (11 August) said the state is investing US$15m to start construction of the 120,000 sq ft Greenmarket Regional Food Hub in the Bronx.
Cuomo said: "The New York Grown & Certified Programme strengthens the link between producers and consumers and provides new opportunities for agricultural development. By connecting upstate farmers to new markets with a state-of-the-art food hub and promoting the consumption of healthy and environmentally-conscious food, these initiatives will have extraordinary environmental, nutritional and economic benefits for all New Yorkers."
The new hub will include a wholesale farmers' market, a cold storage facility for farmers, a food-processing centre and "other infrastructure to support local food businesses" and "will work with a range of small- and mid-sized farms, providing unprecedented access to New York City's wholesale marketplace", the governor's office said. "The processing facility will also assist upstate producers and processors in targeting institutional and private sector procurement opportunities."
The state's agriculture and markets department "will work with New York State producers across all commodities to assist them in qualifying for the voluntary certification programme", according to the governor's office. "To ensure maximum environmental sustainability and food safety, participation in existing certification programmes, including the state's agricultural environmental management programme and the federal agriculture department's Good Agricultural Practices programme, is required for participation in New York State Grown & Certified".
The governor's announcement followed a recent summit covering the state of New York, which led to the creation of a task force charged with developing a roadmap to build a regional food hub system to "enhance the connection between upstate food producers and the downstate market, increase access to fresh food for under-served populations, boost in-state food production and consumption, and create new job opportunities in the growing sector of food manufacturing".
Michael Rosen, the president of the New York state grocery industry trade association the Food Industry Alliance, said: "The New York State Grown & Certified Programme sets voluntary standards that will provide a significant marketing advantage to farmers who participate. Retailers will want to offer these products to their customers because it sets the gold standard for both food safety and environmental stewardship."