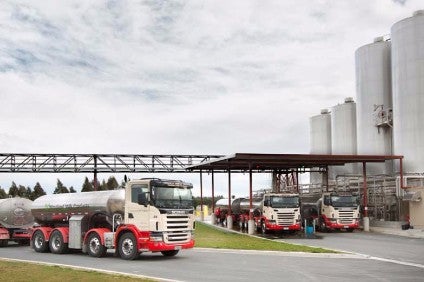 New Zealand's biggest dairy investment fund Southern Pastures is pursuing a joint venture with Westland Milk Products, one of the country's largest dairy cooperatives.
Focused on sustainable dairy farming, Auckland-based Southern Pastures said in a statement it is seeking to become a shareholder in the co-op, and the two companies will conduct a business review with the intention of forming a 50-50 partnership.
The venture will aim to create products from free-range, grass-fed milk based on "stringent standards", covering animal welfare, human health, sustainability, climate change and human rights.
A letter of intent has been signed by both parties under which Southern Pastures will transfer all the milk produced at its nine Canterbury dairy farms to Westland in the 2018/2019 season. That equates to more than four million kilograms of milk solids annually.
Southern Pastures bought a 25% stake in New Zealand dairy brand Lewis Road Creamery in October, and executive chairman Prem Mann pledged at the time to "play the role of a supportive and constructive long-term shareholder, fostering innovation and expansion".
While Hokitika-based Westland reported a return to profit in the fiscal year through July – NZD1.5m (US$1.1m at today's rates) versus a NZD10.3m loss a year earlier – it said it was "still not industry competitive". The company also initiated a restructure of its board to reduce its numbers as a means to improve corporate governance and better identify future opportunities.
Mann said Southern Pastures had been "impressed by Westland's recent turnaround, board restructure and its new open-minded focus on 'nourishment,' as opposed to simply marketing a suite of traditional commodity products".
"Our advisers have calculated that our move will add to the Westland payout from the very first season, providing a real economic fillip to the region," Mann added. "We also see real strength in the common bond of farmers and, as such, we're committed to the cooperative model. That makes Westland a natural business partner for us."
The proposed joint venture also envisages Southern Pastures feeding some of the milk produced by its Canterbury farms into Lewis Road Creamery products.
"From day one, Southern Pastures has had a firm conviction about the potential of premium dairy products from New Zealand's free-range, grass-fed dairy farming systems," Mann said.
"While our commitment to protect, nurture and improve our environment is at the core of our practice, we don't see any conflict between promoting sustainability and maximising economic returns. In fact, we're convinced that sustainability is actually the key to creating value and long-term economic performance."