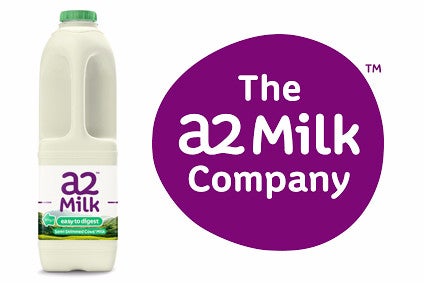 New Zealand-based infant-nutrition manufacturer A2 Milk Co. has secured a distribution agreement with retailer Walmart in the US.
The deal takes in Walmart stores in New York, Pennsylvania, Florida, Texas, Maryland, and Washington, the company said in a statement. The products became available on July 27, "furthering the growth of its brand across the US", it added.
Consumers can now also find A2 Milk products at more than 6,000 retail outlets in the US, including Wegmans, Stop & Shop, Giant Carlisle, Giant Landover, Whole Foods Market, Market Basket, Sprouts, Safeway, King Soopers, Target, Ralphs, Publix, ShopRite and The Fresh Market.
A2 Milk is a leading supplier of infant-formula powder made from the A2 protein. The company's products are sourced from cows that only produce the A2-protein variant, while regular cow's milk only contains the A1-type protein, which is said to cause discomfort for some consumers such as indigestion.
Blake Waltrip, the chief executive of A2 Milk's Boulder, Colorado-based business, said: "Achieving distribution with such a powerful and respected retailer like Walmart further validates the A2 Milk brand proposition in the US and marks a critical point in our company's drive to bring consumers back to dairy by providing our products to the roughly 75 million Americans who report a dairy intolerance."
Wellington-listed A2 Milk also said it has launched a "major expansion" into the US north-east, with its products now available in New York, New Jersey, Connecticut, Massachusetts, Delaware, Pennsylvania and Rhode Island.
Jayne Hrdlicka, who took the positions of global managing director and chief executive of the firm in July, added: "We are thrilled that millions more Americans will now have the opportunity to bring A2 Milk into their homes for their families. Our products offer a natural solution to those people who experience digestive discomfort from dairy and this is the next step of our goal of giving everyone the chance to enjoy the nutritious benefits of real milk."
The deal with Walmart builds on A2 Milk's growing presence in China. Earlier this month, the company extended a supply agreement with China State Farm Holding Shanghai Co. for its infant nutrition products for a further three years.
And in other parts of Asia, it entered into an exclusive sales and distribution agreement with Seoul-based Yuhan Corp. in April to distribute its branded products in South Korea.