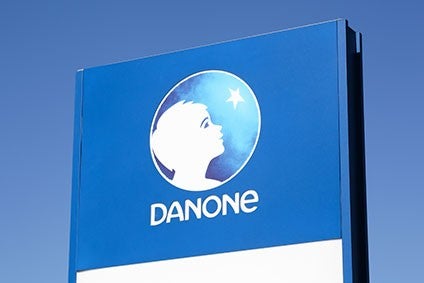 Danone's newly-appointed chairman Gilles Schnepp says the French dairy major's next CEO will be an external candidate.
In a letter to shareholders yesterday (17 March), Schnepp said outgoing chief executive Emmanuel Faber's replacement will be a "globally-respected CEO who is ready to take charge from day one, assess the state of the business and begin implementing initiatives very quickly".
Schnepp also said the Alpro and Activia owner remains committed to the "local-first" strategy announced before Christmas but added the incoming CEO will have "all the latitude to design and execute his or her strategy for the company". The new strategy is designed to spur relevant innovation in individual countries and improve the company's financial performance.
It was revealed at the start of the week Faber – CEO since 2014 and also chairman for almost the last four years – would leave the company amid continued criticism of the French group's strategy, performance and executive structure, notably from disgruntled investors Artisan Partners and Bluebell Capital Partners.
Earlier this month, Faber stood down as CEO but was to stay on as non-executive chairman. That move failed to placate Artisan and Bluebell and Faber has been removed as chairman with immediate effect, with lead director Schnepp taking on the role.
Danone executives Véronique Penchienati-Bosetta and Shane Grant will jointly lead the business until a new CEO is appointed.
In his letter to shareholders, Schnepp said: "The last few months have been particularly challenging for Danone, resulting in many changes for the company.
"The board has been listening to your concerns and took action: the chairman and CEO roles have been permanently split on March 1 and a change in leadership has been initiated on March 15."
He added: "My priority as chairman is to lead the company's transition to a new, strengthened governance framework to help accelerate value creation for you, our shareholders, and all of our stakeholders."
Schnepp said the board would oversee a "robust process" to appoint a new CEO and that an international executive search firm has been hired to conduct an extensive review of "suitable external candidates".
"The board is moving forward quickly, with a search process which will be robust and exhaustive," he said. He added that it is "critical" that Danone appoints a globally-respected CEO.
On its responsible business strategy and local-first plan, he said the company "remains committed to bringing health through food to as many people as possible as an entreprise à mission", describing it as the company's "competitive edge". Introduced in 2019 by the French government, an "entreprise à mission" is defined as a company which has aligned societal and environmental goals with its purpose and set out those targets in its articles of association.
Schnepp said Danone's board reaffirms its support for the local-first plan which will "make Danone stronger, enable us to accelerate growth and value creation and better meet consumer and customer needs in each country where we operate".
But he added: "We want to make clear this is an organisational framework only, leaving the incoming CEO all the latitude to design and execute his or her strategy for the company, including, but not limited to, capital allocation and investment decisions and any changes to the business portfolio. We will pay careful attention to executing the plan without disruption to the business. This is especially the case for our specialised nutrition operations that will be preserved from any disruption thanks to dedicated resources, both globally and locally."
Schnepp said there will also be a reduction in the number of board members at Danone to ensure "we have both FMCG experience and increased independence on the board. He said it will be "pausing and reconsidering any immediate refreshment to the board, including previously announced director candidates – Ariane Gorin and Susan Roberts".
He added: "We will use the next few months to clarify the needs of the board and to develop a mid-term refreshment plan."
Schnepp's letter has been well-received by analysts who follow Danone.
Alain Oberhuber at Stifel said the focus on having a new external CEO is "positive from our point of view".
He added: "The pressure from investors to have a lesser focus on ESG and stronger focus on profitability is recognised by Gilles Schnepp. He will pay strong attention to the development of specialised nutrition to preserve profitability and to potential portfolio changes on a group level.
"We think that Danone will change a lot under the new chairman, a trend that will be even more pronounced, when a new external CEO will be appointed."
Martin Deboo at Jefferies said: "We view these developments as positive."
Read just-food's analysis - What now for Danone after Faber's departure?