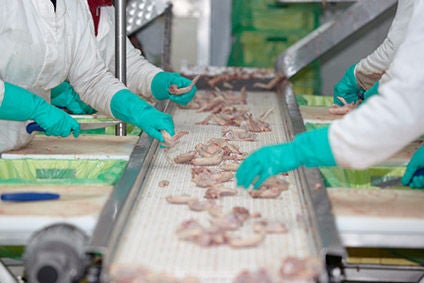 UK meat processors are being forced to change what they produce as the number of staff 'pinged' by the country's NHS Covid-19 app and told to self-isolate rises, a trade association has said.
The British Meat Processors Association warned production lines could come to a halt if more workers are informed by the app to stay indoors.
More than half a million people in the UK were contacted by the NHS Covid-19 app and told to self-isolate in the week to 7 July.
Covid-19 infections continue to rise in the UK, with more than 50,000 people testing positive today (16 July), according to government data. On Monday, much of the country's restrictions will fall away and the number of Covid-19 cases looks set to rise further.
Businesses and union officials have warned of the impact on production should more staff be told by the NHS Covid-19 app they have to self-isolate after being deemed to have been a close contact of someone to have tested positive.
"We're hearing reports from some members that between five and ten percent of their workforce have been 'pinged' by the app and asked to self-isolate," Nick Allen, the chief executive of the BMPA, said. "This is on top of the desperate shortage of workers that the industry is already suffering. As a result, companies are having to simplify down their range of products to compensate for key skills being removed from their production lines.
The association told Just Food some processors are having to cut products from their output that need a high level of butchery skills, including chops and steaks.
Allen repeated the association's calls for the UK government to put butchers on the country's shortage occupation list, which is an official list of occupations for which there are not enough resident workers to fill vacancies.
"If the UK workforce situation deteriorates further, companies will be forced to start shutting down production lines altogether. It's for this reason that we've been calling on the Government for months to add butchers to the Shortage Occupation List, which would allow the industry to temporarily fill these growing vacancies with overseas workers until the current crisis has passed."