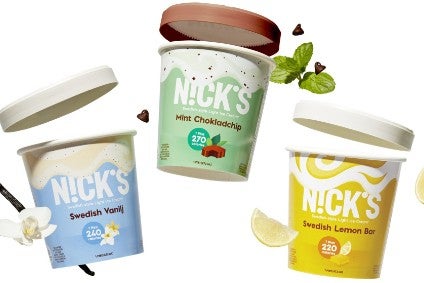 Luthman Backlund Foods, the Sweden-based firm behind lower-calorie snacks brand Nick's, has secured fresh investment worth US$30m to invest in production and expand internationally.
The company, set up in 2014 and which launched the Nick's brand two years later, said the funding would be used on a new manufacturing facility and on boosting the presence of the Nick's brand in markets including the US and Germany.
"We can now accelerate our business outside of Sweden with focus on building distribution in the US and Germany," Luthman Backlund Foods CEO Stefan Lagerqvist, a former Unilever executive, said.
Stockholm-based fund Gullspång Invest and French venture capital company Capagro led the fundraising, which Luthman Backlund Foods said was its largest round of investment.
New investors that took part in the round included US venture-capital firm Khosla Ventures.
Products sold under the Nick's brand include ice cream the company says contains more than 60% fewer calories than "traditional ice-cream producers".
The Nick's portfolio also includes no-added-sugar chocolate and protein bars.
Nick's products are sold in more than 15 markets. In the US, the business has worked with Perfect Day, the US animal-free dairy ingredients start-up, to launch a range of vegan ice cream.
Lagerqvist, who spent five years at Unilever and joined as CEO in April 2020, said: "The food business is undergoing a large paradigm shift where healthier foods will transform the entire category of foods. We see that the drinks and ice cream segments have already come a long way in this regard, and today you can find healthier alternatives without making any compromise on flavour. When we producers can create functional products and with enough flavour, other categories within food will follow."