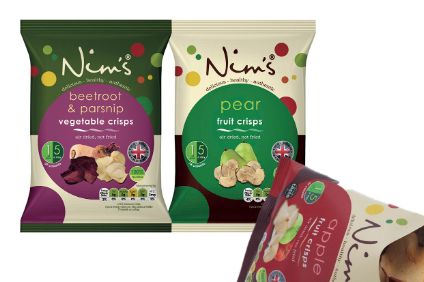 UK challenger brand Nim's Fruit & Veg Crisps has sealed its largest listing with a UK supermarket.
The Kent-based company, which produces air dried fruit and vegetable crisps, will now be stocked by 'big four' retailer Tesco, a deal that comes hot on the heels of agreements with Co-op and online seller Ocado.
More than 1,500 stores nationwide will sell apple, pear and beetroot & parsnip varieties, which are made from fruit and vegetables sourced from the UK.
These will be sold across both Tesco Express and main estates stores in England, North Ireland, Scotland and Wales.
"This is a fantastic way to finish a significant 12 months that has been filled with major breakthroughs," explained Nimisha Raja, founder of Nim's.
"We have been in discussions with Tesco for some time about selling our great tasting, healthy snacks on their shelves. The hard work has been worth it and I'm delighted to announce we'll be in stores shortly. The deal has the potential to transform our business. This will require a significant ramping up of activity at our factory in Kent and the recruitment of three more people."
Joanna Batty, produce buyer at Tesco, said: "We're delighted to be adding Nim's Fruit & Veg Crisps to the great range of snacks we offer customers in store. They look good, taste good and are a great, 'healthier' snack choice."
The snacks are fat, gluten and dairy free, as well as being vegan, kosher and halal certified. They are manufactured at the company's facility in Sittingbourne, which is capable of producing more than 12m packs of crisps a year.