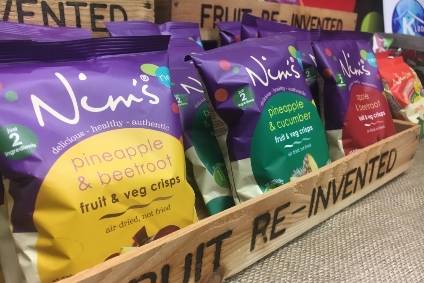 Nim's Fruit Crisps, the fledgling UK snacks firm, is targeting a step-up in sales this year, boosted by increased distribution and product development.
The privately-owned business, set up in 2012, generated a turnover of GBP770,000 (US$1m) in 2018. Speaking to just-food at the IFE trade show, founder Nimisha Raja said the company's turnover target for 2019 was "about GBP2.5m".
Raja said Nim's Fruit Crisps, which sells its namesake products through UK retailer Tesco , is set to add to its listings with a new type of snack.
"These are a new range of fruit and vegetable mix. Tesco are taking on the pineapple and beetroot and the watermelon at the end of April. It's been a really good partnership. They've been very supportive for a small brand like us," she said.
The company is hoping to secure placings with other major UK grocers. "We're talking to two, three of them, so I'm hoping. It's just getting in there at the right time with the right proposition. For some retailers, it's a little bit too adventurous a product so they're still not sure their consumers are ready."
At the end of last year, Nim's Fruit Crisps announced the launch of a range of edible teas – sachets of air-dried fruit and vegetable pieces onto which a consumer pours hot water to make a tea and then eats the fruit and veg as a snack. Raja said work to finalise the packaging for the products had continued into this year and meant the company had yet to discuss listings with retailers. Talks, she said, would start within the next six weeks.
"We've been selling the sachets online. It was end of last year we officially launched them but we couldn't get it into retailers because we were messing about with the packaging," she explained. "It is a premium product. That's going to retail at between GBP6.95 and GBP7.95. It depends where it is. You get 12 of these sachets. It's going to cost you GBP0.55 for a cup for a consumer. We're hoping with volume we'll be able to get the price down as well. For foodservice I think this would be great. What I'd really be excited about is getting one of the big coffee houses taking them on as an edible tea and what a point of difference that would make to them."
Nim's Fruit Crisps has secured a contract to supply some of its snacks to NHS hospitals in England, with the products set to be available by early May. Raja has not factored the deal into the company's 2019 sales target. "That's our first proper foray into foodservice. I have absolutely no idea what to expect with the NHS [deal]. It is very much dependent on the individual trusts, the catering managers. It could be [turnover of] GBP200,000-300,000, it could be GBP2m."
Should Nim's Fruit Crisps hit its turnover target – excluding the NHS deal – of GBP2.5m, Raja says around GBP1.7m will come from the Kent-based firm's domestic market.
The business exports to ten markets, including parts of the EU, Israel, South Africa Hong Kong and China. "They're not huge volumes as such, they're [through] small distributors," Raja said. "We've met some pretty big distributors here during this show for China, for Saudi Arabia and the Baltics and Russia. That was a really good link. I'm hoping that will work out because we don't really have a presence there."
She said the UK's decision to leave the EU had shaped the company's export strategy. "The reason we're outside the EU exporting [is Brexit]," she said.
The impact on sterling since the UK's referendum on EU membership has had an effect on the cost of some of the ingredients used by Nim's Fruit Crisps.
"It is impacting on our cost and we have had to absorb that cost. When the price of a watermelon goes up, I can't go and tell Tesco that that's going to go up by two or three pence. It's something I'm just going to have to deal with on a short-term basis," she said.
Raja underlined how the company could see more pressure on ingredient costs should the UK leave the EU without a deal but is sanguine about the prospect.
"It would have an impact. It depends on what happens with sterling. We'll see. We're businesses. We cope. Whatever happens, we manage, we cope, we diversify, we adapt. It might be a bit more expensive, yes, but I think we can handle it. I think we'll be all right. I like to think it would be a short-term thing anyway, so, if for a while, we don't make a profit on some products that's fine. We've never not delivered on an order and I wouldn't want to start reneging on anything we've already promised."
Raja, meanwhile, said she is in talks to bring in another investor. She is the company's majority shareholder and has one existing angel investor who backed the business from the outset.
"Me and my investor have invested our own money over the last three, four years, made all the mistakes. Now, all we need to do is capitalise on what we've achieved so far. We've got a factory set up. We don't need to spend loads of money on capital investment. It's just marketing and sales, really," she said. "[The potential new investor] wants to work in the business without taking a salary and he would take things I don't have enough time for – finance, looking at profit margins. It's early talks but he seems very keen. We'll see if he's happy with the equity we're offering."