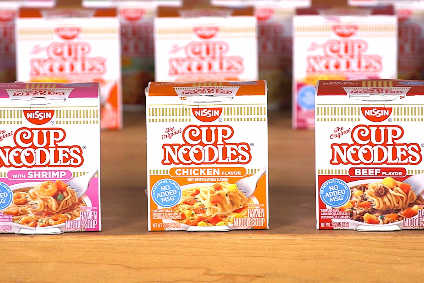 Nissin Foods Holdings is working on plans to reduce the salt content of its Cup Noodles product sold in Japan to attract health-conscious consumers – but said it is too soon to say when or what the level of reduction might be.
A Nissin spokesperson told just-food the group is "constantly developing products, which responds to growing health consciousness of consumers" in all markets where its products are sold.
However, the spokesperson rejected reports suggesting the group was set to reduce salt content in its Cup Noodles sold in some markets by 15% by 2020.
"It is true that we are heading towards decreasing salt for Cup Noodles sold in Japan," the spokesperson said. "However, we are not able to give specific plans or a timeline at the moment."
The spokesperson said there are also "no concrete plans to reduce salt in Cup Noodles sold in other countries such as the UK" – with the exception of the US, where Nissin announced in September it had reformulated its Cup Noodles brand to reduce sodium, remove added MSG and remove artificial flavours.
Nissin has said despite the "thoughtful nutritional changes" made to Cup Noodles in the US, it had maintained the instant ramen noodles flavour.