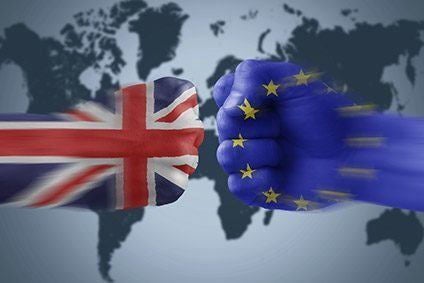 A so-called no-deal Brexit will lead to shortages of some food in the UK, the head of The Food and Drink Federation, the industry lobby body in the country, has warned.
Ian Wright, the FDF's director general, described the prospect of a no deal as "a big if" but spelt out how he believed that eventuality would affect the supply of food.
"We're not going to run out of food. Let's be very clear about this [but] supply will be impacted. We saw just a few weeks ago with the carbon-dioxide shortage how a random shock event can affect supply and we would see that again. Our shoppers would not see no food but they would see shortages."
There is more than one instance when the UK could leave without a deal. By 29 March 2019, the UK and the EU need to find a deal on issues included in their "withdrawal agreement", announced in March this year, and which focused on issues such as the Irish border and citizens' rights.
If that goes smoothly, a transition period kicks in that lasts until December 2020 when the UK is looking to have struck a trade deal with the EU. The first case is seen as the worst kind of no deal, although either way there would be no trade deal.
Earlier this week, the UK government said it would work with the food industry to ensure the country has an "adequate" supply of food in the event of there being no deal with the EU on Brexit.
Dominic Raab, the recently-installed UK Secretary of State for Exiting the European Union, told a committee of MPs the Government would intervene and co-operate with the industry but said any description of its efforts as "stockpiling" were "wrong".
Talking to the BBC , Wright said he was unsure about the role of the Government in any efforts to boost stocks before 29 March.
"I'm not clear on what the role of the Government in this process would be because Government doesn't sell food unless it's doing so through its contracts for prisons, the Army, police and what have you. All of those I think are privatised so trying to get all of those to add a bit to the pile is a bit of a difficult thing to imagine," Wright said.
"Individual businesses are going to have to get themselves ready for a no-deal Brexit. If, as we get through the next few months, that begins to loom larger and larger, those businesses who import food – and don't forget 40% of the food we eat is imported, the vast majority from or via the EU – those businesses imported food, ingredients or finished goods, will need to get their goods across the border before 29 March to ensure they don't suffer disruption from custom changes and to forward buy so they aren't subject to currency fluctuations. Businesses would forward buy anyway."