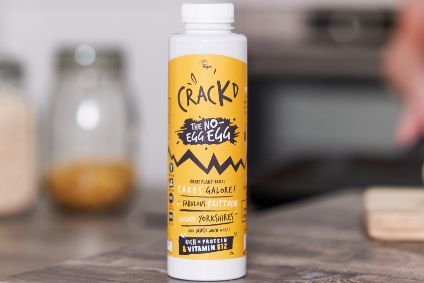 UK start-up business Plant Heads has launched what it claims is the country's first vegan liquid egg product – Crackd.
The company, a joint venture between Happy Egg Co. brand owner Noble Foods and food development consultancy Bingham & Jones, has won a listing from UK retailer Marks and Spencer, which will start stocking its product from next month, and is in discussions with the UK's 'big four' grocers.
Crackd is made from pea protein and is cold pressed to retain flavour and nutrients, the company says. It contains no artificial colours or flavourings.
Plant Heads general manager Rik Roberts said: "We really think there is a massive gap in the plant-based egg replacement market for a product that is as convenient as an egg, performs like an egg, but is plant-based and, most importantly, works."
Crackd, which has been in development for three years, is the brainchild of Jonny Bingham and David Jones, chefs who have their own food development business which has worked on product formulation for UK businesses including Heck and Gosh.
They contacted Noble Foods owner Sarah Dean, which led to her company uniting with the duo to establish Plant Heads as a joint venture. Ownership percentages have not been revealed.
No 'big four' listings have been agreed as yet for Crackd.
Roberts told just-food: "The initial response from retailers has been super-positive. They see it as the Holy Grail.
"But at the moment the buyers have got a lot on their plate with Brexit and the [Covid] lockdown."
Roberts said the foodservice channel is also of interest to the company. "We can't wait until people are once again able to eat out," he said.
Plant Heads also has ambitions to use Crackd as the basis for co-manufacturing with other food companies, Roberts explained.
"It is one of the most difficult things to replicate and there is a demand for new products in this area," he said.
US company Just is probably the best-known vegan-egg products business globally but it has prioritised other markets over the UK, which Roberts said gives Plant Heads first-mover advantage.
He praised what Just has achieved but makes a distinction between the two companies' products. He said: "Their product is made from mung beans while ours is made from pea protein. Taste comes down to the individual."
He said Plant Heads has international ambitions once it is established in the UK.
"The UK is probably the biggest vegan market in Europe but there are lots of opportunities in Germany, Italy and France and further afield," he said.
In January, Noble Foods launched The Great British Egg Co., a brand targeted at the foodservice channel. The range includes scrambled egg and stabilised egg-white mixes.
Crackd has a RRP of GBP3.99 (US$5.18) for a 490g bottle.