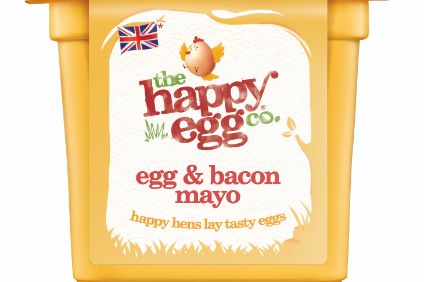 just-food publishes the most notable product development from the international food sector, presented in bitesize format to give you a flavour of the innovation from your peers and competitors announced this week.
UK's Happy Egg Co. expands into egg whites and sandwich fillers
UK free range egg brand the Happy Egg Co, owned by Noble Foods, is taking its offer beyond shell eggs with the launch of free range liquid egg white and sandwich fillers in free range egg mayo and free range egg mayo and bacon variants.
The 500g Happy Egg Co. free range liquid egg white, with an RRP of GBP3.00 (US$4.20), will be rolled out across Asda stores nationally providing an easy way to get egg whites cracked, separated and ready to use' in a variety of ways including omelettes, baking, scrambled eggs and protein shakes. High in protein, fat free and with less than 70% less calories than whole eggs, the product is aimed at health conscious consumers.
The sandwich fillers (220g, RRP GBP1.50) are being launched nationally in Morrisons stores.
Stuart Agnew, category & marketing director at Noble Foods, said: "Eggs presents infinite possibility right now, the category's success is not surprising when you consider what the humble egg delivers for consumers."
Unilever launches reduced-salt version of Marmite
Unilever has launched a reduced-salt variant of its yeast extract product Marmite in the UK.
The new product has 25% less salt than traditional Marmite and is designed to appeal to the growing number of consumers seeking a low-sodium diet, Unilever said.
Shannon Lennon-Smith, Marmite brand manager at Unilever, said: "Unilever knows that consumer tastes and a desire for wider choice, including lower salt variants, is constantly evolving. Marmite has a huge and very loyal fan base and we want to ensure we are listening to their needs and responding accordingly."
Marmite Reduced Salt will be available in a 250g jar with a RRP of GBP3.09 (US$4.39).
Sara Lee launches snack-size frozen puddings range in Australia
Frozen desserts specialist Sara Lee has launched Crumbles, a range of snack-sized 'indulgences' in Australia.
The desserts, ready after just 75 seconds in the microwave, are available in two flavours: Apple Berry and Chocolate Crumble, which features apple and berries topped with chocolate biscuit crumb and white chocolate chips, and Apple and Butterscotch Crumble, which features apple and caramel topped with biscuit crumb and butterscotch pieces.
Sara Lee said that as more households in Australia contain just one or two people, and family meal times are becoming more fragmented and less routine, there is greater demand for flexible portions and immediacy – a concept it calls portionable indulgence.
Laura Gomez-Gracia, senior brand manager at McCain Foods – which owns Sara Lee in Australia -, said: "We know that consumers are looking for dessert options that are convenient and flexible, but that also deliver an intricate depth of flavour, textures and indulgent satisfaction."
The desserts are being sold at Coles, Woolworths and Metcash stores nationally.
They are available in 4x100g packs with a RRP of AUD7.49 (US$5.81).
PepsiCo launches low-salt snack under Indian brand Kurkure
PepsiCo is expanding its Kurkure snacks range to include a version with 21.5% less sodium to meet rising demand for more healthier eating options.
Kurkure Multigrain with Power-Grain Raji is a "rich" source of calcium, fibre and protein and comes in a Curry and Herbs flavour. The new snack is available throughout India.
Reducing the sodium content in Kurkure's snacks is part of PepsiCo's global sustainability agenda – 'Performance with Purpose'.
Jagrut Kotecha, vice president of Indian Snacks for PepsiCo, said: "Kurkure is India's most-loved snack brand, which has been innovating and transforming to cater to changing consumer needs. In India, we have been successful in reducing 21 metric tonnes of sodium from our entire snack portfolio until last year and aim to reduce sodium in 75% of our food's portfolio by 2025."
Meanwhile, PepsiCo is revamping its packaging across the entire Kurkure range, which includes 40 variants, to grab consumers at checkout points.
UK SME Boka Food gets first supermarket listing
Boka Foods, a fledgling UK supplier of cereal bars, has secured its first listing with one of the country's major grocers.
The company has won space for four-bar multipacks at 440 Sainsbury's supermarkets and a listing for single bars at 115 of the chain's Local convenience outlets.
Boka Food says its bars are the first in the UK featuring four green lights on their front-of-pack nutrition labels, which show the levels of fat, saturated fat, sugar and salt in food.
Founder Franco Beer said: "'Our approach at Boka is to provide customers with straightforward information about what they are buying and the traffic light label system is the simplest way to communicate exactly what our products contain."
The multipack has a recommended retail price of GBP2.50 (US$3.55), with the single bar at GBP0.75.