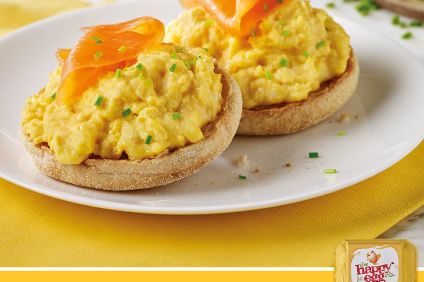 UK food group Noble Foods has pledged to supply only cage-free eggs by 2025, a commitment announced as one supplier hit the headlines due to concerns over animal welfare.
Noble Foods, a major supplier of private-label eggs to UK grocers and owner of The Happy Egg Co. brand, said the pledge was "group-wide".
"This announcement comes as the culmination of months of planning to achieve the realities of moving to solely cage-free production. Noble has been working closely with its retail partners and the farming community to ensure a smooth transition," Noble Foods said in a statement.
At the time of writing, officials representing Noble Foods had not responded to a request for comment on the proportion of eggs the company sells that are cage-free at present.
Meanwhile, UK animal rights group Animal Equality has published hidden camera footage of "a life of extreme suffering" for hens reared by Noble Foods supplier Walston Poultry Farm.
The footage appears to show hens with red raw skin housed in cages seven tiers high. Animal Equality claimed the farm left dead birds in the cages and did not carry out routine inspections.
A Noble Foods spokesperson told the BBC said: "We have immediately launched an internal investigation and audit of the site highlighted. Noble Foods remains committed and vigilant in demanding the highest standards from its suppliers."