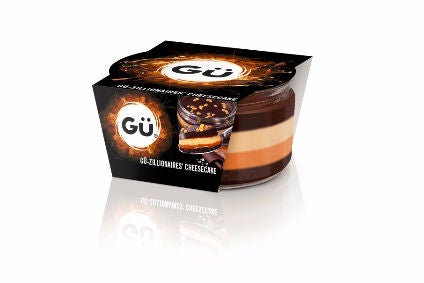 Noble Foods is expanding its Gü Puds brand in the UK with the launch of a range of on-the-go products aimed at providing shoppers with a dessert that can be enjoyed at "anytime, anywhere".
The company said it decided to add to the range after conducting an "in-depth usage and attitude" study. The new food-to-go line will be rolled out in September. It is produced in small pots that include a spoon.
The line consists of four variants: silky salted caramel and chocolate ganache; velvety blackcurrant and violet posset with a raspberry compote; exotic passion fruit posset with a passion fruit curd; and sea-salted chocolate ganache.
Chris Heyn, UK marketing director, said: "Since our consumers lead busy lives and are sociable, spontaneous shoppers, we want to cater to their increasingly adventurous palates and their stop-go lives. The new range will offer consumers an accessible, high-quality product that stands out from the crowd and gives them that much-needed burst of flavours anytime they desire."
Noble Foods is also relaunching the whole Gu portfolio with updated packaging
"Since our launch in 2003, we've developed a name for ourselves as leaders in understanding the dessert consumer. We want to ensure we are continuing to raise the bar within the category through revitalising a cornerstone of the dessert market, providing consumers with high-quality products that fit seamlessly into their lives," Heyn added.
Noble Foods, which also owns The Happy Egg Co. brand, bought a majority stake in Gu in 2010.
Click here for a recent interview with the US arm of The Happy Egg Co., conducted at the Expo West trade show in California.