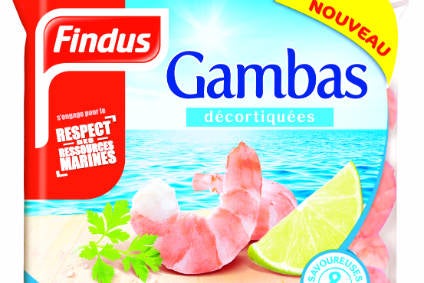 Nomad Foods has added to the range of Findus products the frozen food company sells in France.
The company is launching what it says is the first branded seafood line to go on sale in French supermarkets. The range includes prawns, mussels and a seafood mix.
The branded seafood is part of a raft of new Findus products from Nomad Foods in France. The group has added to its line of fish products, launched a line of "gourmet" frozen vegetable products, introduced a limited-edition SKU to snack brand Speed Pocket and expanding its line-up of pizzas.
Nomad Foods, which also owns UK-based frozen food business Iglo Group, acquired the bulk of Findus Group's assets in Europe last year.
In a presentation made to investors last autumn, Nomad Foods said France was Findus's third-largest market in continental Europe, accounting for 22% of sales and 25% of its EBITDA in 2014.
Findus has one production plant in France, in the north of the country in Boulogne-sur-Mer.
Speaking at the Consumer Analyst Group of New York investment conference last month, Nomad Foods CEO Stéfan Descheemaeker suggested there had been too much focus on new product development across Iglo and Findus – but said the company would continue to innovate in selected areas.
Click here for our analysis of Nomad Foods' comments at the CAGNY conference and how the group plans to improve its performance.