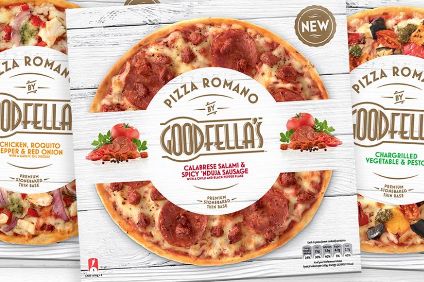 UK-based frozen food group Nomad Foods today (17 January) announced it had struck a deal to acquire a clutch of pizza assets – including the Goodfella's and San Marco brands – from Boparan Holdings.
Before Christmas, The Financial Times reported Nomad Foods, the company behind the Birds Eye brand in the UK, was in advanced talks to buy Goodfella's.
Today, Nomad Foods said it had had a EUR225m (US$275m) offer accepted for assets that, as well as the two brands, comprise two frozen pizza factories and a logistics team in Ireland, plus a commercial team in the UK.
Boparan Holdings has housed the pizza assets in Ireland-based Green Isle Foods, a unit of its 2 Sisters Food Group subsidiary. Green Isle Foods also markets a range of frozen food under its the Green Isle brand, while supplying frozen fish under the Donegal Catch label and pies under the UpperCrust brand. The division also does private label for retailers and foodservice operators.
A spokesperson for Nomad Foods underlined the company was only buying the pizza brands and plants, plus the logistics and commercial units. The deal also includes private-label, frozen-pizza contracts in the UK and Ireland.
The acquisition is set to be the first Nomad Foods has made since its 2015 purchases of Iglo, the owner of the Birds Eye brand in the UK, and of a clutch of European assets from frozen-food peer Findus Group.
Nomad Foods was set up in 2014 by Noam Gottesman and Martin Franklin to buy consumer branded businesses but faced choppy waters with its first two acquisitions, with the assets seeing pressure on sales and margins.
Announcing the deal for the pizza assets, Nomad Foods CEO Stefan Descheemaeker said: "The acquisition of Goodfella's Pizza comes at an exciting time for our company. 2017 was a banner year as investments in our core portfolio translated into strong organic revenue growth. We exited the year on a high note, with our updated guidance reflecting better than expected top- and bottom-line performance during the fourth quarter. Goodfella's Pizza creates a new and exciting growth avenue into frozen pizza, a strategic category that is both sizeable and complementary."
Gottesman added: "Over the past two years, Stefan and the team have successfully integrated two of Europe's largest frozen-food businesses while strengthening the core product offering. With strong organic revenue growth momentum, the time is right to expand into new strategic categories such as pizza, which offer adjacent avenues for further growth and synergies."
For its part, Boparan said Green Isle Foods' frozen fish, vegetable and pastry assets, including the Green Isle, Donegal Catch and UpperCrust brands, would remain with the business.
Ranjit Singh, the chief executive of 2 Sisters, said: "We have had approaches over the past couple of years for these businesses, and we have been talking to several interested parties during this period. But a sale had to be at the right time, with the right buyer, and it had to be a deal that fitted with our long-term strategy.
"This deal represents our first major step to transform 2 Sisters and build a better business. The net proceeds from the sale are intended to be used to repay debt and to invest in the group's core businesses."