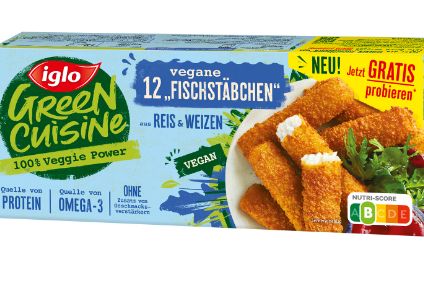 Nomad Foods, the European frozen-food group behind brands including Birds Eye and Iglo, is launching a product first for the business in the vegan category.
The UK-based group is rolling out its first vegan alternative to a fish finger. The conventional fish finger is one of Nomad's flagship products, sold under the Birds Eye brand in the UK and under the Iglo label in continental Europe.
Nomad's vegan offering is being launched in Germany. The company sells Green Cuisine Veggie Fingers in the UK, a product containing ingredients such as sweetcorn, carrot and peas.
However, the company confirmed the new vegan product for the German market – sold under the Iglo Green Cuisine label – was its first alternative to a conventional fish finger. The protein used in the new product is made from wheat and rice.
"Our requirement was not to compromise and avoid a vegetable taste that can be seen in most competitive products," Antje Schubert, the managing director of Nomad's operations in western Europe, said.
just-food has asked for further comment.
just-food interview, February 2021: "Taste, texture and price will be critical" – Novish's Maiko Van Der Meer on outlook for plant-based seafood