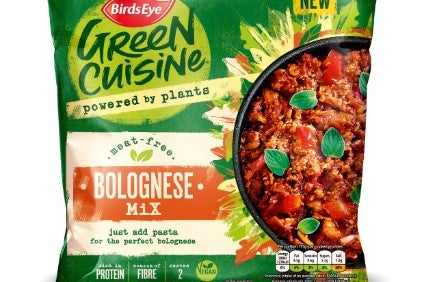 Birds Eye owner Nomad Foods has upped its forecasts on key sales and profitability metrics for 2020 as the company benefited from Covid-19-fuelled demand for frozen food.
The UK-based business, also home to brands including Iglo and Green Cuisine, is expecting its revenue to grow at a "high-single digit percentage range" on an organic basis in 2020. The company had been predicting growth at a "mid-single digit" rate. In 2019, Nomad generated EUR2.32bn (US$2.75bn) in revenue, which was 7% higher than 2018 and up 2.1% on an organic basis.
Nomad's new forecasts also include an expectation its "adjusted EBITDA" will be "in excess of EUR460m". The business had been forecasting EUR450-460m.
In the first six months of 2020, Nomad's revenue rose 10.9% to EUR1.28bn, which equated to a 9.8% increase organically. Some 7.9 percentage points of that growth came from "volume/mix", Nomad said.
CEO Stéfan Descheemaeker said: "We experienced continued robust demand throughout the second quarter, even as restrictions were relaxed across Europe beginning in early May. Frozen food has proven to be one of the most durable consumer categories throughout the Covid-19 pandemic, a testament to its role in offering families quick and nutritious meal solutions at home. These are values which we believe will transcend beyond this acute period and appeal to a broader set of consumers in a post-Covid-19 world."
Nomad's new forecasts include around EUR10m in "incremental strategic investments" behind the company's brands as it looks to retain new customers attracted to its brands and as it tries to further boost sales of meat-free brand Green Cuisine.
The company's first-half adjusted EBITDA increased 8% to EUR239m. Operating profit was EUR172.3m, versus EUR128.8m in the first half of 2019. Nomad booked a profit for the period of EUR110m, against EUR68.5m a year earlier.
Alongside the first-half results and new forecasts, Nomad also announced plans to buy EUR500m of its own shares at a price expected to be between US$23 and $25.50. The company's shares closed at $23.34 in trading in New York yesterday.