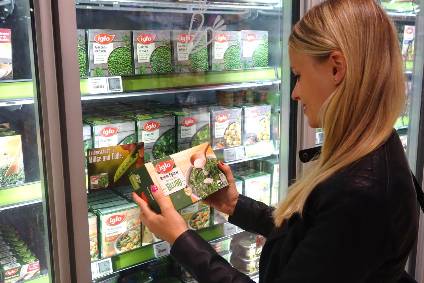 Nomad Foods, the UK-based frozen-food specialist which owns the Findus and Iglo brands, has seen its market share increase in Italy as a result of the coronavirus outbreak.
On an analysts' call with bank Barclays yesterday (26 March), the company's CEO Stefan Descheemaeker said: "We are growing market share in countries such as Italy as well as increasing volumes.
"Customers are gravitating towards trusted brands and Findus is an iconic brand in Italy."
Descheemaeker said Nomad was enjoying a "solid" start to the year anyway but the Covid-19 outbreak has seen an acceleration in its business.
"It's a very fluid situation. Every day we have to make decisions in unprecedented times. We are learning a lot," he said.
Asked about consumer 'pantry loading' or stockpiling, Descheemaeker said: "We haven't seen a surge like in toilet paper but it [demand] is very strong."
He added: "Frozen food is not like other pantry loading. It is limited by the size of freezers."
More generally, Descheemaeker said the outbreak is an opportunity for frozen food companies such as Nomad to demonstrate what they can offer to consumers.
"There are short-term benefits but in the long-term there is the opportunity to create something as category leaders," he said.
Company chief financial officer Samy Zekhout said Nomad has stepped up safety protocols, including the use of thermographic cameras at the entrance to its factories, but there has been some absenteeism due to illness which has meant it has had to step up the hiring of new employees on a part-time basis.
Asked about the roll-out of its Green Cuisine plant-based range, Descheemaeker said that there had been no significant change in its approach but he admitted retailers are preferring to "focus on hero SKUs" in the current climate.
Questioned about merger and acquisition activity, company co-founder and co-chairman Martin Franklin said: "We continue to see long-term value creation opportunities and we are focused on that.
"It is reasonable to believe there will be more opportunities [as a result of Covid-19 fallout] and it is important that we position ourselves to take advantage of those.
"But in the near term we don't see people buying or selling much because of the dislocation of valuations.
"But when things do open up we are very well positioned. We have a pretty good pipeline we have been working on and some opportunities will present themselves along the way because of this."