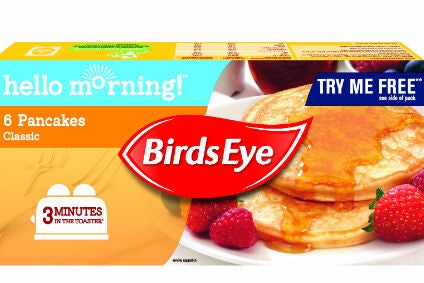 Nomad Foods, the European frozen foods group, today (25 May) reported lower first-quarter sales and profits on a pro-forma basis.
The company, which did not have any operations before 1 June last year when it snapped up Iglo Group, reported "pro forma, as adjusted" financial information for the three months to 31 March.
The pro-forma, as adjusted numbers for 31 March 2016 include the results for Nomad Foods, stripping out exceptional items and non-cash foreign currency translation charges or gains.
To compare with the first three months of 2015, the pro-forma, as adjusted numbers for that period include results from Iglo and from Findus Group. Nomad Foods bought the bulk of Findus's operations last summer.
The results also exclude the additional day for the leap year in 2016, "transaction-related items, exceptional items, foreign currency translation charges or gains and taxation".
The results for the first quarter of 2016 followed year-on-year falls in sales and profits in the fourth quarter of 2015.
Revenue fell 4.2% to EUR547.1m (US$609.8m) in the first quarter. EBITDA was down 5.7% at EUR99.6m. Profit dropped 9.3% to EUR52.8m.
However, CEO Stefan Descheemaeker said Nomad Foods had managed to "slow the rate of sales decline for the second successive quarter" in what he said were "challenging market conditions".
Descheemaeker added: "As we continue to implement our strategy and our actions reach the market place in the second quarter and through the balance of the year, we expect progressive quarterly improvement to the top-line trend."
Nomad Foods was set up two years ago by businessmen Martin Franklin and Noam Gottesman as a vehicle to make acquisitions and its first two deals have been in Europe's frozen food sector – snapping up Iglo and Findus.
Reflecting on Nomad Foods' latest results, Gottesman, who holds the position of co-chairman at the group, said: "We continue to believe that Stefan and the whole Nomad team have identified the correct strategy and are making the right decisions. We are encouraged by a number of early wins and pleased with our progress to date. While our immediate priority remains stabilising our top line, we continue to build and improve upon our strong foundation to support
long-term value creation."
More to follow