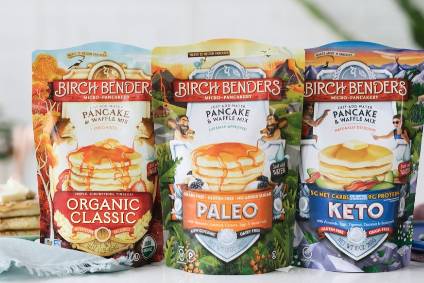 Sovos Brands, the US food group home to brands including Noosa yogurt and Rao's soups, has acquired Birch Benders, a producer of pancake and waffle mixes.
Financial terms were not disclosed. Birch Benders was set up in 2011 by Matt LaCasse and Lizzi Ackerman to market pancake mix and the Denver-based firm has expanded its range to include toaster waffles and baking cups.
Set up in 2016 by private-equity firm Advent International to become a "scale player" in US consumer goods, Sovos Brands now owns four brands, adding Birch Bender to a portfolio that also includes Noosa, Rao's and Michael Angelo's frozen entrées.
Todd Lachman, Sovos Brands' president and CEO, described Birch Benders as "the perfect next addition to our growing portfolio of one-of-a-kind brands", pointing to the new asset's "absolutely delicious products that deliver against healthy consumer lifestyles such as paleo and keto diets".
He added: "With our proven ability to transform brands by unleashing growth and deepening consumer affinity, we are thrilled to take Birch Benders to a new chapter of growth while diversifying Sovos Brands into new categories."
Sovos Brands said since it had acquired Michael Angelo's, Rao's and Noosa it had "consistently delivered double-digit sales growth while expanding profit margins". Adding Birch Benders to the portfolio gives Sovos Brands annual retail sales of above US$750m, it added.
LaCasse said: "We believe the wealth of experience and resources of the team at Sovos will allow us to reach even more consumers with our delicious, innovative, easy-to-make offerings made with nutrient-rich, quality ingredients."