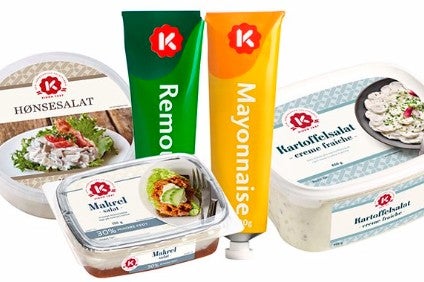 Orkla is to sell its K-Salat business in Denmark to Danish dressings, salads and sausage supplier Stryhns.
K-Salat sells a range of salad spreads, mayonnaise, remoulade, dressings and potato salads in Denmark.
Financial details of the deal were not disclosed.
Orkla said it is offloading K-Salat to concentrate its business on fewer categories.
Under the agreement, Stryhns will take over a K-Salat factory with around 100 employees in Havnsø, Vestsjælland.
Tino Bendix, CEO of Orkla's Danish food division, said: "We are glad to be able to sell K-Salat to Stryhns, which has the strong competence necessary to further develop the business. From now on, Orkla Foods Danmark will concentrate its core assortment on the well-known brands Beauvais, Den Gamle Fabrik, Glyngøre, Bähncke, Fun, Grønnegården and Risifrutti,"
K-Salat was founded in 1937 under the name Københavns Salatfabrik. The business was later moved to Havnsø and its name changed to K-Salat.
The transaction is expected to be completed in early December.
Stryhns is part of the Norway-based food group Agra AS.