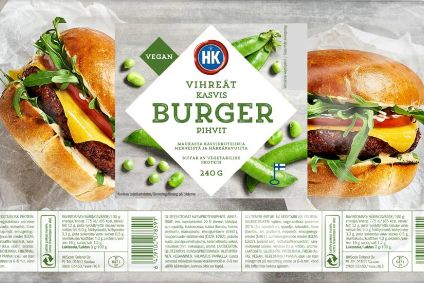 HKScan wants to continue to build its presence in the market for plant-based alternatives, although the Nordic meat group's CEO insists meat still has a future in its strategy.
The Finland-based business, one of the largest meat processors in the Nordic and Baltic region, has plant-alternative products in its portfolio and, in the last two years, has joined forces with independent meat-free companies in areas like distribution.
Speaking to just-food, Tero Hemmilä, HKScan's chief executive, said he had seen the growth in the plant-based meat category "slow" during the Covid-19 pandemic but adds he expects interest to rise again once the dust settles on the virus.
"Plant-based growth has slowed down a bit, and people are more for those products they have got used to using and eating. They buy those products, brands, they rely on and know. It's kind of the consumer psychology [that] when you feel a threat around you, you want to take those items that you already know," Hemmilä said. "When the pandemic is over I do believe, however, the change will come back, so that the consumption of plant-based products will start to increase a bit more than during the pandemic year 2020."
HKScan has been manufacturing and marketing meat-free products under its Pärsons brand in Sweden in 2016. In November 2019, the company teamed up with Hes-Pro (Finland) to develop plant-based protein products, with the first foods from that partnership launched last autumn under the HK Vihreät brand.
In May last year, HKScan expanded further into the plant-based market with a joint venture with Finland-based private bakery business Leivon Leipomo. Six months later, the group inked a deal to sell Apetit's plant-based products in the Swedish foodservice channel.
Asked if HKScan is likely to announce more tie-ups in the plant-based market this year, Hemmilä indicated the company's focus was set to be on its existing deals but said the company would be willing to look at more ventures in the wake of the pandemic.
"We don't speculate with that one," he said. "I think we have enough to do now at the moment really. Like I said, in this pandemic, in my thinking, it has slowed down a bit to the change in the consumer behaviour. When the pandemic is over I think that this kind of discussion will start again so we want to get prepared for that as well in a way that we are building the more solid foundation for plant-based products in our portfolio."
Stepping up HKScan's presence in the plant-based market is part of the group's wider strategy of becoming what Hemmilä calls a "versatile food company". He was at pains to stress how meat remained central to that strategy.
"I do believe that when this pandemic is over, maybe the discussion concerning, for example, climate change may increase again and that then leads to the situation when consumers again maybe are thinking a bit more about their behaviour when it comes to the mitigating the climate-change impact. Therefore, it's also important in our portfolio that we are building growth based on poultry, we are building growth based on plant-based products," he said. "But we definitely do not forget the [red] meat and processed meat products."
Hemmilä added: "We strongly believe that there is a big role for those [products], as long as they are responsibly produced. There can be even a higher value for those, so maybe a smaller volume but higher value in the future for red meat products that are traceable and responsibly produced.
"We do believe we are representing food democracy. We are not the one creating any confrontation. In the future in our table there can be red meat eaten, charcuterie products, plant-based and poultry, you name it: as long as they all are tasty and the raw material used in those is trustful and our operations are responsible."
In 2020, HKScan generated a 2.1% rise in net sales to EUR1.78bn (US$2.13bn), as retail sales offset the pressure on foodservice sales caused by Covid-19. The company posted a positive EBIT of EUR44.5m, versus a loss on that metric of EUR23.2m a year earlier. HKScan said its "comparable EBIT" stood at EUR17m, which compared to a loss of EUR2.2m in 2019 and was its "best result since 2015" on that metric.
In 2019, HKScan started a new three-year programme to improve its profitability. "All in all, we are very happy with the performance last year," Hemmilä said. "We have now executed a turnaround [for] two years and we have been able to come out from a very deep financial crisis to a company, which is making a positive profit."
Hemmilä described 2020 as "a pretty exceptional year" amid the Covid-19 pandemic and also the pressure on Europe's meat industry wrought by African swine fever and an avian flu outbreak.
African swine fever had had an "indirect" impact on HKScan, with pork export markets being closed to some European countries, which drove up supplies in the region and depressed prices. The detection of avian flu in Denmark, from where HKScan exports poultry, shut off the company's exports to outside the EU.
"I think with African swine fever we need to live with that, at least for some time period yet. I don't have a crystal ball. The same goes for avian flu. I'm not waiting for the quick opening of the export," Hemmilä said, adding 10% of HKScan's sales came through a combination of exports and industrial sales.
"We are handling the situation as it is today and trying to find new channels for the meat we have and, of course, trying to scale the volume what we are slaughtering from the farms accordingly. It doesn't make any sense to have big volumes if there's no address for the volume."
HKScan expects its comparable EBIT to rise again in 2021 but the company has given no guidance on net sales.