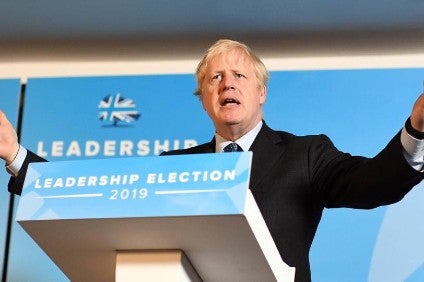 Boris Johnson is expected to put forward new proposals for a Brexit deal today (2 October) that could mean Northern Ireland-based food companies trading with their Republic of Ireland counterparts and the wider EU as they do today for up to four years.
However, there is no guarantee that, if this is indeed the plan, it will be welcomed by the EU.
Reports in the UK national media suggest Johnson will detail his final negotiating offer to the Conservative Party conference and this will form the text of a new Brexit offer to Brussels.
The UK Prime Minister remains committed to the UK leaving the EU, with or without a deal, on 31 October.
However, under the terms of a law passed by the UK Parliament last month, Johnson faces having to request another extension unless MPs back the terms of withdrawal by 19 October – two days after a summit of European leaders.
There has been no confirmation of what the PM's speech today will contain but well-informed political reporters in the UK media suggest it could be that a plan will be proposed that sees Northern Ireland leave the customs union and come out of the single market in all areas apart from agri-food products and industrial products, which could stay in for four years until the terms of their departure are negotiated by the Northern Ireland Assembly, which is not currently sitting.
Johnson yesterday dismissed leaked reports that customs posts could be set up on either side of the border between Northern Ireland and the Republic of Ireland as being wide of the mark.
His proposals today will need to convince his Northern Ireland-based coalition partners, the DUP, that Northern Ireland is not being treated differently to any other part of the UK and also convince Ireland and the wider EU that additional customs checks will not be part of the deal for goods outside the agri-food and industrial sectors.