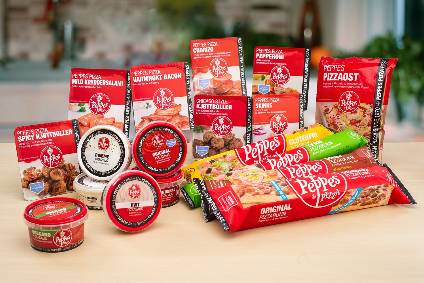 Nordic food company Scandza is to broaden its partnership with local pizza chain Peppes Pizza with another venture between the two businesses.
Scandza and Peppes Pizza already work together on a range of pizza products available in Norwegian grocery products. The companies offer products such as pizza sauces and pizza bases, sold under the Peppes Pizza brand and which Scandza sells into Norway's food retail market.
The two companies are now looking to target the frozen pizza category and this week announced a new partnership. As part of the deal, Scandza has become a shareholder in a sister manufacturing company to Peppes Pizza called Westend.
The Peppes Pizza chain and Westend are both owned by Scandinavian foodservice operator Umoe Restaurants.
Financial details were not disclosed and a Scandza spokesperson refused to comment on the price the company had paid for the stake in Westend.
Scandza and Peppes Pizza are planning to launch their first frozen pizza products into Norway's grocery retail channel in February.
Scandza, which also owns businesses including Norway's Synnøve Finden and Sweden's Royal Confectionery, saw a change in ownership earlier this year.
Founders Jan Bodd and Stig Sunde – Scandza's CEO and COO respectively – teamed up with Norwegian businessman Karl Kristian Sunde to acquire the business from Capvest, the UK-based private-equity firm.