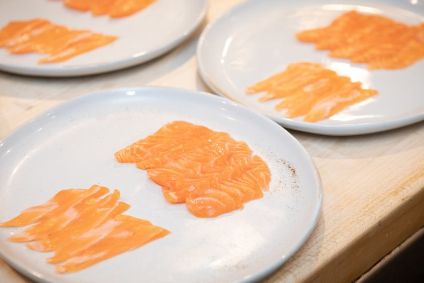 Kvarøy Arctic, a Norway-based seafood business, is aiming to increase the traceability of fish supplied to North American customers through signing up to a blockchain technology initiative.
The company said the move will "enhance the traceability of its Arctic salmon," for US corporate buyers and "help foster consumer trust across their supply chain".
Kvarøy, a major producer of Norwegian farmed salmon for grocers and restaurants, is joining the IBM Food Trust initiative, which uses blockchain technology to trace a product's life cycle.
Corporate customers can scan a QR code which will provide a provenance history for the Arctic salmon and the feed it was raised on. They will be able to download images and video of the farms and see for themselves the conditions under which the fish were raised.
Kvarøy Arctic said it has seen a dramatic increase in demand for fresh seafood in the US of late and that it is shipping twice the volume anticipated as customers seek non-meat sources of protein.
Alf-Gøran Knutsen, Kvarøy Arctic's CEO, said: "Blockchain is the future when it comes to ending fraud in the seafood industry. It is a level of transparency that shows our dedication to being the best of the best."
IBM Food Trust is described as an "ecosystem of food producers, distributors, manufacturers and retailers collaborating using a permissioned, permanent and shared record of food system data stored on blockchain".