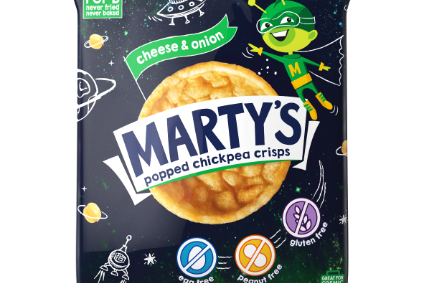 This week's batch of new products includes an Hawaiian-style Poke Sauce from Japan's Kikkoman and Jack Link's adding a chicken variant to its Peparami portfolio in the UK.
Danone rolls out Marty's free-from snacks in UK
France-based dairy giant Danone is launching a free-from range of snacks in the UK for children – Marty's.
Marty's Popped Chickpea Crisps are allergen-friendly and free from eggs, peanuts and gluten, and are 'popped' rather than baked or fried. They will initially roll out with online retailer Ocado.
Three flavours are available, Cheese & Onion, Barbeque and Ready Salted, with more to follow in the "coming months".
The 20-gram bags carry a recommended retail price of GBP0.75 each (US$0.97).
Tanya Pitchforth, the project founder at Danone, said: "We understand from listening and talking to parents and children there is a growing demand for greater choice and increased confidence when it comes to free-from foods. Inspired by my own family journey and together with some amazing families, we created Marty's – a range of treats, designed to be allergy-friendly, inclusive and help ensure everyone can safely enjoy treat time."
Thai Union's John West launches Cracker Toppers
John West, the UK canned seafood brand owned by Thai Union, has launched Cracker Toppers, a range of tuna toppings.
It said the launch is intended to "meet the growing consumer demand for snacks that are naturally high in protein".
Cracker Toppers are a reinvention of the brand's current Spreadables range and are intended to be spread on crackers or crispbreads.
They are available in four flavours – Mayo and Sweetcorn, Mexican Style, Mediterranean and Sweet Chilli.
John West is also extending its range of Steam Pots.

Jon Burton, marketing director at John West said: "We're committed to product innovation and driving growth by responding to consumer needs. Our new Cracker Toppers and Steam Pot variants offers customers on-trend new flavours in exciting formats.
"These products make it even easier to eat fish – natural source of protein as well as convenient, they provide a great snack that you can feel good about."
The RRP for John West Cracker Toppers is GBP1.10 (US$1.43).
McCain unveils beer-chips range in Australia
Canadian frozen food specialist McCain Foods has launched a range of beer-based chips (fries) in Australia.
The eight strong range includes John Boston Craft Beer Batter Golden Ale Diamond Cut Chips, John Boston Craft Beer Batter IPA Wedge Cut Chips, John Boston Craft Beer Batter Pale Ale Steak Cut Chips, Craft Beer Batter IPA Wedge Cut Chips and Craft Beer Batter Pale Ale Steak Cut Chips.
Sweet Potato Rosemary & Garlic and Extra Crispy Pub Style chips complete the range.
McCain said it is "bringing the flavours Australians love to enjoy out of the home to the convenience of the grocery aisle" and tapping into consumers' growing interest in craft beer.
The chips will be sold via retailers including Woolworths and Coles. The Craft Beer Batter range has a RRP of AUD3.99 (US$2.81), the Sweet Potato range will be available in store for AUD5.50, and the Pub Style Extra Crispy diamond cut chips retail for AUD3.99.
Kikkoman adds Poke Sauce to its range
Japansese food manufacturer Kikkoman has launched a Poke Sauce in the UK.
The soy sauce and seasoning maker has sought inspiration from Hawaii for its new dipping or table sauce. The product is a blend of soy sauce, toasted sesame oil, lemon juice and hot chilli.
Poke Sauce is based on Poke Bowl, a popular starter in the Hawaiian Islands comprising a base of white rice and raw fish (tuna or salmon), topped with a selection of vegetables, and finished with a Poke Sauce.
Poke's popularity started in 2016 in the US and the trend has been mirrored across Europe, most notably in France, Germany and in the UK. It is now poised to be one of the hottest food trends around, Kikkoman suggests.
The company's UK general manager, Bing-yu Lee, said: "We are confident that the UK consumer will embrace it as demand for international flavours increases. The beauty of Kikkoman Poke Sauce is its convenience and versatility. It brings a subtle new taste to different food groups without being overpowering so the individual taste of the other ingredients comes through.
Kikkoman Poke Sauce is available in a 250g bottle with an RRP of GBP2.79 (US$3.60).
Jack Link's adds Chicken Bites to UK Peperami portfolio
Jack Link's, the US-based meat snacks maker, has added Pep'd Up Chicken Bites to its Peperami protein snacks portfolio in the UK.
The snacks are made with 100% chicken breast and are baked rather than fried.
Pavan Chandra, marketing manager at Peperami said: "With its baked, not fried approach, we believe this will be a fantastic addition to the category. Following extensive blind consumer taste tests which revealed a 64% preference to leading competitors, the new Pep'd Up Chicken Bites have already been extremely well received. We are confident the Pep'd Up Chicken Bites will be a huge hit with health-conscious consumers looking for a tasty snack that is high in protein."
The launch of Peperami Pep'd Up Chicken Bites will be supported by a GBP3m (US$3.9m) integrated marketing campaign.
The product will be available in Asda, Tesco and Morrisons from May with an RRP of GBP1.29 for a 50g pack.