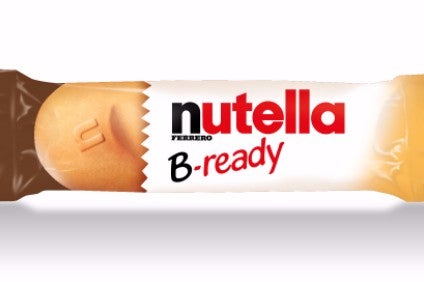 Ferrero is formally launching Nutella B-ready in the UK following a trial, marking the spread brand's debut in the country's biscuits category.
Nutella B-ready biscuits are described as featuring "a light, crunchy wafer shell, with a Nutella filling and puffed wheat crispies" in an individually wrapped bar.
The biscuits are available as a single serve or multipack of six.
Levi Boorer, customer development director for Ferrero in the UK, said: "Nutella B-ready is a complementary addition to the Ferrero range, offering shoppers more sweet-snacking solutions throughout the day.
"We see B-ready as the ideal mid-morning snack, containing fewer than 120 calories, while other products – like Kinder Bueno – are much more suited to post-lunch snacking.
"Our initial UK trial has proved incredibly successful. We ranged at the till in a selection of convenience stores and Nutella B-ready ranked as the fourth best performing sweet snacking line during the period."
Nutella B-ready is already available in other markets and its international performance has led to its introduction in the UK.
The launch will be supported by a multimedia campaign spanning TV, video-on-demand, out of home advertising, social and in-store media, kicking off from September.