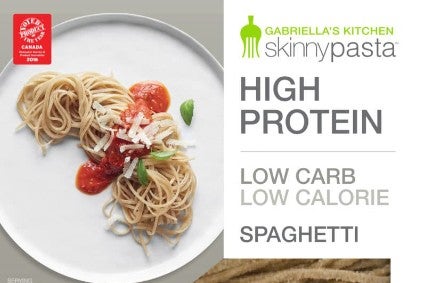 Nutritional foods manufacturer Gabriella's Kitchen will make its debut on the Canadian Stock Exchange on Wednesday (5 September).
Ontario-based Gabriella's Kitchen was founded in 2003 by sisters Gabriella and Margot Micallef and produces regular better-for-you food products and also cannabis and hemp-infused food items. The sisters launched the firm as they sought to find healthy food options for cancer sufferer Gabriella, who has since passed away.
The company's portfolio of 20 products includes the brands Skinnypasta, Gabbypasta and Noodi, along with the recently introduced Alto. The range covers high-protein, low-calorie, low-carbohydrate, vegan, gluten-free and other allergy-sensitive food stuffs.
"The future of the wellness industry will be based on companies that are accommodating a holistic approach to health, which includes cannabis," said Margot Micallef, who holds the chief executive role. "People will now have the choice to drink cannabis instead of a beer or the choice to eat a product in the form of an edible. Our new line of infused products is not only the future of the wellness industry, but a crucial role in living a healthy life."
The new line of products are infused with cannabis-derived cannabinoids (CBD) and tetrahydrocannabinol (THC).
Gabriella's Kitchen share offering was co-led by Eight Capital and Gravitas Securities, with Wildhorse Capital Partners serving as adviser. Former Dragon's Den celebrities Brett Wilson and his son Russell Wilson were part of the financing round through their family office, Prairie Merchant Corp. The son has now been appointed to the board of directors of Gabriella's Kitchen.
In a statement, Gabriella's Kitchen said it services "mainstream" grocery and licensed cannabis retailers throughout both "legal and emerging markets" across North America. Its distribution network for non-infused cannabis products in the US and Canada includes Whole Foods, Publix, Sobeys, Loblaws, and Safeway.
"The company anticipates its infused products will be available in both licensed and, on a limited basis, non-licensed channels in certain markets where legislation allows," it added.